USC Sports
'Almost' Counts For Everything As USC Upends BC 35-7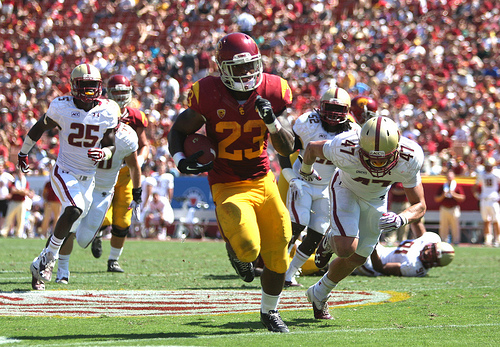 The old saying goes that 'almost' only counts in horseshoes and hand grenades.
But for one day, on one play in USC's 35-7 win over Boston College, 'almost' was everything.
It happened on the first snap from scrimmage. Cody Kessler – the victor of Lane Kiffin's vaunted quarterback competition – took the snap under center, faked the handoff and turned his glance downfield for what felt like the first time all season. He was looking for Marqise Lee, who had his man beat by a dozen yards and just a wide open swath of grass between him and the end zone. Kessler cocked his right arm and unfurled a rainbow downfield. Everyone in the stands held their breath awaiting a touchdown sure to happen.
It barely grazed Lee's outstretched fingertips.
This would have been the time for the disgruntled Coliseum crowd – reportedly numbering 62,006, but visibly well short of that – to unleash its venom, to excoriate Kiffin as they did one week ago during the team's dumbfounding 10-7 Washington State. Once again in this young season, they had witnessed failure in motion.
Instead, they erupted into the loudest ovation the team has heard all season.
It was the most pleasant of surprises, even if there was a touch of cynicism to the applause. After two weeks of offensive stagnation, Trojan fans would take whatever excitement they could get.
"That was [University President] Max Nikias' play," Kiffin said after the game. "He said 'Throw deep, and they'll cheer no matter what.'"
Because of an 'almost,' they never really stopped. For the first time in nine months, USC heard its home crowd come ablaze.
"It was good to hear the fans cheer about that," said running back Tre Madden. "We all heard it. We were laughing in the huddle. It was fun out there."
For the offense, fun was at a premium during the first two games. They more often were cast as little brother on their own team, handcuffed by listless schemes as the defense marauded their way into opposing backfields, smothered by opposing coordinators cheating their personnel up to the line of scrimmage in a gambit they'd never lose. There's nothing fun about being the only FBS team in America to be held without a 20-yard gain through two weeks. That's even more true when they hardly tried for one.
On Saturday, they notched six. They put up 521 yards, almost as many as the Hawaii and Washington State games combined, including 257 with the run. They scored five touchdowns, including one in the third quarter that so often vexes them. They churned out highlight reel plays, and they once again were dancing on the sideline. Suddenly, fun was in the air again.
"We love running the ball," said right tackle Kevin Graf, whose offensive line paved the way for a whopping 257 yards on the ground. "We love getting to hit people and blow them off the ball. It's really fun."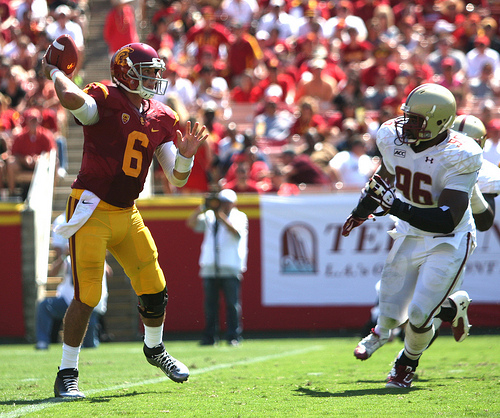 Before the fun, though, came the anger. This was a week of trials, of enduring frustrated fans and flummoxed classmates and a perplexed media. Kiffin called it "hell week" and it wasn't far off for a group that Kessler admitted made the WSU loss "personal." When practiced resumed on Tuesday, the defense renewed acquaintances with an offense that, to a man, according to Graf, was "pissed off," and played like it. There would be no more timidity, no more heavy diet of bubble screens and tailback screens. Buoyed by Kessler embracing "a whole new confidence" following his appointment as starter, Kiffin set to work scripting a game plan heavy on aggressive play action and sideline outs.
And so when that 'almost' drifted wide of its mark, the notable thing wasn't that they took a shot downfield. It's how it set the tone for the best 60 minutes USC has played in a long while. Kessler was superb, following up that opening miss with fourteen straight completions en route to a 237-yard day on 15-of-17 passing. There was flash – witness a flag post to Lee that the reigning Biletnikoff winner took 80 yards down the sideline for a touchdown – but there was much more grit, plenty of deking and ducking to worm his way out of pressure and find open men. That was how he brought stability to an offense that Graf admitted was affected by being pulled between two quarterbacks, and which responded well to the ballast they now have in the huddle. That was how USC first got on the scoreboard, via a five-yard dump to Tre Madden on a jump pass when Kessler was all but wrapped up. That was how he demonstrated his underrated arm strength, on a roll out in which he ripped a bullet between two defenders to De'Von Flournoy.
"It's great quarterback awareness," Lee said. "You don't expect that from a young quarterback. I think he just caught his rhythm, that's really about it."
The rest took off from there. Madden's brilliance shone through once again as he cleared a hundred yards for the third straight week, becoming the first USC back since Marcus Allen's Heisman-winning 1981 campaign to accomplish such a feat. Seventeen-year-old Justin Davis stole the show, rolling to 96 yards on 10 carries, none prettier than a snaking 40-yard scamper that wove through half a dozen defenders. Tight ends Xavier Grimble and Randall Telfer, whom Kessler believes are "good enough to play in the NFL right now," each got a pair of grabs while Nelson Agholor re-emerged after being held without a catch last week. One of the hallmark critiques of Kiffin's playcalling was that it too seldom focuses on players not named Lee. On Saturday, he mollified those critics for at least one week.
That we've gone this far without mentioning the defense, meanwhile, is testament to what is becoming ho-hum dominance. Pitted against a physical B.C offense, Pendergast reverted to his base 5-2 defense after two weeks of largely playing nickel, and all it did was hold the Eagles to a scant 184 yards, the fewest for a USC opponent since San Jose State in 2009. Even more impressive, they did it without recording a turnover and only notching one sack, evidence enough that this unit does not need to rely on big plays to get stops. It's an ornery bunch, with captain Devon Kennard grumbling a bit about the second unit giving up a garbage time score in spite of the starters not allowing a touchdown through three games. It's also playing at a higher level than any Trojan defense since the 2008 crew that posted some of the best numbers in modern college football history.
"Our first team defense was really lights out," Kiffin said. "To give up 184 yards on the day… our guys tackled really well."
There is only so much to take from a win that USC frankly should have with its superior talent, and Kiffin knows it. He knows that his critics won't hesitate to breathe more fire this time next week if the Trojans disappoint against Utah State, and that USC's 2-1 mark is still one win short of expectations. His preparation won't change, nor will his team's expectations diminish. There is always room for more improvement and so it was telling that after one of his better triumphs, he told the media that "we had good Trojan football… for the most part."
There was plenty of room for an 'almost' in there, and he wouldn't have been wrong if he squeezed fit in.
But on Saturday, 'almost' was behind everything right for USC.
You can't count on much more than that.