NFL
2013 AFC East Division Preview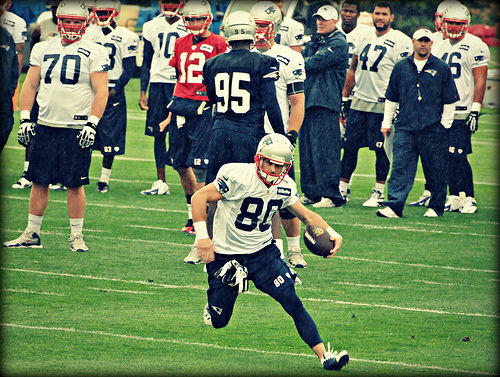 New England Patriots
The off-season didn't look too great for the Patriots. With Rob Gronkowski not able to practice, Wes Welker gone to the Broncos, Brandon Lloyd released and Aaron Hernandez in severe legal troubles, New England's receiving corp was decimated. However, as is everything with the Patriots, as long as Tom Brady is there, he will find someone to throw to.
There is definitely no shortage of running backs in Foxborough. With Shane Vereen and Stevan Ridley leading the pack, the five running backs will make up for some of the lack of experience in the receiving corp. It won't completely change the offense though, as the Patriots have been more of a passing team than a rushing team.
Brady can make the rookie receivers work for now, but one thing that doesn't need much work is the Patriots' defense. With Brandon Spikes, Jerod Mayo, Chandler Jones, Dont'a Hightower, Vince Wilfork and Rob Ninkovich, there is a nice mix of youth and veteran status in the defense, and they can likely make up for anything the offense might mess up on. Once Gronkowski is back, things will start to look much better for the Pats. With the rest of the AFC East looking lackluster as usual, New England is once again the favorite to take the division.
Prediction: 11-5
Miami Dolphins
Things are looking up for the Dolphins. They might not be favored to out do the Patriots, but they definitely have a legitimate shot at the wild card race. Mike Wallace was a major addition for Miami, and he and Brandon Gibson will be there to provide some consistency for Tannehill. That will be a welcome change on offense, but it could still take some warming up. Dustin Keller's season-ending will slow down any success the Dolphins saw at TE.
Lamar Miller will have a tough job replacing Reggie Bush at RB. Miller doesn't have as much experience as Bush, but if he can pull it off and get close to Bush's yardage, Miami can rest easy. Jonathan Martin moves from right tackle to left tackle which will be important when it comes to protecting Tannehill after Jake Long left. If he can protect well, Tannehill will have much easier job, as the rest of his offense has improved.
The defense has been spectacular this preseason, but despite having a good defense last year, the Fins only managed six wins. The improvement in offense will definitely help the win count and Miami's defense is still potentially the best in the division, so look for it to stop some major plays, especially when the Dolphins play New England.
Prediction: 8-8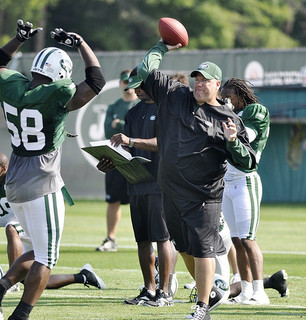 SEE MORE: 2013 AFC North Division Preview
New York Jets
Goodbye Sanchez, hello Smith. Mark Sanchez is out of the starting QB spot, as the Jets decided to make rookie Geno Smith their starting QB. This would be great news for New York if only they had some receivers to throw to. There will be more success in rushing than passing for this offense, but it's definitely still a rebuilding year for the Jets.
This season, look for the defense to carry the team through the few wins they get. Darrelle Revis may seem like a major loss, but after he tore his ACL in Week 3 last year the Jets still had the eighth-ranked defense in the league, so they should be fine. If Antonio Cromartie and Dee Milliner can fill the void Revis left, then the defense will no doubt do better than last year, but they can only do so much, so still no playoff hopes here.
There's also a lot more coach drama here than in many places in the league. Rex Ryan used to be known for his bold statements and arrogant attitude which surprisingly seemed to help the team. Ever since he slimmed down and started shutting his mouth, the team hasn't been too hot, and if this season's squad can't produce, Ryan's job is on the line.
Prediction: 7-9
Buffalo Bills
The Bills are between a rock and a hard place when it comes to their QB situation. As we head right into the first week of the regular season, Kevin Kolb is out with a potentially career ending concussion. Even if his career isn't over though, he is done for the season. EJ Manuel is finally back in practice after missing two weeks due to a left knee injury. He is a bit questionable for the Bills' season opener. That leaves undrafted rookie Jeff Tuel after Matt Leinart was cut, a week after being acquired just before the last preseason game, and Thad Lewis was cut, but is now back as a member of the practice squad. While Tuel has a chance to start in the opener, the Bills need Manuel to make a healthy return as soon as possible and even then their chances of winning many games are still slim.
CJ Spiller is back after taking time off to be with his family in the wake of a personal tragedy, so the offense has his play-making to look forward to. Robert Woods comes in fresh on the heels of a hot college career, and will work with Stevie Johnson to make passing the ball a little easier for whoever the QB ends up being.
Buffalo also doesn't have a consistent defense, so look for struggles here as they make the move to a 3-4 scheme. A major switch like that isn't gonna be very good for the defensive players who actually are good, as they have been better in the 4-3 scheme. Look for an adjustment period for the Bills on defense, but if they can manage to make it work, they have hopes of improving at least one half of the team from the past few dismal years.
Prediction: 6-10
Reach Staff Writer Jordan Gary via e-mail.