USC Sports
USC-Hawaii Week 1 Betting Preview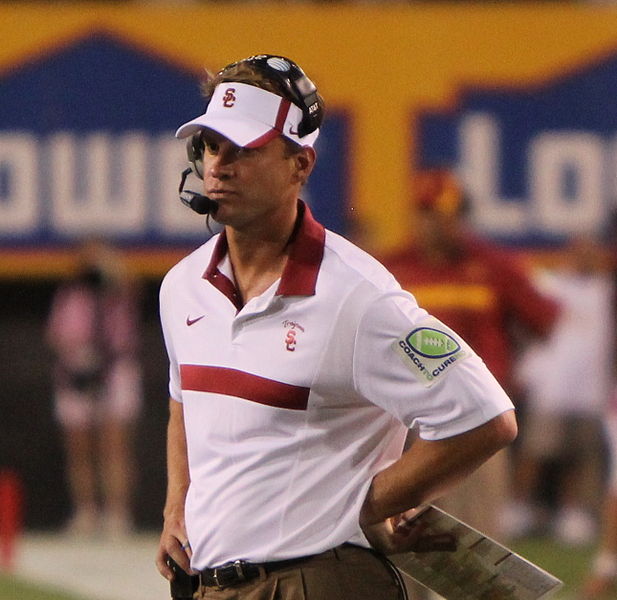 USC Trojans (0-0) at Hawaii Warriors (0-0)
Thursday, August 29 at 8:00 p.m. PST on CBS Sports Network
Latest Odds: USC -22.5 and Over/Under 53.5
This year's USC team is a completely different one from last year's team that whipped Hawaii 49-10 at the Los Angeles Coliseum in Week 1.
Quarterback was one of the Trojans' biggest perceived strengths last year. Now, Coach Lane Kiffin has announced that he'll be alternating between two quarterbacks in this season opener. If anyone can tell me when this has ever worked, you'd be the first person to do so.
Cody Kessler and Max Wittek have not been able to separate from one another throughout the entire offseason. They've struggled dealing with the pressure from USC's defensive line. Luckily, they get a relatively easy Week 1 test against a Hawaii defense that gave up an average of 35.7 points per game last season. Throwing to Marqise Lee and Nelson Agholor only makes their job easier.
Yet, Hawaii's defense did play a lot better down the stretch last season. In their first seven games, the defense gave up an average of 42.3 points per game. In their final five games, including against the top two teams in the Mountain West conference in Boise State and Fresno State, Hawaii's defense improved by allowing 26.4 points per game. The Warriors have eight returning starters on the defense, and will look to build off of their late-season momentum.
Hawaii struggled on offense too last season, and the Warriors fired offensive coordinator Aaron Price at the beginning of fall camp. Former USC offensive coordinator and current Hawaii head coach Norm Chow will be handling the play-calling duties.
Hawaii hopes that their 121st ranked offense in terms of total offense will improve with Ohio State transfer Taylor Graham at quarterback. Graham has yet to take a snap in a college football game, and he's facing a USC defense with questions in the secondary in his debut. Hawaii returns eight starters on offense, including four of their five offensive linemen.
While there have been some standouts during USC's fall camp on defense, there will be an adjustment period under new defensive coordinator Clancy Pendergast's 5-2 defense. Graham is a pocket passer with a strong arm, but Hawaii will not be running a zone-read offense that USC struggled immensely defending last season. Graham has a lot more promise though than Sean Schroeder, the Hawaii quarterback USC faced last season.
Obviously, all eyes will be on USC's quarterback duo. In the final scrimmage against USC's scout team defense, Kessler and Wittek managed to only put up 29 points against them. Opening the season on the road doesn't help a lot either. In fact, USC has been brutal as the road team from a gambling standpoint. In their last seven road games, the Trojans are 0-7 against the spread. The last time USC played Hawaii at Aloha Stadium, they only won by 13 in Lane Kiffin's coaching debut.
MORE: 2013 USC Football Over/Under: How To Approach The Bet
I think that being favored 22.5 points on the road is a lot considering USC's questions at quarterback and defense. Honestly, if USC is favored by anything more than three touchdowns, I see value in backing the underdog. Also, with Hawaii returning 16 of their 22 starters, this may not be the pushover game that a lot of people are expecting.
Kiffin needs a nice win to begin his hot-seat season, and the Trojans will win this game. The best bet I see for this game is the under, since I don't see USC scoring more than four touchdowns. Switching quarterbacks throughout the game could potentially disrupt the offensive flow, and this Hawaii defense is the strength of the team.
Also, don't underestimate the factor that this is Hawaii's and Norm Chow's Super Bowl. This is their marquee game on their schedule and it's in front of their home crowd. I'm expecting an extremely pumped-up Hawaii team on the opening night of the season, and that could result in a slow start for USC.
The key for me this game is USC's defensive line. They looked very strong in fall camp and they are playing against a quarterback who has never faced a college defense. The size and speed mismatch they have against Hawaii's experienced offensive line is an advantage as well. Expect them to be the main factor why USC pulls away in the second half.
Final Score Prediction: USC 31, Hawaii 10
My Best Bet: UNDER 53.5 Points
Reach Senior Sports Editor Max Meyer by email.