Sports
USC Football Fall Camp, Day 3: Kessler, Wittek Share First Team Reps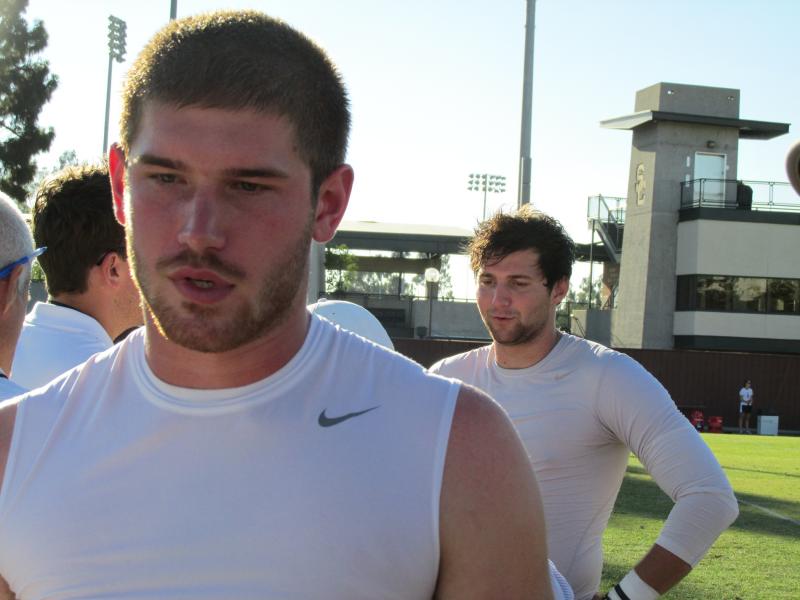 During a third consecutive scorching day at USC football practice, the players put on pads for the first time and stepped up on the intensity on both sides of the ball. A day after a Pullard-led defense rushed the Trojan offense into the ground (literally), the Trojans' three
amigos
quarterbacks showed improvement holding onto the ball, not throwing one interception all day, and the offense showed more power in and focus on the short game.
Kiffin pointed out that after yesterday's explosive day on defense, the offense went back to basics, hitting on a lot of "inside run stuff" and working with the offensive line.
For the most part, the offense looked sound in their mechanics, which isn't typically a talking point. However, after Sunday's practice, any improvement is noteworthy.
Cody Kessler remained confident Monday despite having a porous Sunday afternoon. In action today, he did fumble one snap and was the only quarterback to run laps Monday after he overthrew his receivers on numerous occasions. Still, despite many of his loudest detractors and his early camp hiccups, the strong-willed Kessler is set on proving that he deserves the spot.
SEE MORE: USC Football Fall Camp, Day 2: Defense Dominates As Kessler, Offense Run Laps
"I just take it personally," he told the media. "I'm tired of people saying I can't throw deep balls. I did it all spring. It's something the [media has] always stuck to in their articles, but I don't pay attention to that. I just try to be more accurate than let it go all the time and overthrow someone."
Kessler was in effect comparing himself to his teammate-slash-fall-camp-nemesis Max Wittek, who has been touted as the strongest gunner of the trio. Wittek split first-team time with Kessler, while freshman Max Browne was dealt the shorter end of the stick. Kessler and Wittek each threw touchdowns in 11-on-11s to Marqise Lee and Nelson Agholor, respectively.
Speaking for the other two quarterbacks, Kessler is completely aware that everyone's play is under scrutiny: "You're always making a silent movie about yourself. When the coaches and other people watch film, they are gonna perceive it how they see it."
In that case, Kessler may be better off with a speaking role in a stage play as he is currently talking a better game than he's playing.
Wittek was strong throwing into coverage and at times called audibles at the line. However, he contributed to the most disappointing play of the day for the Trojans.
In 11-on-11s, the junior from Mater Dei under threw a wide-open Victor Blackwell who had beaten the coverage from Torin Harris, who stood flat-footed and confused at the line. Blackwell, in an attempt to get under the ball, cut back too late and dropped the pass. Thankfully it was the only universally negative moment of Day 3 for the USC players.
On the Defensive
Clancy Pendergast has so far maintained a demeanor of calm observation in practice, judging how his raw players will adapt to his new scheme. He's certainly had no need to raise his voice to Ed Orgeron levels as his unit has impressed in its discipline and swagger during the first three days of camp.
As Kessler put it, "If we were live everyday and those guys got to hit us for 25 straight days, I wouldn't be too happy."
Pendergast has kept the roles of defense very fluid, noting that "[the players] are rolling around in there" and that he and Kiffin are "really not naming anybody."
That much is clear with Dion Bailey. No. 18 moved from linebacker to safety this offseason and has impressed so far in camp, providing stiff hits on short routes in the middle of the field and providing professional coverage on deep balls against Lee and Agholor.
SEE MORE: USC Football Practice Primer: Fall Camp Begins
On Bailey's, and the defense's, versatility, Pendergast explained, "He's gonna do both. We've got some safeties that have cover ability. There will be situations where we play three safeties and three corners."
Though the defense was less dominant Monday, no fault should be given to Pendergast's crew. The offense rose to meet them. If Clancy's claims of defensive flexibility ring true in later camps, then the young quarterbacks and their unsure offensive line will have to become familiar with catching up.
NOTES & QUOTES
* Kiffin dug himself another hole with the media Monday when he again skated around the idea of opening the season, and the first game, with two quarterbacks: "Never say never." Somebody should tell Kiffin to never say "Never say never." Though he is attempting to escape answering a presumptive question, he simultaneously allows his enemies in the media to rile up not-yet-present controversies.
* Linebacker Hayes Pullard did not practice today for unspecified reasons, but will return tomorrow.
* Tackle Aundray Walker left practice early, but Kiffin declined to go into specifics, in Kiffin-like fashion. He did says Walker was "showing flashes".
* The quiet Morgan Breslin has been going about his All-American business in camp. Though he shies away from the media, Breslin receives constant acclaim from his teammates and coaches. Kiffin reported that Breslin gained about 12 pounds in the offseason and called the lineman-turned-linebacker a "natural football player."
Kessler is amazed at Breslin's instinctive abilities: "He is one of those guys who - I don't know how he does it - can tell every time if it's a run or a pass and if you have the ball when you roll out. That's definitely someone you don't wanna be seeing when you roll out."
* Three freshman received praise during the head ball coach's presser: offensive lineman Nico Falah, cornerback Leon McQuay III and wide receiver Darreus Rogers.
* USC AD Pat Haden attended practice Monday, standing mostly under the south goalpost of the main field. He got a great view of Kessler and Wittek's touchdown passes.
Reach Senior Sports Editor Jeremy Bergman via e-mail or on Twitter @JABergman.