USC Sports
USC Football Fall Camp, Day 9: QB Battle Down To Two
The Trojans took the field on Sunday night in shoulder pads and helmets, taking a short break from the grind of full-contact Fall Camp.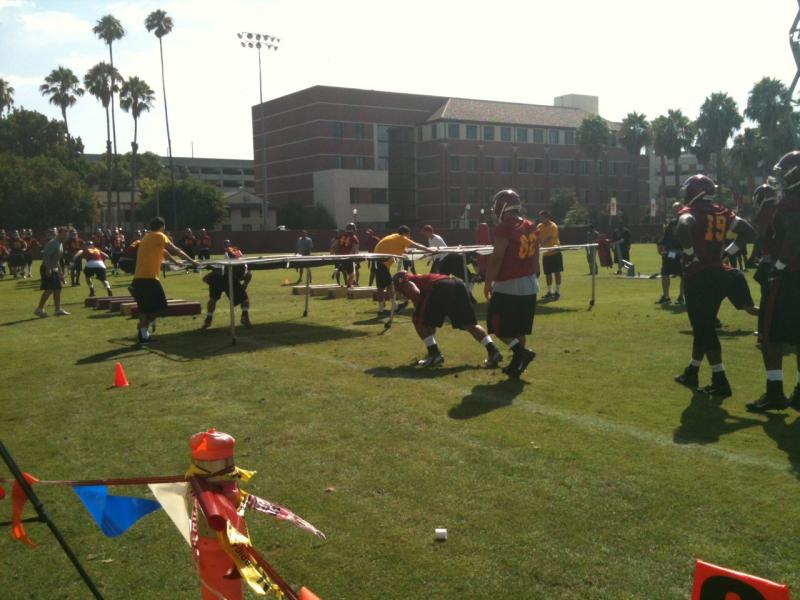 Two-Step Quarterback Battle
Head coach Lane Kiffin made a stunning announcement around the future of the quarterback competition following the team's 10th practice. After days of status quo in the rankings, Kiffin narrowed the starting job to elder statesman Cody Kessler and Max Wittek, this news with 18 days until opening kickoff.
"Max Browne probably as advanced as any guy we have had coming in," said Kiffin, who directly gave Browne the news on Saturday night. "Max is as good of a professional as any, he took the news with poise."
Spending a great deal of time working with all three major quarterbacks, offensive coordinator Clay Helton continues to be impressed with Browne, Wittek and Kessler. "Were very fortunate that all three quarterbacks have the intangibles we are looking for, all three have great leadership skills," Helton said. "But at the end of the day, we look at decision making, timing, accuracy and protection."
The Trojans spent the majority of practice in a full-team scrimmage, with plenty of competitive interest on the line. Kessler threw with accuracy and touch all afternoon long, leading the offense to victory with a touchdown pass to Jahleel Pinner on a fantastic wheel route. Wittek looked strong once again in delivering crisp fastball passes, most notably a sideline strike to Darreus Rogers.
READ MORE: USC Football Fall Camp, Day 8: Marqise Lee Day-To-Day
Lee Remains Out...But Lends a Helping Hand
Star receiver Marqise Lee remained sidelined because of a bone bruise, attending practice while wearing his white jersey and basketball shorts. In his absence, camp standout Rogers continues to play at an elite level.
The 6-foot-2 threat made numerous plays at the highest point and snatched passes in with great concentration all day long. "If the ball is in the air, the attitude is go get it," Rogers said. "I don't drop balls. That is my mindset every day."
While remaining out of practice with a slight bone bruise that does not seem serious according to the coaching staff, Kiffin noted that Lee will need to continue improving once he returns. "There's some inconsistencies in his game, and he knows that," Kiffin said following practice. "I know the guy's won the Biletnikoff Award and I know he's a great player, but he's still young."
In a day of tutoring and research for Lee, the wide receiver spent the day instructing and consoling his fellow targets. Lee was taking notes all afternoon long, even coming over to lend a consoling hand to De'Von Flournoy, who dropped a crucial pass near the end of practice.
Rotation on the Offensive Line
Aundrey Walker has been the talk of Fall Camp on the offensive line, moving once again to right guard on Sunday. After entering as the favorite for the starting left tackle, Walker continues to battle with recent emerging star Chad Wheeler.
Kiffin explained that Walker's move is not necessarily permanent, but that Wheeler has made an impression on the coaching staff. Max Tuerk continued his growth at the left guard position, receiving praise from Kiffin as a possible four-year starter by the time his career ends in Southern California.
As leader and three-year starter on the line, center Marcus Martin stressed the importance of playing as a unit regardless of the rotation. "We need to bond together as an offense, as there is no seniority in our group," Martin said. "I love playing with our offensive line, and our left side is playing really well right now."
READ MORE: USC Football Fall Camp, Day 7-8: Marqise Lee Hurt, Updated Expected Tonight
QUICK NOTES:
*Linebacker Anthony Sarao received a bulk of the reps with the first-team defense for the second-straight day, while safety Su'a Cravens returned to practice, participating with the second-team defense in nickel situations.
*Tre Madden took snaps in the wildcat formation in practice, handing the ball off to Fluornoy, who returned to practice Sunday for the first time in a number of days and attempted a pass during practice.
*In the absence of Leonard Williams, who was sidelined with a day-to-day shoulder injury, J.R. Tavai made the biggest impact on the defensive line. The speed-rushing junior penetrated the line of scrimmage all day long, showcasing a great skill set.
*Silas Redd and Justin Davis were limited in practice while Ty Isaac and D.J. Morgan did not participate at the running back spot, paving the way for another outstanding day from Buck Allen in the Trojan backfield.
*Lane Kiffin added more humor in the post-practice interview, claiming the validity of Marqise Lee's day-to-day injury like he was "the boy who cried wolf" to the USC media on hand.
*The offense won the 11-on-11 scrimmage thanks to a game-winning field goal from Andre Heidari. Both units came together in jovial celebration of a solid day's work on the practice field, before they head to Dedeaux Field on Monday.