Los Angeles
L.A. Fast Food Workers Join Nationwide Strike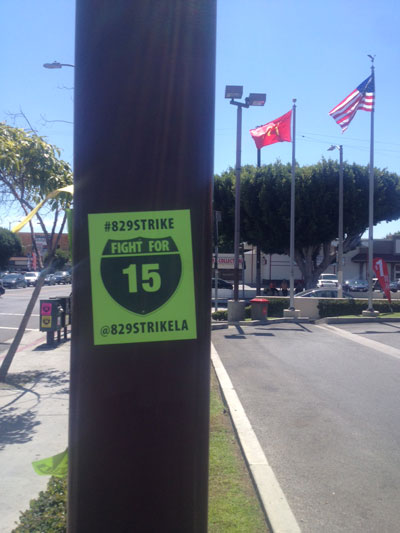 Hundreds of fast food employees in Los Angeles went on strike Thursday to push for higher wages, joining other workers in more than 50 cities across the nation.
Among the employees' demands were an increase in pay — from minimum wage to $15 an hour — and the right to unionize.
The first fast food protest occurred last November in New York and spread to other cities. Thursday's strike was the largest of its kind in the industry's history.
L.A. has more than 181,000 fast food workers, where the median wage for the job is $9 an hour -- just $11,232 annually, according to Good Jobs LA.
Fast food joints with workers on strike included McDonald's, Burger King, Jack in the Box, Wendy's, Taco Bell and El Pollo Loco.
In a statement, McDonald's said raising employee's wages would cause its menu prices to increase.
"That would potentially have a negative impact on employment and business growth in our restaurants, as well as value for our customers," the company said.
One customer saw the workers' march as too disruptive.
William Choi often frequented the McDonald's near the intersection of Western Avenue and Santa Monica Boulevard. Choi, a government contractor, made less than $15 an hour and thought the fast food workers were asking for too much.
"Fifteen dollars for the minimum wage is too high," said Choi.
Choi also said he didn't think it was fair for protestors to come into restaurants.
"One of the group leaders came inside wearing a shirt with the '15' logo and started screaming at the manager about raising wages," said Choi. "It's good to send a message, but they shouldn't have come in here screaming."
Reach Senior News Editor Melissah Yang here.
Reach Editor-In-Chief Brianna Sacks here.