National
Rick Perry Will Not Run For Reelection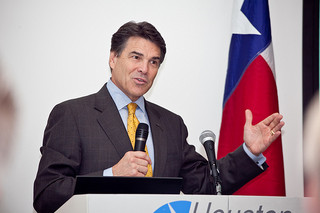 Texas governor Rick Perry announced Monday that he would not run for re-election next year, saying he would "pray and reflect and work to determine my own future path,"
according to The New York Times.
Perry leaves as the longest-running governor in state history, having first taking office in December 2000 when George W. Bush resigned to become President.
"I remain excited about the future and the challenges ahead, but the time has come to pass on the mantle of leadership," Perry said. "I will spend the next 18 months working to create more jobs, opportunity and innovation. I will actively lead this great state."
Perry made the announcement at Holt Cat, a Caterpillar equipment dealership owned by Peter Holt, who also owns the San Antonio Spurs. Holt has been a major donor for Perry's political campaigns.
SEE ALSO | Opinion: Not All Texans Are As Myopic As Their Elected Leaders
Perry listed his major accomplishments during the three terms he has spent as governor, including creating what he called "the strongest economy in the nation" by balancing the state budget and adding 1.6 million jobs. He also mentioned his fight against abortion, a topic that has earned him some controversy when he criticized state senator Wendy Davis after she stopped a strict anti-abortion bill with an 11-hour filibuster.
Perry suggested at a pro-life convention that Davis should understand that "every life matters" and that her mother had been a single parent and might have considered abortion. Davis said in a written statement that Perry's words "reflect a dark and negative point of view." Perry has called a second special session to pass the anti-abortion bill, which is expected to pass.
According to The Texas Tribune, State Attorney General Greg Abbott is considered the favorite to replace Perry, since they share many political views and major financial donors. Sen. Davis is expected to be the Democratic candidate following her rise to national prominence after her filibuster, but in a Public Policy Polling survey taken July 2, she trailed Abbott in a hypothetical match-up by eight points. The 2014 election will be Texas' first open-seat election since 1990.
Reach Executive Producer Jeremy Fuster here or follow him on Twitter