Opinion
Los Angeles' Powerful, Peaceful Protest For Trayvon Martin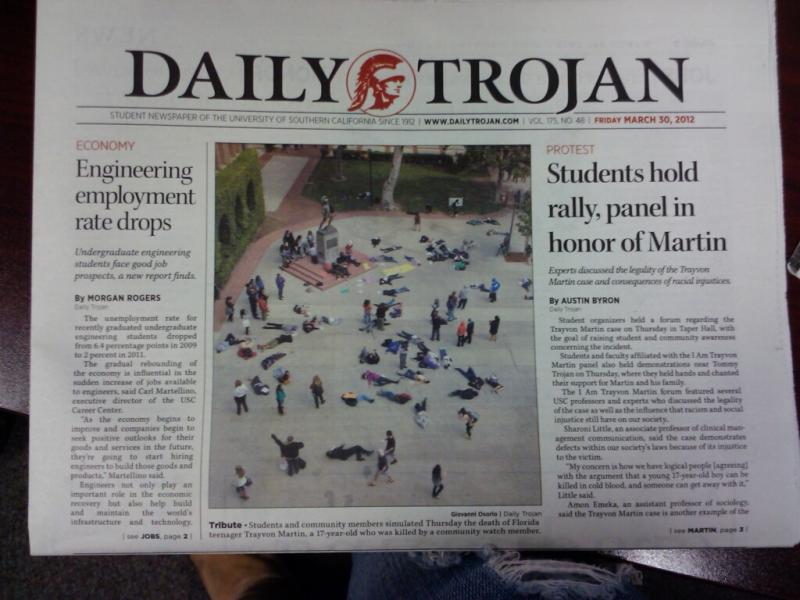 On March 29, 2012, I envisioned people lying on the ground surrounding Tommy Trojan at the University of Southern California to show that we are
all
Trayvon. That idea of a silent protest turned out to be a flash mob, with people lying around Tommy Trojan while the other organizers and I gave speeches to the crowd. There is no one with minority blood running through their veins who isn't subjected to profiling, stereotypes and violence. We are targeted daily, hourly, weekly and monthly by those in our communities and in the justice system. As I stood overlooking the crowd of students and community members laid out on the concrete, I didn't expect that one year later I'd have to grapple with the emotions of a
not guilty verdict
in the George Zimmerman case.
That doesn't mean that I was surprised. Since the shooting occurred, I had begun to prepare myself for what would be the public reminder to society of the oppression blacks have endured. Like many throughout the nation, last night, I couldn't rest. The peaceful night I imagined at home turned into a peaceful demonstration in the streets, where I could be with other people who understood what I was going through.
Over 400,000 signatures have already been collected by the NAACP on a petition to bring the Zimmerman trial to federal court. The NAACP created the petition only hours after the verdict was read. Their website crashed before it was reopened for signatures. Their partnership with move.org expanded the reach of the campaign, and thousands shared and liked the petition to call attention to it. The Justice Department is already conducting a federal review of the case.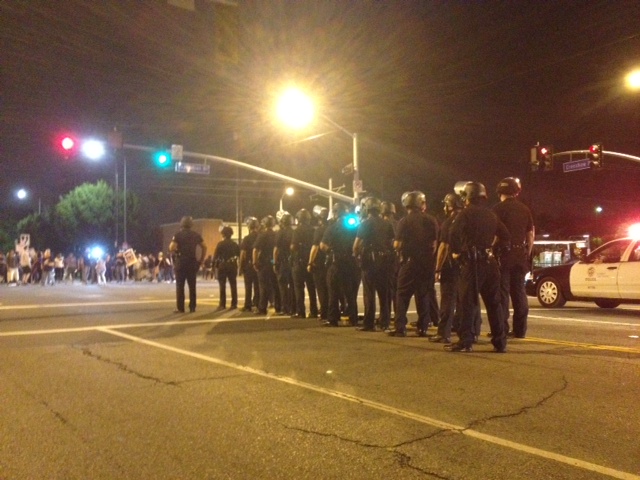 When I arrived at the Crenshaw Mall last night, I saw police in full riot gear following the crowd marching from Leimert Park. At least 10 squad cars blocked off various streets intersecting Crenshaw Boulevard in order to redirect traffic and protesters. Once the crowd passed the mall, over 30 people stepped on the tracks of the train at Exposition and Crenshaw. The tracks closed, the passengers left the train. People did not want to move, but eventually they did. Protesters broke the line of police that had assembled to block them from going further and ran toward the freeway, where a final blockade had been established. Several protesters told me that the police sprayed tear gas and rubber bullets into the crowd. Naturally, this missed the news.
A 17-year-old teenager was killed walking home from the store. He was followed by what he interpreted to be an assailant. Someone who had already profiled him as "black" and therefore a "criminal." He was intensely questioned about his reasons for being where he was. Nobody has the right to assume you don't belong anywhere based on the color of your skin. If Trayvon was white, the consequences of his death would have been different. But the jury has spoken. Now it is time to focus on change, change that requires no jury to direct its outcome.
The rallies throughout the nation last night - in Florida, Chicago, Washington, Los Angeles - were only the beginning. As many of us know, the movement is not about one moment; it is about continuing the momentum for change for generations to come. There will come a time when the color of one's skin does not dictate who they are in the eyes of the law, or in the eyes of a society determined to adhere to stereotypes as the basis for how to treat one another. When will that time come? Who knows. But it is clear that thousands cannot and will not rest until that change occurs.
President Obama's statement on Sunday called for us to focus not on our anger in response to the verdict, but rather on the growing number of youth dying in America daily:
"The death of Trayvon Martin was a tragedy. Not just for his family, or for any one community, but for America. I know this case has elicited strong passions. And in the wake of the verdict, I know those passions may be running even higher. But we are a nation of laws, and a jury has spoken. I now ask every American to respect the call for calm reflection from two parents who lost their young son. And as we do, we should ask ourselves if we're doing all we can to widen the circle of compassion and understanding in our own communities. We should ask ourselves if we're doing all we can to stem the tide of gun violence that claims too many lives across this country on a daily basis. We should ask ourselves, as individuals and as a society, how we can prevent future tragedies like this. As citizens, that's a job for all of us. That's the way to honor Trayvon Martin."
America's youth were dying before President Obama entered office, and I guarantee that unless he decides to focus an insurmountable amount of time on the issue of gun violence, they'll continue to die after he is out of office. The true power to stem the tide of violence rests with the people who hold no office, but who hold dearly their right to exist. We draw strength within our communities, where the ones we must protect live and breathe. It is clear now that we cannot trust others to protect them for us. iWe must grow into our own and build our own.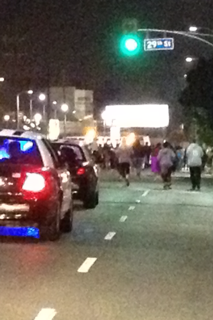 Although parts of President Obama's statement ring true, much of the work to "prevent future tragedies like this" belongs to the citizens of the United States, not to the government sworn to protect them, because it no longer does. When I wrote last week on
Chicago's 200th homicide
, I didn't expect to see on Facebook that my community members were rallying blocks away from my home. But our only action as a community cannot be to simply sit and talk about the issue. There must be leadership within the movement. As I looked around last night and watched as so many young people marched for justice, I felt confident that once everyone returned home, work would begin.
Another rally is scheduled for 4 p.m. today at Crenshaw Boulevard and King Boulevard. For me, there has always been a lifelong rally cry within my heart for my community. Public protests are crucial in movements for change, and it is therefore crucial for people to come out and support the movement. At the same time, we must remember that a movement may start with a rally in the streets, but it must continue with research and planning to produce strategic options for change. Thankfully, I rest on the shoulders of my ancestors, who were heroic giants that left historic guidelines to direct my energy.
Sign the NAACP's petition to bring the Zimmerman trial to federal court here.