International
Gay Marriage Bill Approved By Britain's House of Lords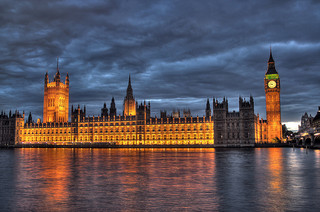 A bill to legalize gay marriage in England and Wales was passed by the House of Lords on Monday and is expected to receive royal assent from Queen Elizabeth II within the next few days, according to
The Telegraph.
The bill will allow same-sex couple to get married in both civil and religious ceremonies by next summer. Currently, they can only form civil partnerships. Supporters of the bill wore pink carnations in the chamber as the bill was being passed. Lord Alli, who in 1999 became the first ever openly gay peer in Parliament, gave a passionate speech following the passage.
"As a gay man over those 15 years you have changed my life," he said to his peers. "You have given me dignity where there was sometimes fear. You have given me hope where there was often darkness and you have given me equality where there was sometimes prejudice."
SEE ALSO | Some South L.A. Churches Support DOMA, Prop 8 Rulings
The Coalition For Marriage (C4M), the organization that was the main opponent to the bill, plans to move on from the ruling by repurposing itself as a lobby group rather than a campaign for a single issue. Approximately 700,000 supporters have signed the coalition's petition against gay marriage, and the C4M plans to use those supporters to challenge potential swing seats in the 2015 election.
"[The Coalition's supporters] are just ordinary men and women, not part of the ruling elite," said Colin Hart, C4M's campaign director. "They are passionate, motivated and determined to fight on against a law that renders terms like husband and wife meaningless and threatens one of the foundations of the institution of marriage: fidelity and faithfulness.
The bill will return to the House of Commons on Tuesday for a review of some amendments made to the bill before it is sent to the Queen for royal assent. The House of Commons had passed the bill in Feburary by a vote of 390-148.
Read the full story at The Telegraph
Reach Executive Producer Jeremy Fuster here or follow him on Twitter