National
Eric Holder Promises Civil Rights Inquiry Into Trayvon Martin's Death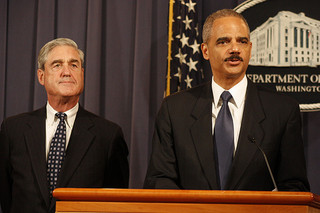 Attorney General Eric Holder made his first public comments on Monday about the acquittal of George Zimmerman on the murder of Trayvon Martin at a convention of the nation's largest African-American sorority,
according to USA Today
. He called Martin's death "unnecessary" and promised that the Justice Department would perform a civil rights inquiry on the incident.
"We are determined to meet division and confusion with understanding and compassion – and also with truth," he said to the Delta Sigma Theta sorority delegates. "This tragedy provides yet another opportunity for our nation to speak honestly about the complicated and emotionally charged issues that this case has raised. We must not – as we have too often in the past – let this opportunity pass.''
SEE ALSO | Obama Responds To Zimmerman Verdict
Holder will speak about the investigation in more detail on Tuesday at the NAACP's national convention in Orlando, Fla, which is 28 miles from the courthouse where Zimmerman was found not guilty on Saturday. According to The Orlando Sentinel, an online petition started by the NAACP to ask the Justice Dept. to investigate Martin's death has received over 450,000 signatures. The petition crashed the NAACP website when it was first posted on Saturday.
The Justice Dept. responded to the petition with a statement saying it would "determine whether the evidence reveals a prosecutable violation of any of the limited federal criminal civil rights statutes within our jurisdiction, and whether federal prosecution is appropriate in accordance with the department's policy governing successive federal prosecution following a state trial."
Holder's speech comes as protests against Zimmerman's acquittal have spread across the nation, including in Times Square in New York. Most protests have been peaceful, but some protests in Los Angeles resulted in arrests when protesters stopped traffic on the 10 freeway and some protestors in Hollywood refused to disperse. Some officers fired nonlethal rounds into a crowd on Sunset Boulevard that had gathered in front of the CNN bureau, and one person on Washington Boulevard was arrested for battery on a police officer.
African-American community leaders in Los Angeles have urged protesters to keep their protests peaceful. The Los Angeles Times reports that an evening vigil will be held on Monday night in Leimart Park in Martin's memory.
See Neon Tommy's live reports of the Trayvon protests here