Sports
2013 Pac-12 Media Day Recap: The Best Of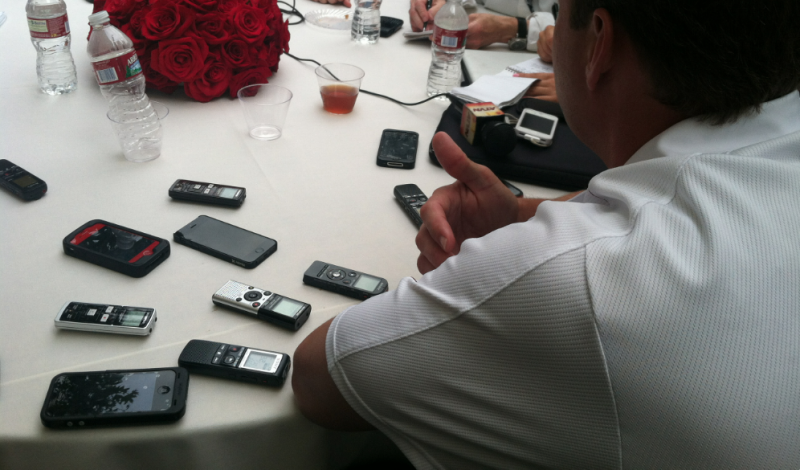 On an uncharacteristically rainy day in Southern California, the coaches and top football players in the Pac-12 Conference were met with a wave of biting questions at Pac-12 Media Day at Sony Studios.
From the quiet preachings of Stanford coach David Shaw to the brash boastfulness of Arizona skipper Rich Rod(riguez), the presser - and the delicious pasta lunch that followed - featured many intriguing characters and notable quotes along with the announcement of new football and entertainment initiatives.
Trojan Hoarse
Every year regardless of skill or expectations, USC is always the most highly-profiled and scrutinized panel at Pac-12 Media Day. The Los Angeles press, though lazily piggybacking on the Bruin bandwagon, peppered the Trojans' Lane Kiffin, Marqise Lee and Hayes Pullard for a Media Day-high 23 minutes, exceeding the suggested 15 minute limit. Not that Kiffin cares - he's Lane F**ing Kiffin, haven't you heard?
Kiffin announced during the presser that he would be calling the offensive plays for the Trojans this year and had high hopes for many rising stars on an offense void of an impressive game-changing quarterback.
"We saw the development of [wide receiver] Nelson Agholor this spring," Kiffin explained. "He was performing as the No. 1 receiver. He's a great leader already, even though he has just finished up his first year."
When asked about the health of linebacker-turned-halfback Tre Madden's health, Kiffin offered up a shocking comparison to historically stricken forgotten years: "We feel like with the entire running back group and the fact that Tre is healthy we have that position back to where it was in that 2004, 2005 range."
If Kiffin isn't pulling tricks on the hungry media, then Tailback U may surely be back in form in South Central this year, especially if the embattled head coach delays choosing a starting quarterback. Kiffin was mum on who had the edge going into the preseason between Cody Kessler, Max Wittek and Max Browne.
However, Lee, the 2012 Biletnikoff winner and a Heisman candidate this year, is getting anxious.
"I wanna know as soon as possible, " he jokingly whined. "I ask Kiffin, but Kiffin don't give me nothing. He leave me dry."
Join the club, Marqise.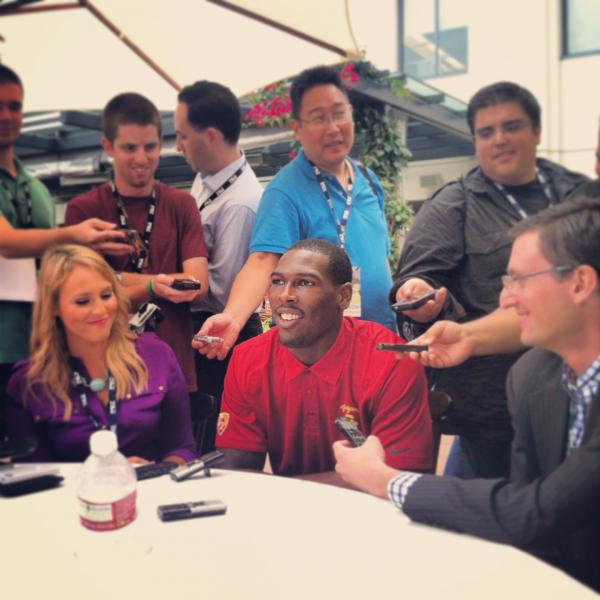 Safety First
In a move that shocked nearly nobody, Pac-12 Commissioner Larry Scott opened the proceedings by announcing a new contact policy that goes beyond the limitations currently imposed by the NCAA. The changes that Scott announced are intended to limit contact in practice and provide additional recovery periods for injured players.
Specifically the policy limits teams to two full-contact practices per week during the regular season and spring ball, while also limiting contact during two-a-days in the preseason by allowing only one full-contact practice per day.
Scott also announced a conference plan to move forward with the Student-Athlete Health Initiative, to which the Pac-12 has already committed $3.5 million in research grants, and spoke about the Pac-12's partnership with USA Football at youth and high school levels to promote a safer game.
New Faces in Pacific Places
Friday was in essence a debutante ball for three of the conference's newcomers, albeit with less pearls and gowns.
The most anticipated of the public unveilings was new Oregon coach Mark Helfrich, an Oregon native who is commandeering the reins from vacated coach Chip Kelly, who skipped town conveniently before the release of NCAA sanctions against the Ducks. Helfrich was Oregon's offensive coordinator and QB coach for the past four seasons and assured fans that Kelly's up-tempo style will maintain a fixture in the Duck's identity.
"We wanna score," Helfrich proclaimed. "We're going to talk the same, work the same, practice the same."
California coach Sonny Dykes and Colorado coach Mike MacIntyre took the stage to muted fanfare as both of their inherited programs struggled mightily last year, and in years past, and are not garnering much attention or expectation from the media. But that didn't stop the rookies from making bold claims.
"If you're looking from the outside, Cal football doesn't look very good. But on the inside, we think it looks good, " Dykes pointed out.
MacIntyre claimed, "Our future is bright, our future is right." The man can rhyme, but whether he can coach the Buffs back to legitimacy is yet to be seen.
Fighting Words from Westwood
"Aggressive."
That was the word repeated ad nauseum by UCLA coach Jim Mora during the Bruin presser to describe his club's approach to a promising 2013 campaign. Coming off a surprising season in 2012 during which the Bruins stole the Pac-12 South crown from the highly touted, and flawed, USC Trojans on a dramatic, soggy day at the Rose Bowl, Mora and his star players, LB Anthony Carr and OL Xavier Su'a-Filo, have the right to boast.
When asked if he would trade Barr for South Carolina monster-of-a-man Jadeveon Clowney, Mora confirmed a supreme confidence in his backer: "I wouldn't trade any of our players. I've been vocal talking about how Anthony is one of the dominant p;layers on his side of the ball…Let's not all insult Clowney, though I probably already did by saying you were the best in the country."
The last act of the day, the UCLA Bruins certainly provided a grand finale to the endless pressers, emanating enthusiasm and assuredness. But before the Bruins left the stage, they did take on sneaky parting shot against the rival Trojans. Though Barr claimed he had "great respect" for USC, he called out the Trojans' offensive line in the very last comment of the panel.
When asked what comes to mind when he sees replays of his massive sack of ex-Trojan Matt Barkley, which ended the golden boy's USC career, Barr called, "I want to know why the tackle just me go!"
Aundrey Walker may have something to say about that come November 30th.
'Geronimo'
The day started off with a bang as Washington State coach Mike Leach amused the media crowd with non-football related quips as it seemed no media members were pining for updates on the state of the Cougars.
The ex-Texas tech honcho said of South Carolina defense end Jadeveon Clowney's ESPY-award winning decapitation of a Michigan running back last winter, "The Clowney hit is why they have football and why it's the greatest American game ever invented." Clearly he didn't get the memo about Scott's new safety initiative.
Leach went to proclaim himself the "head zombie and head corpse" in a Wazzu program that has been characterized as such because of their consistently poor play. His self-classification gained no objection from the crowd. He also took the time to promote his new book, Geronimo, which he is writing with a State professor, and compared it to monogamy: "Writing a book is like marriage. There's no divorcing a book." It's safe to say that the priorities in Spokane are just where they have been need to be.
Preseason Poll
Pac-12 North
1. Oregon (15), 2. Stanford (11), 3. Oregon St., 4. Washington, 5. California, 6. Washington St.
Pac-12 South
1. UCLA (12), 2. Arizona St. (10), 3. USC (4), 4. Arizona, 5. Utah, 6. Colorado
Pac-12 Champions
Oregon (14), Stanford (8), UCLA (3)
Top Quotes of the Day
5. Stanford coach David Shaw: "The foundation of our team is the team."
4. Oregon coach Mark Helfrich on following Chip Kelly: "If the guy that followed John Wooden quoted him every once in a while, would that have been a bad thing?"
3. Colorado coach Mike MacIntyre on the Buffaloes' struggles: "I don't know much about the past seven seasons."
2. Washington coach Steve Sarkisian: "I have 105 sons between the ages of 18 and 22. We're gonna make a few mistakes."
1. Washington State coach Mike Leach on zombies: "If somebody's a zombie or a corpse, I'm the head zombie, head corpse."
Reach Senior Sports Editor Jeremy Bergman via e-mail and follow him on Twitter @JABergman.