Food
Quick Fixes: Easy-To-Prep-And-Pack Home Lunches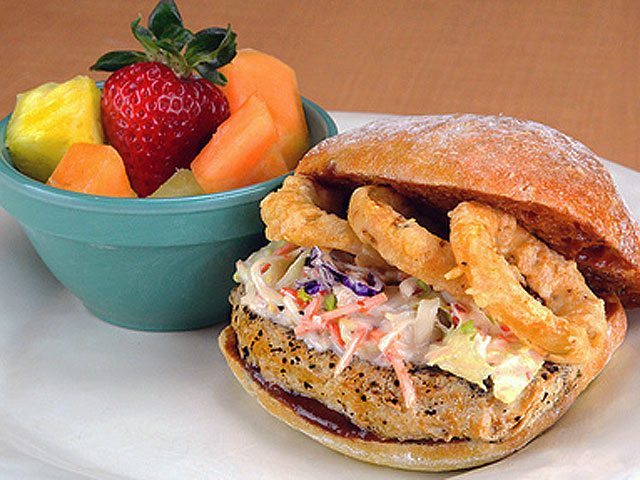 Rushing off to your summer job or internship and barely have enough time to eat breakfast, let alone pack lunch?
During the morning rush to get to school, work or an internship, skipping breakfast might be commonplace—which, of course, is not your body's best way to start off the day—but failing to pack (or buy) a nutritious lunch might be equally harmful to your body. Studies show that skipping lunch or not eating healthy lunches are detrimental to the human body, which needs adequate nutrients and energy to finish out the remainder of the day. Skipping lunch altogether can lead to binging and overeating during dinner, while eating nutritionally lacking lunches—those without vegetables, fruits, beans, nuts, seeds, grains, etc.—may leave you still feeling hungry later on (or, conversely, feeling bloated, stuffed and unhealthy).
Here are some healthy, easy-to-make home lunch recipes that can save you a couple of bucks during the week while providing you with the nutrients you need. These quick fixes can be prepared ahead of time, so you won't have to worry in the morning as you're trying to head out the door.
SANDWICHES
Packing lunch is a quick deal when it comes to sandwiches simply because they're portable and fairly easy to make (you can even prep your sandwich the night before to avoid rushing in the morning). Don't catch yourself falling into a "sandwich rut" of sorts, though, and take the same thing for lunch every day. Change your lunch up with a variety of delicious sandwich recipes that are both healthy and flavorful.
This sandwich is as simple as it gets, but the taste and textures are out of this world. Combine thin slices of Cheddar cheese (or your favorite cheese) with several apple pieces between slices of French, Italian or multigrain bread. In one sandwich, you'll get the gritty texture of the multigrain bread, sweet crunchiness from the apple and complementing smoothness and flavor from your choice of cheese.
Got some leftover chicken from last night's barbecue? Combine your leftover cooked chicken with crunchy carrots and barbecue sauce in a tasty sandwich. You definitely kill two birds with one stone with this sandwich — you get rid of all your leftover chicken and prep a quick, flavorful meal for the next day at school.
You won't need to worry about getting your greens in with this Italian Vegetable Hoagie. An assortment of veggies like artichoke hearts, tomatoes and onions is featured in this loaded sandwich, and the sweet balsamic vinegar and spicy pepperoncini give it flavor and zest. If you're packing this sandwich to take with you to work for lunch, keep the ingredients separate to avoid soggy bread and assemble the sandwich right before eating.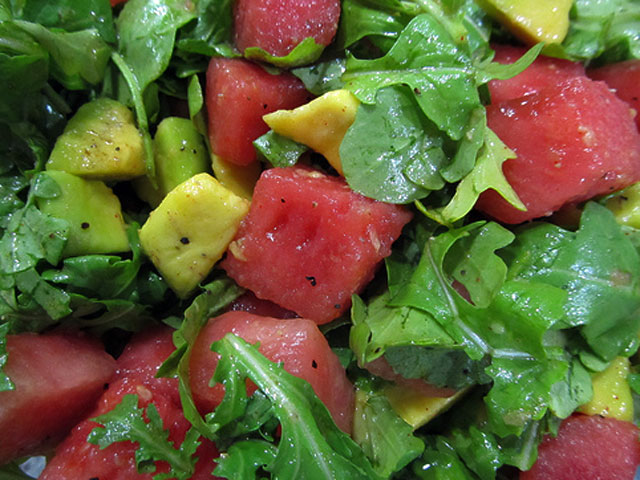 SALADS
Salads are great lunch solutions because you can always create your own to include a variety of your favorite items. And the best part — simply prep your greens the night before and store in an airtight container for the next day.
Turkey Salad with Avocado and Tomato
Simply buy one head of lettuce from your local grocery store and then customize this salad to your heart's desire. While thinly sliced deli turkey may have the starring role in this salad, cut avocados, sliced red onions and cut tomatoes all play supporting parts with balsamic vinegar to top it off.
Spice things up with this flavorful Turkey Taco Salad! This salad can be prepped ahead of time by cooking the ground turkey before the salad needs to be assembled. Give your Taco Turkey Salad additional flavor by adding pinto beans, tortilla chips, olives, sliced avocado, salsa and grated Cheddar cheese.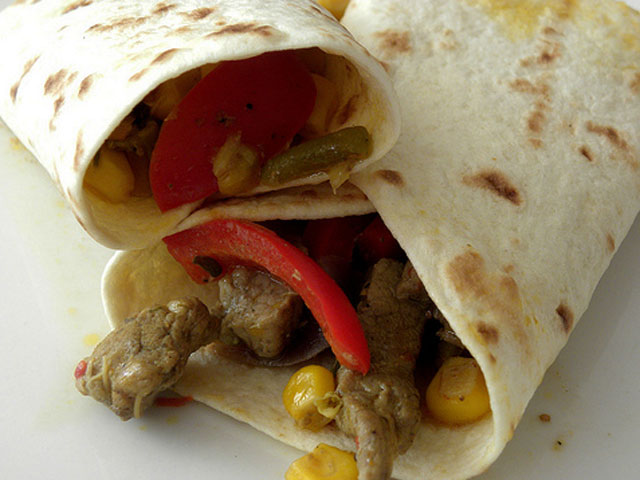 WRAPS
Wraps are great lunch options when they include vegetables, fruits and lean proteins that help you power through your day without feeling hungry. The possibilities when it comes to making wraps are endless, ranging from veggie and salad wraps to tuna wraps.
Create a twist on the traditional Caesar Salad by assembling it in an easy-to-carry (and eat) wrap version. You can use a bag of Caesar Salad mix from your local grocery store and combine it with other ingredients—cream cheese and chopped pieces of chicken—before enveloping the whole mixture in your favorite tortilla (corn, flour, spinach, etc.). This wrap is the perfect for prepping the night before because of its softened cream cheese layer, which keeps the tortilla fresh but not soggy.
Got some leftover turkey from dinner? Ditch the turkey sandwich and feature the protein in a flavorful wrap instead. With bacon, turkey, lettuce and tomatoes, you can whip up a quick and easy wrap that is both healthy and flavorful. Pre-wrap these combos the night before you have work/school so you can just grab them from the refrigerator the next morning.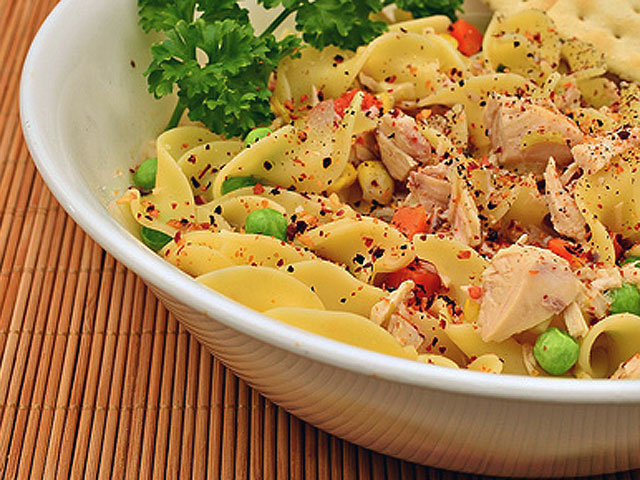 SOUPS
Soups often complement sandwiches in your typical soup-and-sandwich combo, but they can also function just as well solo. There are many health benefits to having a delicious, nutritious soup for lunch: for instance, soups packed with vegetables are a good source of fiber, and soup also has a high water content, which will keep you feeling full until it's time for dinner.
A staple in the soup family, Chicken Noodle is both a beloved classic and comfort food. Start off with low-sodium chicken broth and continue to build upon that base with additional ingredients like chopped carrots, celery, onions, and, of course, chopped pieces of cooked chicken breast. You can improvise the typical chicken noodle soup recipe by substituting the required noodle type with your own personal favorite (ranging from egg noodles to rice noodles). Pair this classic soup with your favorite crackers or a French baguette for dipping.
Featuring a chicken noodle soup base, this delicious and hearty tortilla soup can be made beforehand and packed in a thermos for your next lunch. Pair with tortilla chips for some extra crunch.
This delicious soup features a vegetable soup base with all the bells and whistles — cubes of extra firm tofu, sesame oil, soy sauce, chopped broccoli and udon noodles. You'll get a good dose of veggies from the broccoli (and vegetable broth), while the udon noodles and generous portions of tofu give this soup substance.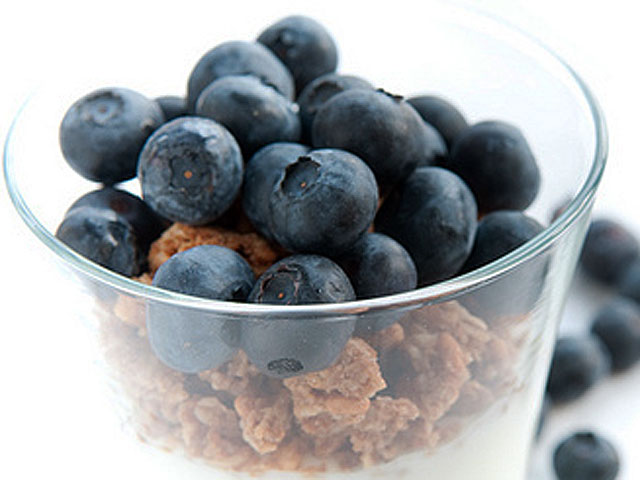 BREAKFAST-INSPIRED LUNCHES
Who said that breakfast foods need to stay at the breakfast table? Yogurt, granola, egg whites and fruits could function as components of an easy grab-and-go lunch.
Fresh Fruit Kabobs with Creamy Yogurt Dipping Sauce
Pair Greek yogurt with some delicious granola and some of your favorite fruits and voila! You have an easy to prep (and pack) lunch set for the next two or three days. Simply keep the cut fruit pieces in plastic wrap and the yogurt dipping sauce in an airtight container in the refrigerator.
Cooked egg whites are a healthy way to eat eggs because it eliminates cholesterol (much of which is found in the egg yolk). Scramble three egg whites and create a delicious, healthy sandwich with spinach, Cheddar cheese, tomatoes and a whole-grain English muffin.
Reach Kelli Shiroma here.