International
Nelson Mandela Has Died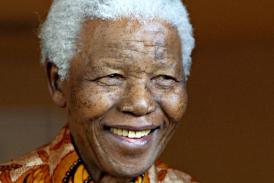 Nelson Mandela, the first black president of South Africa and the country's first democratically elected president, died after months of health problems.
South African President Jacob Zuma announced the news late Thursday. He was 95.
The former president had been in critical condition since the summer, battling a lung infection. Mandela was first hospitalized June 8, and after spouts in the hospital he retreated to a quiet life at his boyhood home in the nation's Eastern Cape Province, where he said he was most at peace.
CNN reported that Mandela last appeared in public during the 2010 World Cup hosted by South Africa. His absences from the limelight and frequent hospitalizations left the nation on edge, prompting Zuma to reassure citizens every time he fell sick.
Nelson Mandela was born on July 18, 1918 in Mvezo, South Africa, but his "hometown" was Qunu. He is survived by his wife, Graça Machel, his living children, grandchildren and great grandchildren.
Brenton Geach, a Cape Town photographer, knew the former president and his wife personally.
While he was in the hospital he said, "If every man on earth had a fraction of what Mandela has, this would be a dream world." Geach also said, "It gave me chills, being in the same room as him."
SEE ALSO: Nelson Mandela At 95: Millions Honor His Legacy
Jacob Zuma noted that Mandela would bring prepared notes to speeches and "then not glance down at them once."
Before becoming president, Mandela co-founded the African National Congress Youth League in 1944 and was elected president of the organization in 1951.
He also spearheaded the anti-apartheid movement and was imprisoned for 27 years for his role in the country's struggle for freedom. He called for equality and changed race relations in the African country by breaking the social and political color barrier between whites and blacks.
In 1993, Nelson Mandela was awarded the Nobel Peace Prize for his role in "the peaceful termination of the apartheid regime, and for laying the foundations for a new democratic South Africa."' Mandela was elected president of South Africa on May 9, 1994. He was the first black president of South Africa.
Mandela is an icon of peaceful resistance and strength in the face of social injustices, not only for his country, but for the world. He was the face South Africa's Civil Rights movement and became a hero in the eyes of the country. He was a freedom fighter, a prisoner, an elder statesman and a stubborn leader.
Graham Clark reported from South Africa.
Reach Senior Reporter Max Schwartz here; follow him on Twitter here.
Reach Editor-At-Large Graham Clark here; follow him on Twitter here.