International
Brazil's President Responds To Protests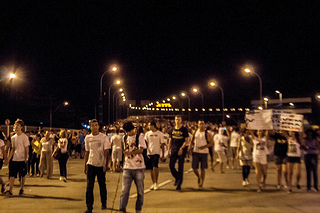 Brazilian president Dilma Rousseff responded Monday to protests that have swept the South American nation over the past week, proposing major political system changes that included additional funding to public transit systems and hospitals and an overhaul of campaign financing methods, according to
The New York Times
.
The announcement came after President Rousseff met with leaders of the Free Pass Movement, which began the demonstrations against a ten-cent rise in bus fare that grew into a protest against many other grievances and spread to over 100 cities. Other issues include better pay for teachers and opposition to allow medical treatment for homosexuality. Four people have been killed during the protests.
The protests were timed to coincide with the 2013 FIFA Confederations Cup, an eight-team soccer tournament designed as a warm-up for Brazil before they host the World Cup next year.
Protesters spoke out against the government's decision to raise tax rates in order to meet the spiraling cost of hosting the 2014 World Cup and the 2016 Summer Olympics. FIFA's website was hacked earlier this week by a group called Solidar to protest "forced evictions and human rights violations" that have arisen as preparations are made for the tournament.
SEE ALSO | More On Brazil's Protests Against The World Cup
At a meeting with governors and mayors in Brasilia, Rousseff announced she would pledge over $22 billion to upgrade urban transportation and create a national public transportation council. She also announced that one hundred percent of oil royalties would go towards education. She also proposed stiffer penalties for political corruption and a constituent assembly focused on political reform and "expanding popular participation.
"The people are in the streets saying they want changes, they want more citizenship," Rousseff said. "They want quality public services and more effective tools for fighting corruption."
But despite the new initiatives, some protesters like sociologist Irene Loewenstein say that it is only the beginning.
"It's a necessary first step, but not a particularly meaningful nor surprising one," Loewenstein told The Washington Post. "Neither Dilma nor any other politician here is capable of even understanding, much less putting into practice, the kind of systematic change the people are demanding. It's just not within their world views."
SEE ALSO | Brazil Is Failing Its People
Reach Executive Producer Jeremy Fuster here or follow him on Twitter