Books
Book Review: 'The Astronaut Wives Club: A True Story'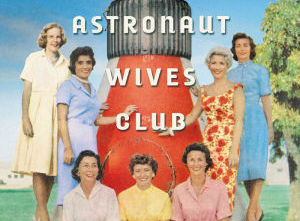 It's been said, "Behind every great man, there stands a great woman," and Lily Koppel's delightful new book, "The Astronaut Wives Club," proves this true. Like the ever popular television shows "Mob Wives," "Basketball Wives" and "Army Wives," this book explores the firsthand account of the lives of women married to astronauts. These extraordinary ladies were doting wives, cooking, cleaning and raising their families during the mid-to-late 20th century space race hoopla.
Although the book is a work of historical nonfiction, it feels like a novel. With each turn of the page, I was instantly hooked by just how fascinating each of the seven women's lives was. There was love, loss, scandal and scrutiny amid the backdrop of their roles and responsibilities to represent their husbands and children to the American public.
At the start of the book, Koppel introduces each wife and her background briefly so initially it was difficult to tell who was who, especially given that there were seven of them. However, the story became a real page-turner as I craved to know more about the women. What makes this book so captivating is Koppel's writing style. She has a knack for describing tiny details about each woman in a way that makes you feel as if you right there with them, sipping tea or playing cards.
Lighthearted and funny, "The Astronaut Wives Club" is a wonderful read on history, family and the bond of friendship. This book is probably one of the best I have read in a very long time because it was so refreshing. It takes place in a very exciting era of American history — the late 1950s and early 1960s. Throughout the book, I felt as if I was reading a heartwarming novel, yet reading something educational as well. Needless to say, I wore a smile on my face from start to finish while reading this highly engrossing book.
Reach reporter Kara Prior here.