Theater and Dance
Theater Review: 'The Royale' At The Kirk Douglas Theatre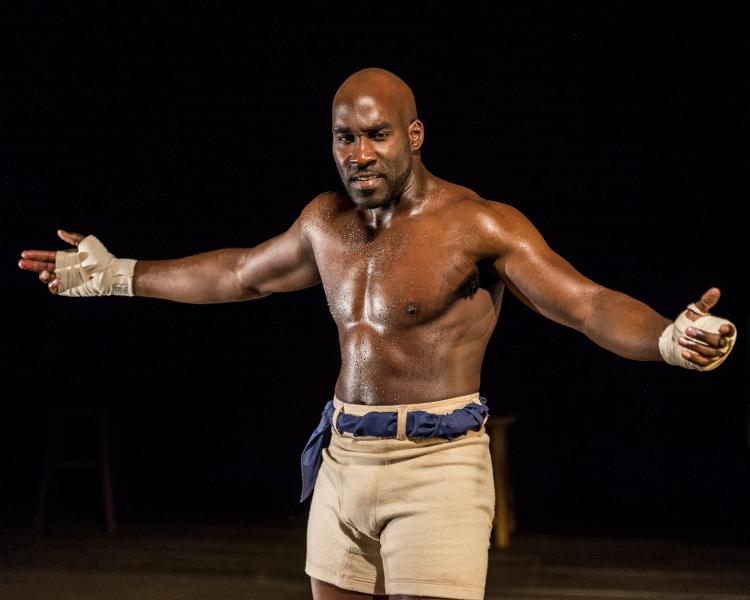 Comprehensive knowledge of boxing history and jargon is not necessary to enjoy Marco Ramirez's exceptional new work, "The Royale." A fresh take on the emergence of African American boxers in the early 1900s as well as its political implications, "The Royale" offers a surprisingly sophisticated look at a sport often dismissed as being barbaric.
Loosely based on the true story of John "Jack" Johnson, the first African American heavyweight boxing champion, "The Royale" follows Jay "The Sport" Jackson (David St. Louis) as he fights for a place in history despite the bigotry of his times. Accompanied by his boxing coach, Wynton (Robert Gossett); sparring partner, Fish (Desean Terry); and manager, Max (Keith Szarabajka); Jay is able to defeat the white heavyweight champion along with demons that haunt him from his past.
What makes "The Royale" exceptional, however, is not so much the story itself, but rather the way in which the story is told. During the first boxing match between Jay and Fish, the audience is able to feel the blows and the intensity of the fight without any actual punches being thrown. Instead of using a traditional, stage-combat approach, director Daniel Aukin chooses to utilize rhythm created with claps, stomps, and vocal percussion to encapsulate the essence of the fight. Through this use of rhythm and syncopation (by Ameenah Kaplan), a small cast of only five actors is able to mimic a rowdy and enormous crowd.
David St. Louis does an outstanding job portraying Jay Jackson, juxtaposing Jay's public persona of charisma and arrogance against his personal feelings of fear and anxiety. With a background in fighting, St. Louis offers a very honest and powerful performance, and Jay's expressions of boxing and its importance seem to come directly from the heart. Also notable was Diarra Oni Kilpatrick as Nina, Jay's sister, and the antagonistic voice of reality facing Jay as he prepares to fight a white man for the first time. Nina offers a deeper insight into the intensity of the racism that permeated Jay's time, and constantly reminds Jay of the possible consequences of his actions. While Nina comes from a good place, Jay is ultimately able to dismiss her worries and continue to fight, both inside and outside of the boxing ring.
While somewhat minimalistic, the set (by Andrew Boyce) and lighting design (by Lap Chi Chu) were incredibly detailed and only enhanced Ramirez's already well-written story. Depending on the location of any given scene, lights that hung from above would change formation, indicating a new setting without having to blatantly come out and say so. During the fights, dim stadium lighting was used to once again reveal a change in setting without having to completely physically transform the space.
For avid boxing fanatics, artistic theatregoers, and everyone in between, "The Royale" is an entertaining and inspiring story worth being told. Taking a sport as gritty as boxing and looking at it through a very graceful and elegant lens, Marco Ramirez's "The Royale" is a true pleasure to watch.
Reach Associate Arts Editor Savannah here.
"The Royale" is playing at the Kirk Douglas Theatre (9820 Washington Blvd., Culver City) through June 2. Tickets are $20-$50. More information can be found at CenterTheatreGroup.org.