Theater and Dance
Theater Review: 'Eurydice' At A Noise Within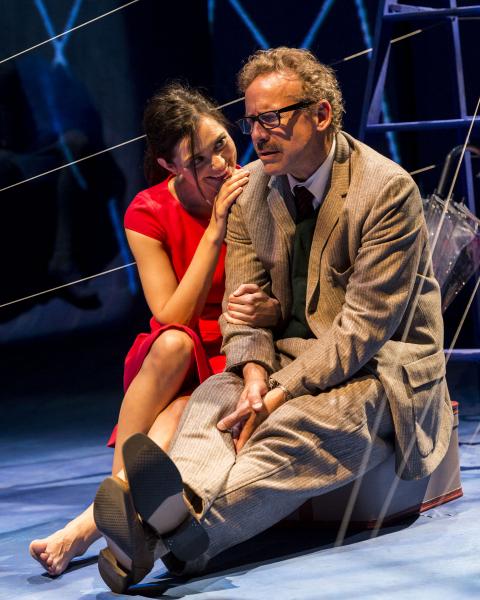 Once upon a time, a woman married a man. They loved each other very much, but one day the woman was abducted and taken to the underworld. The man, driven by his boundless love for her, makes his way down to bring his wife back to the world of the living. Before they safely make it back, though, he looks at her, invalidating his bargain for her safe transport.
If this story sounds familiar, it's not without reason. The tale of Orpheus and Eurydice dates back to Greek mythology, and it has been adapted countless times in countless media over the years. In 2003, playwright Sarah Ruhl ("In the Next Room (or The Vibrator Play)," "Dead Man's Cell Phone") penned her own adaptation, which is currently being produced at A Noise Within in Pasadena.
In this version, Eurydice (Jules Willcox) is tricked by A Nasty Interesting Man (Ryan Vincent Anderson) on the night of her wedding to Orpheus (Graham Sibley). Drawn in by the prospect of a letter from her dead father (Geoff Elliott), Eurydice accidentally falls into the Underworld, where her father tries to help her remember the things she's forgotten as a result of being dipped in the river.
Willcox, Sibley, and Elliott all make sympathetic protagonists in the odd world Ruhl has created. Elliott, who also directs, makes a compelling figure out of Eurydice's father, a character who does not exist in the traditional myth. His strong paternal love for his daughter is evident, and it makes Eurydice's struggle between choosing to stay with her father or return to Eurydice that much more challenging. Willcox paints that struggle easily, and Sibley devoted Orpheus makes her decision all the more difficult.
The show's aesthetic elements, though minimalistic, effectively add to the play's off-kilter setting. Jeanine A. Ringer's scenic design, which paints the underworld in a symphony of blue, is particularly striking.
While "Eurydice" is certainly not a traditional take on the classic myth, A Noise Within's production of Sarah Ruhl's adaptation provides an engaging take on the thought processes of the titular heroine.
Reach Theater Editor Katie here; follow her on Twitter here.
"Eurydice" plays at A Noise Within (3352 East Foothill Blvd, Pasadena, CA) through May 19. Tickets are $40-$60. More information can be found at ANoiseWithin.org.