Los Angeles
Religion Mixes With Politics In L.A. Mayoral Race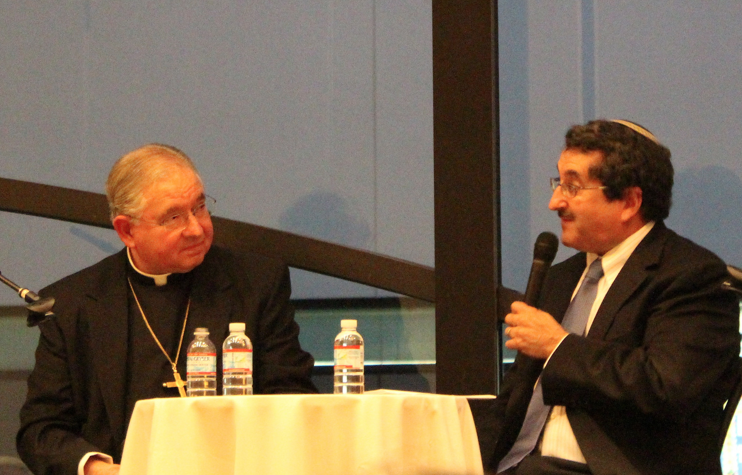 Mayoral candidate Eric Garcetti ended his Sunday tour of six South Los Angeles churches at Crenshaw United Methodist Church, where a portrait of President Barack Obama hangs in the foyer.
Garcetti spoke from the pulpit about supporting Obama far before many knew of the Illinois politician. And as a churchgoers returned to their cars, they found on their windshield flyers featuring Garcetti walking alongside Obama.
Though religion and politics mixes during election season, people who study the intersection of religion and civil society say there's not a strong religious voice at Los Angeles City Hall in day-to-day politics. Local churches, mosques and synagogues, tend to operate in their own silos. But experts and community leaders say more could be done to improve the city if religious groups could consistently come together to address local issues.
L.A. Voice, a nonpartisan nonprofit, is among the few multi-faith groups working to address those concerns. The group will host a forum Monday night at which the mayoral candidates will have a chance to respond L.A. Voice's economic justice priorities.
Zach Hoover, the group's executive director, said Garcetti and fellow candidate Wendy Greuel, will be asked how they would increase the number of trauma counselors in L.A. Unified School District. Harwood said religious leaders and community members in his network view more support for students as a crucial tool to end the persistent problem of youth violence.
L.A. Voice works with about 20 congregations. Together, they knocked on 13,000 doors and made 8,000 calls in support of the Proposition 30 tax increase measure on the California ballot last November. As considerable as that was, Harwood said adding more congregations means more power.
"We believe what we're doing is very significant, but the folks who are leading our organization know it's our responsibility to become as powerful as possible," he said. "We know we certainly can't do this alone. We're just one voice in one environment in a very big place."
With about 4 million parishioners in the county of Los Angeles, the Roman Catholic Archbishop of Los Angeles arguably has as much power as the mayor of the 4 million people in the city of Los Angeles. However, Archbishop Jose Gomez stays out of local issues.
After a recent speech to a Jewish audience, Gomez said that he plans to vote in the May 21 mayoral election. He won't be making any endorsements or speaking to the media about what the next mayor's focus should be.
Instead, Rev. Gomez said in his speech that every person of faith must get involved in politics.
"We need to remind our civic leaders that everyone is created in the image of God – that each one of the people they represent has great dignity and destiny," he said. "It will change the way we live in this city and country, helping fight corruption, bringing peace on our streets and producing better schools."
To be sure, the archdiocese is not without political involvement. Its point person on interfaith affairs, Rt. Rev. Alexi Smith, said that Gomez and other religious leaders hope to hold a multi-faith prayer breakfast this summer in support of federal immigration reform.
A rabbi involved in the effort, Mark Diamond of the American Jewish Committee, said lessons learned from the immigration reform advocacy could be applied locally.
"Even as we remain nonpartisan, we need to step our multi-faith advocacy on a number of issues," he said.
Richard Flory, director of research at USC's Center for Religion & Civic Culture, said the size and diversity in Los Angeles makes it difficult for groups of any kind to work together.
"It's only been in a big crises, like the riots, that people can come together," he said.
On issues such as education and violence, or perhaps even potholes, Flory said the city lacks a religious class in politics. It comes down to issue and opportunity. Politicians such as Sen. John McCain have said the support of faith leaders is essential to promoting immigration reform as a moral issue. And though faith leaders might disagree on some of the details, they support the broad policy of creating a pathway for legal status for those who lack it.
In the local mayoral race, many local churches and temples have hosted candidate forums or welcomed candidates to speak from the pulpit. Some church leaders tread in gray area and endorse candidates despite federal prohibitions on such endorsements.
Rev. Mark Whitlock, a pastor in Irvine who serves as the executive director of the USC Cecil Murray Center for Community Engagement, has endorsed Greuel partially because he would like to see the city have its first female mayor.
Whitlock said endorsements are important because church leaders have a stake in making sure that elected officials are capable of ruling effectively.
"Religious leaders can't be so spiritually bound that they have no earthly good," he said.
Before the primary election, Greuel attended an hour-long service at a Catholic Church in East Los Angeles. The priest acknowledged her prescence at the beginning of mass, but gave no endorsement. For five minutes after the service, Greuel shook hands with congregants outside.
These grassroots events are not enough to drive policy changes, Flory said. Instead, coalitions that transcend religious boundaries have the most effect.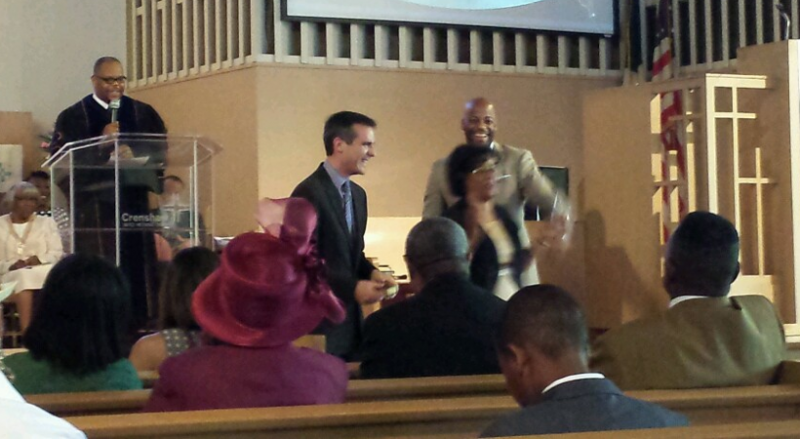 Without coalitions, the region might see more of what Gomez described as the "signs and symptoms" of a society quickly becoming "practical atheists" who lack a sense of morality. He pointed to the widening gap between rich and poor as a symptom. As far as scandal, he turned to Nevada.
Mental health patients in the state were being given one-way
Greyhound tickets out of the state. Without any guidance, they were lost and confused at the end of the line.
At Crenshaw United, Garcetti talked about the travels of Moses, whom he described as a spiritual and political leader who helped the Jews confront their worst fears.
"In nine days, this city must confront its own fears and embrace its hopes and freedoms," Garcetti said to 50 churchgoers and two television news cameras. "We can vote one way or another, and I'll be honored to get your vote."
Like reporter Paresh Dave on Facebook, follow him on Twitter, circle him on Google+ or send him an e-mail.