Opinion
Rape Goes Unpunished At USC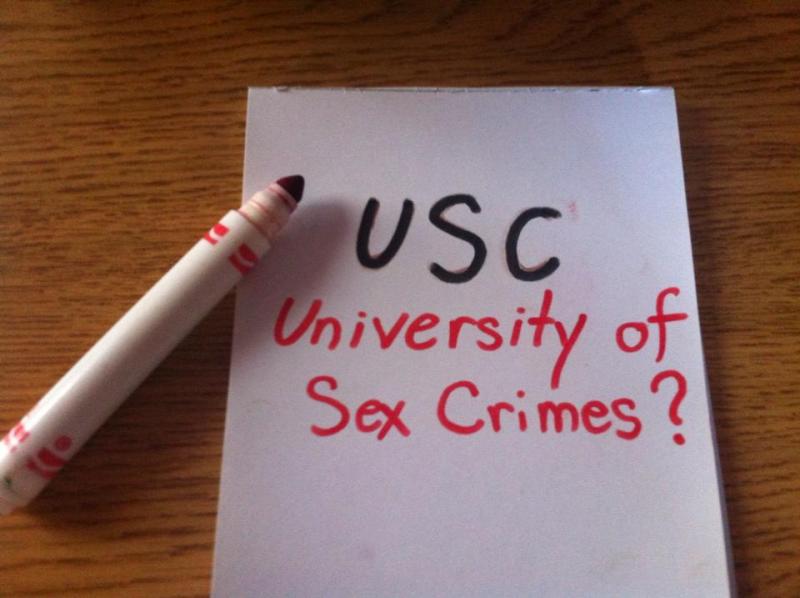 My name is Francesca. I'm a sophomore student at the University of Southern California (USC) and I am a victim of rape.
It took me nearly a year to realize what had happened to me. Despite the nagging discomfort, the persistent physical pain, the memory of unprotected sex when I had never in my life engaged in intercourse without a condom, all I remembered was a bad night and a worse hook-up.
I was traumatized and I was in denial. This is a common enough phenomenon among victims of sexual violence. But it isn't just the victims who refuse to acknowledge the reality before them.
It's our peers. Our friends. Sometimes our families. For those of us in college, however, the worst culprit is often our schools, and those supposedly charged with keeping us healthy and safe.
Tucker Reed is a female student at USC and a fellow survivor of sexual violence. In December 2010, Reed says she was raped by her then-boyfriend, also a student at USC. Like me, she remained in denial of what had happened to her for a long time. In October 2012, she arranged to make recordings of her boyfriend in which he confessed to assaulting her. In December, she provided these recordings to USC. After several months of delay, according to Reed, the university took no disciplinary action against the alleged rapist. He will, in fact, graduate from the university scot-free in two week's time.
In response, Reed posted her story, along with her accused's name and photo, on Tumblr in February. She and at least 10 other women who feel that USC did not appropriately adjudicate their cases of sexual assault are now in the process of filing a lawsuit against the school for violating federal Title IX laws prohibiting discrimination on the basis of sex.
Beyond improperly adjudicating cases of sexual violence, the university has also done little to prevent these types of assaults from happening in the future. USC has made no statement to the student body on the prevalence of sexual assault, nor has it developed an action plan to make the student community safer. Earlier this year, USC failed to address or even acknowledge student concerns about incidences of non-consensual sex posted on the USC Hook-ups page. In March, the school suspended the Sigma Phi Epsilon fraternity chapter for sexual misconduct for five years—but no particular students were held accountable and no action was taken regarding the questionable conduct of other houses on the Row.
When shots were fired on campus in October of last year, USC launched a comprehensive new security plan, sent multiple letters to both parents and students and began construction of a fence to circulate the entire perimeter of the school. But when a woman reports an alleged rape, the response is to pretend it never happened.
I have lived in an off-campus residence for over a year. I have walked, longboarded and biked in the neighborhood countless times after dark. But never have I felt as unsafe as I have been made to feel in certain USC fraternity houses.
Reed's story is, of course, old news. USC is unfortunately not the first school to attract media attention for mishandling student-on-student sexual violence. In October 2012, a former Amherst College student released her account of what she described as being raped on campus and how her school refused even her request to transfer residences so she would not have to live in the same dorm as her attacker. In February 2013, University of North Carolina sophomore Landen Gambill was sent to her school's "Honor Court" after publicly sharing her story of sexual assault.
And just last month, 37 Occidental College students, faculty and alumni filed their own complaint with the U.S. Department of Education's Office of Civil Rights for violating Title IX laws, including "punishing" a student rapist by requiring him to write a five-page book report.
Five typed pages. That is the value that Occidental has assigned to the bodies of female students on its campus. But women across the country could tell you the same story—at colleges, in the workplace, in the military, at nightclubs, in their homes. Findings from the 2010 National Intimate Partner and Sexual Violence Survey launched by the Center for Disease Control and Prevention suggest that nearly one in five women have been the victim of a rape or attempted rape. For college women, the statistics are closer to one in four. But the attention given to sex crimes in all of these settings is disproportionately lacking.
Why all the silence? Why, when a woman reports a sexual assault, do we automatically assume she is lying?
I—and millions of other survivors—can tell you: rape is not a myth. Just because it is painful does not make it untrue. Just because it is shocking does not make it suspect.
Just because I am a woman does not make my voice invalid.
I want to be proud of my university. I want to feel confident that college is a place where students respect and value one another and where women are afforded the same consideration as men. But the truth is that a woeful ignorance pervades the very institutions that pride themselves on knowledge. Acts of violence and degradation are tacitly encouraged. Rapists continue to rape with impunity, under the guise of bright, promising college boys.
Amherst, Occidental, North Carolina, USC… how many more schools have failed as educators, as providers of their students' well-being? How many more young women—or men—have to bear their pain in public so that the voices of victims will be heard? How many more rapists will graduate without incident while those whose lives they have disregarded are vetted by their communities?
USC, I hope you are listening. I hope you take this opportunity to recognize your mistakes and rectify your inadequacies.
But if you choose not to listen, know that we are not going away. We have been hurt, but we are not broken. We have been quiet, but we will no longer be silent.
Reach Deputy Opinion Editor Francesca Bessey here.
If you, or anyone you know, have been a victim of sexual assault at the University of Southern California and feel that the university did not respond appropriately to your case, or if you are simply interested in ending impunity for rapists at USC, please contact the USC Student Coalition Against Rape (S.C.A.R.) here.
Editor's note: A couple of sentences in this story were updated after publication to make clear that the person Reed has accused has not been charged or convicted of any crime.