Sports
A Not So Golden Relationship: The History Of The NHL In California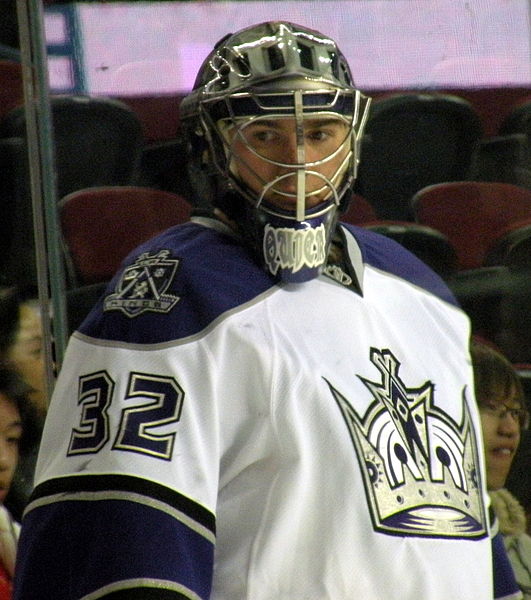 The NHL Playoffs have had some familiar faces in them this year. All of the league's "Original 6" teams, The Boston Bruins, New York Rangers, Montreal Canadiens, Toronto Maple Leafs, Detroit Red Wings, and Chicago Blackhawks, made it for the
first time since the 1995-1996 season.
The Rangers' Long Island neighbors, the New York Islanders, joined the NHL in 1972 and have since won the championship four times. The Pittsburgh Penguins and the Washington Capitals have been strong teams in the league since their inceptions in 1967 and 1974, respectively. The Penguins hoisted Lord Stanley in 1991, 1992, and 2009, while the Capitals have won their division eight times. The Vancouver Canucks, while never having won the cup, have won their division a staggering 10 times since joining the NHL in 1970.
The Ottawa Senators and Minnesota Wild are a couple youngsters to the league, but come from places of hockey tradition, and are steadily working to develop a hockey lineage of their own that perhaps will one day rival the aforementioned teams.
And then there are three others, all from the same state. In fact, two of them play only 30.5 miles apart. They are trying to defy the expectations set against them. They are trying to create a legacy in cities that some would say don't care about hockey. They are trying to bring hockey to California.
They are course the Los Angeles Kings, Anaheim Ducks, and San Jose Sharks.
California Love
After Game 7 of the Western Conference Semifinals between the Los Angeles Kings and San Jose Sharks, in which the Kings won 2-1, NHL Commissioner Gary Bettman said "to be here tonight and see the crowd, it all demonstrates that hockey is thriving in California."
And to some extent this is true. The Los Angeles Kings, as they go against the storied Chicago Blackhawks in the Western Conference Finals this year, are the defending Stanley Cup Champions. The Anaheim Ducks won the cup in 2006-2007, and were the second-seeded team in the Western Conference this season. The Sharks, while never winning a Stanley Cup, have developed San Jose into a hockey town, as it pulls a fanbase from all over the Bay Area to make the HP Pavilion, or the Shark Tank, into one of the NHL's most intimidating arenas.
Just look at this graph of the Sharks attendance vs. stadium capacity since 2000-2001.
*Note that the 2004-2005 season is omitted because of the lockout that cancelled the entire season.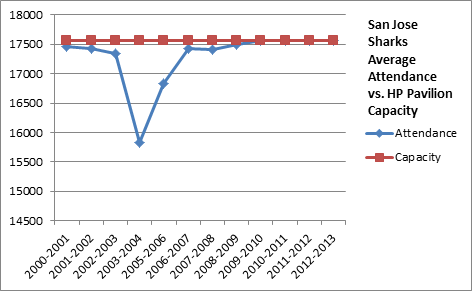 Except for a dip to an average of 90 percent capacity during the 2003-2004 season, the Sharks have maintained a near full house for the last 12 years, and for the last three have averaged a full house every home game.
Things are looking real bright for the Golden State's NHL teams, especially when taking a look back at hockey's original struggles to break into California.
Troubled History
The NHL added six new teams in 1967, two of which were the California-based Los Angeles Kings and California Golden Seals. Considering the population in the state, it made sense to add two teams. The state of California in 1960 had a staggering population of 15,717,000, behind only New York, and by 1970 it was leading the country with 19,953,000 citizens (See charts here).
That was almost 20 million people who weren't watching NHL. Twenty million people who weren't exposed to the NHL.
That said, the NHL struggled to tap into that population. Located in the Bay Area, the California Golden Seals floundered around for nine seasons without ever really making progress, only making the playoffs twice in their nine seasons in Oakland. The franchise ended moving to Cleveland because of a lack of attendance.
The Los Angeles Kings started off hot, even playing in a brand new LA Forum, making the playoffs in their first two seasons. After that though, the Kings slowed down, failing to qualify for 4 years straight, and not making it past the second round of the playoffs until 1993.
They just couldn't seem to tap into the California fan base. The 20 million people weren't watching.
Lack of Culture
The problem was that while they had 20 million people up for grabs, it was also 20 million who, for the most part weren't playing hockey. Only 9 NHL players born before the expansion in 1967 were from California, in total it has been 27. Rather weak compared to Minnesota's staggering 227 players despite only having a population of 5.379 million people.
Californians at the time simply weren't as familiar with hockey; it has been a long process to integrate the state into the NHL culture.
One of the main problems is that hockey is a sport where people you must have ice in order to play; climate controls the entire sport. Meaning that for a state like California, where so many people come for the warm weather and lack of ice and snow, hockey takes a backseat to beaches, basketball, baseball, Hollywood, and well just about everything else.
Lack of a cold climate means that come winter people aren't outside playing pond hockey, not everyone is learning how to skate, and some people don't even know what it is like to walk on ice. Also, if one did want to open a hockey rink it would cost a lot more money to operate than in a colder climate, as you must pay extra to keep the ice cold.
This means that tapping into the population and attracting fans is a little bit harder than in most situations. They had to attract them to something that really wasn't part of their culture before. And while there were amateur hockey teams prior in California, the NHL was the big times.
The expansion was not just an additional professional team in the league, but rather adding a whole new sport to several Californians eyes, a game that they had never played, watched, or knew the rules of. It was going to be an uphill battle.
The Great One At The Reigns
In 1988, after 21 years of maintaining mediocrity in the NHL, the Los Angeles Kings were able to do the unthinkable and trade for quite possibly the greatest player of all time, Wayne Gretzky. Having won 4 Stanley Cups with the Edmonton Oilers, and 7 MVPs in the process, Gretzky looked like he would be the leader California needed in hockey.
And he was, just not the way people expected him to be.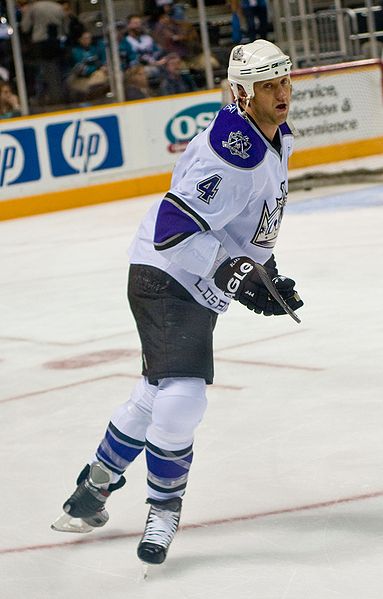 In Los Angeles he continued to put up miraculous numbers, winning the MVP in 1989 and going to numerous All-Star games as well as leading them to the Stanley Cup Finals in 1993 before losing to the Canadians.
That said he was never able to win a Stanley Cup with the Los Angeles Kings. But he didn't need to; his presence impacted Los Angeles that much.
A Good Foundation
One of the biggest problems the Kings faced in Los Angeles was a lack of a pedigree or history in the league. While they had been there since 1967, they had failed to win during their time there.
NBA's Los Angeles Lakers, though they came to LA from Minneapolis only 7 years prior, were LA's team because they won. They brought 6 titles to Los Angeles before the 1988-1989, and produced high caliber athletes who put on an amazing performance night in and night out.
The baseball team, the Dodgers, moved from Brooklyn to LA in 1958, and since had won 5 World Series titles before Gretzky's inaugural season with the Kings.
The Kings didn't even make the Finals before Gretzky.
During Gretzky's first season in LA, attendance rose 27% from the year prior, and fans were now seeing the best-of-the-best on the hardwood, the grass, and the ice. Not only was Gretzky making the Kings better, but he was building hockey in Los Angeles while doing it. Gretzky's presence brought an excitement to the LA hockey team, and lived up to the expectations that the other teams in the city had set. People wanted to see the greatest player ever at work.
Fast forward 25 years from that 1988 season, and there are now 3 NHL teams in California, over 18,000 amateur hockey players in California, and players born in Southern California who are looking to make it big in the NHL.
Quite a lot of progress considering the state could not even maintain two teams in the years prior.
Gretzky's presence does have a lot to do with this, especially from an exposure of hockey to the public level, but so do the teams themselves, as this recent Sports Illustrated article on notes that the California teams have worked hard in investing and creating a strong youth program in California, with Anaheim having invested $12 million since 2007 (Murphy, Caliornia Dreamin' On Such A Winter's Game, 05-27-13).
Shedding the So-Cal Fandom
But as we advance into the future, the future of the NHL, especially in Southern California is still one that can be questioned. The Sharks fans have proven their loyalty by packing the rink night in and night out, but part of this could be attributed to San Jose not having another professional team to go out and support.
Even as the Los Angeles Kings look to take Lord Stanley home to LA once again, something which is extremely difficult to do in hockey, it is hard to be extremely optimistic about Southern California's NHL teams.
While the Kings' home attendance has been solid these last couple of years, especially since becoming a contender, in the years before that, the team failed to bring a full house. A county of almost 10 million people could not draw 18,118 people every night, meanwhile a team like the Montreal Canadiens, with a city of 1.65 million people behind them, averaged during the same time span over 20,000 people every night despite not making it past the Conference Semifinals during that time.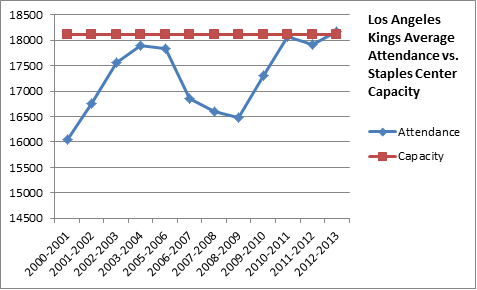 While you could argue that the history of the Canadiens is more storied and more integrated into Montreal and Canada, the question still is asked how do you get that same unrelenting enthusiasm, despite a team's record, night-in-and-night-out? Length of time isn't it, 1967 was 46 years ago. Will winning a couple of more cups solidify a fan base for decades to come?
Or how about the Anaheim Ducks, who though they won the cup in 2007 and posted a Western Conference second best, behind the Chicago Blackhawks, record of 66 points, ranked at a lowly 25th in the league in attendance at 15,887, 92.5% of capacity, despite Orange County having 3.056 million people.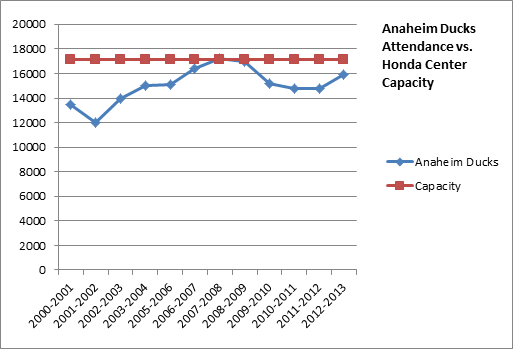 It is unfair to once again point fingers at Southern California fans, calling them apathetic like so many have done before, but the fact is that they have been spoiled by the 11 banners raised by the Lakers since moving to LA, along with the 5 World Series trophies the Dodgers have. Not only that, but when comparing how large of a fan base they have to how many fans actually come out and support every night, frankly is embarrassing.
Coupled with the fact that regardless of how many Amateur Hockey teams California has, it still is hard to attract players not acquainted with colder climates, and people have reason to worry.
I mean after all, USC, Cal, UCLA, and Stanford still don't have D-1 hockey teams; additions of which could greatly improve hockey awareness and support throughout California, especially if they were competitive like the other sports programs at the schools.
So while right now we are certainly experiencing a large wave of people from California supporting NHL and hockey in general, and it should certainly be celebrated, we still need to be a little concerned. California has been a notoriously hard state to integrate hockey into, and while it is looking positive, and everyone in the NHL would want the added revenue and support from a population that is now at 38 million people, we should also know winning or losing attracting fans can be difficult, and that die-hard mentality that may be in other hockey cities, just might not permanently transfer to California.
Reach Staff Reporter Mark Albano here or follow him on Twitter.