NBA
NBA Eastern Conference Finals Preview: Can The Pacers Extinguish The Heat?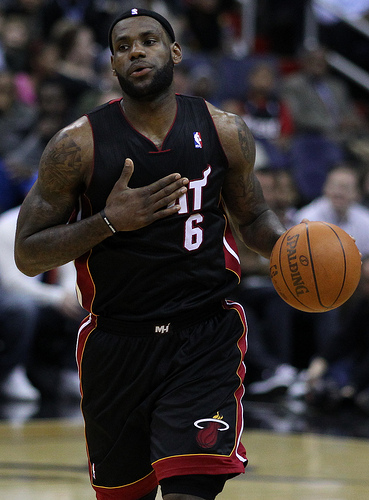 In last year's playoffs, Miami Heat head coach Erik Spoelstra wrote down after every game the number of wins the Heat needed to win the NBA championship. After winning 45 of their last 48 games and taking down the Milwaukee Bucks and Chicago Bulls, losing just one game to a wounded Bulls squad, Spoelstra's number for his team is eight. Now, the only thing standing in between the Heat and their third consecutive NBA Finals appearance is a hungry Indiana Pacers team carrying momentum after defeating the depleting New York Knicks in six games and bent on retribution after the Heat knocked out the Pacers out in the Conference Semifinals last postseason. With higher stakes and a more improved and experienced Indiana team this time around, there are going to be some key factors to take a look at for either team to be successful in this series.
Defense, Defense, Defense
There's always that cliche saying that while offense wins games, defense wins championships. This series will be a battle of the NBA's best defense (Indiana) against the NBA's best offense (Miami). After allowing 100.4 points per 100 possessions last season, Indiana has dropped that number to a league-best 96.6 this season. Indiana has the personnel to match up with the Heat, and are always capable of getting a stop on need defense when they need it, as evident from their success last round against the New York Knicks.
This is in part thanks to the Pacers' elite defenders on the wing in Paul George, Lance Stephenson and George Hill. Once inside, Miami will also have a tough time getting past the lengthy Roy Hibbert, who has established himself as a shot-blocker at the rim. Indiana should also be able to take advantage of the boards with their great size, while Miami is a below-average rebounding team.
However, the Pacers will have to stop the NBA's most unstoppable player in LeBron James, an unfathomable mission for most teams. George, however, is possibly the best perimeter defender in the league, and held James to 21 points and 7.3 rebounds per game on 51 percent shooting in the squads' three regular season match ups, all figures being below James' averages.
No Granger, No Problem
Although the Pacers' star forward in Danny Granger had missed the majority of the season with a lingering knee injury, Indiana hasn't seemed outmatched without their previous leading scorer. The Pacers currently have four (almost five) scorers averaging double figures in the 2013 playoffs, with Lance Stephenson (9.8 PPG) the only starter not in double figures.
Indiana may be ranked last among the four teams that are still alive in total team offense, averaging 92 points per game, but the absence of Granger has allowed the emergence of two stars in George and Hibbert. In last year's series against Miami, George was the fifth-leading scorer; Now he is the team's leading scorer in the playoffs and has stepped into a leadership role for the team, winning the NBA's Most Improved Player Award. Another player that has stepped into an important role is Stephenson, who has gone from playing only a total of seven minutes in last year's series against Miami to finishing with a playoff-career high 25 points and 10 rebounds in Indiana's clinching win over the Knicks.
Will the "Big Three" Show Up?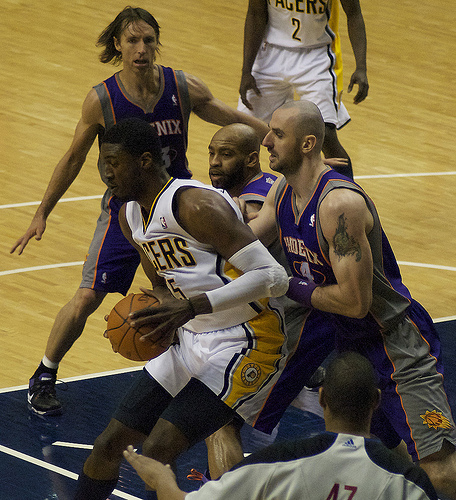 Everyone knows that King James is going to be at his best in order to protect his throne, but will his fellow supporting cast in Dwayne Wade and Chris Bosh, plagued by nagging injuries, be there at his side? Bosh will definitely need to play a pivotal role in this series, especially with his ability to challenge Hibbert by playing on the perimeter. Bosh will not only be able to take away Hibbert's shot-blocking presence on the interior, but also be able to take advantage of his quickness and blow by him in order to create offense. As long as Bosh is healthy and in the game, he should prove to be an offensive advantage for the Heat and be able to force Indiana coach Frank Vogel to make constant defensive adjustments.
In order to be successful, Miami is also going need the ailing Wade to channel his inner "Flash", like old times. With his athleticism being limited by a knee injury that kept him out of Game 4 against Milwaukee, Wade is going to have a tough time playing against the very physical Stephenson. Since Wade's knee is not going to be able to take the physicality of Stephenson's aggressive defense, he is going to need to use his speed to get past him on the perimeter. He must improve upon his 13 points per game this postseason in order to adequately help out LeBron.
Final Prediction: Heat in Seven
If there was any team that is going to challenge the Heat in the playoffs, it's the Pacers and their physical defense. However, there is a reason that Miami has only lost three out of their last 48 games, and this is attributed to their wide array of scoring ability, their deep bench, and having arguably the best player in the world in James. Indiana's team looks strong enough to beat the Heat at face value, but this only accounts for their starting five, as they don't really have any contributing bench players. This is in contrast to the Heat, who have the sharp shooting of Ray Allen along with the hard play of Chris "Birdman" Andersen coming off the bench.
In the end, the Heat are just too good offensively for even the NBA's best defense. Evident by the Heat's strong finish in the regular season, the team is poised to make a return to the NBA Finals and win their second consecutive NBA championship. Indiana will put up a fight and not go easily, but will be overcome by the home court advantage that the Heat worked hard all season to earn.