Technology
Lyft: An App --Of Questionable Legality-- That Makes Living In L.A. Without A Car Easier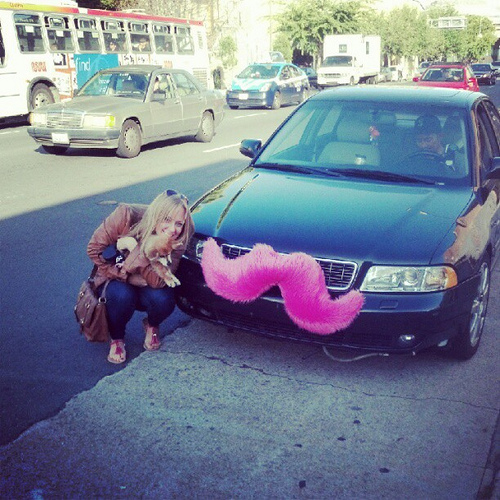 Conventional wisdom holds that Los Angeles is nearly impossible to live in without a car. But with new rail lines opening and bike routes popping up, things are getting easier for the car-less in this city. An app-based ridesharing
service called Lyft
launched in 2012 in San Francisco to cater to car-free city dwellers, offering rides in private citizens' cars for less than what taxis charge. And now, Lyft is operating in Los Angeles, too.
But the service is taking heat nationwide, too. Because it competes with taxis in a sense, it treads in murky legal waters. Just this past weekend, New York taxi regulators held a sting operation in which they detained a driver using a Lyft competitor known as Sidecar. She also had her car impounded.
Still, a service that's faster than taking the bus but cheaper than a conventional taxicab sounded like an attractive proposition, so I decided to give it a try one night when I was going to dinner in Chinatown with some friends.
The Good News: Fast, Friendly, and Cheaper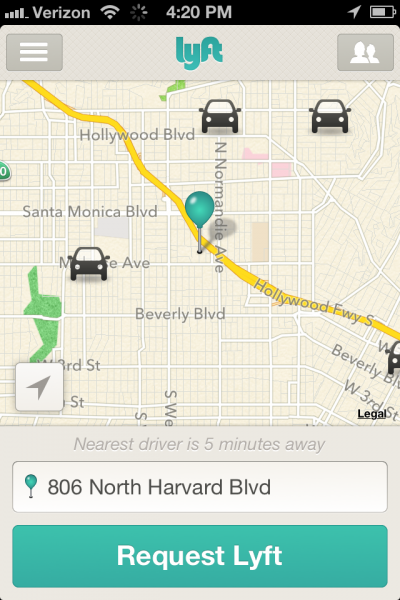 The app itself is straightforward and user-friendly. It shows a map of Los Angeles, with black icons of cars displaying the location of available Lyft drivers. At the bottom of the screen, there is a large button I clicked to summon a driver to my location. Lyft told me that a driver named Franco would be there in 10 minutes. A photo of Franco and his car was then displayed.
For the next few minutes I tracked the black car icon as it drifted towards my location. While not unique to Lyft, this feature (also used in app-based taxi and limo service Uber) is convenient and reassuring. As far as I know, no taxi companies in L.A. offer this feature.
As promised, 10 minutes after I summoned him, Franco's white sedan pulled up in front of my building. It was normal in every way except for a fuzzy pink mustache draped over the grille. I learned that these mustaches are Lyft's silly but distinctive way of identifying its cars.
When we got into Franco's car, he greeted us with a friendly "Hey guys!" and gave me a fist bump. Drivers are instructed to give passengers a fist bump to establish that the relationship is more peer-to-peer and less customer-to-client. And it kind of worked.
From that point on, I really felt like I was driving with a friend (or at least an acquaintance). Franco was quite the host. He offered us a choice of radio stations, asked what route we thought best, and kept up the conversation for most of the ride.
This was not like an ordinary taxi ride. It was refreshing to be in the interior of a normal car and not surrounded by the solemn leather upholstery of a taxicab. In taxis, conversation is usually minimal, and at times it can seem that the driver is more like a part of the machinery than another person in the car with you. Not so with Lyft.
When we arrived in Chinatown, I was prompted to rate Franco. Passengers and drivers rate each other to weed out unsatisfactory drivers and unruly passengers. I gave Franco a rating of 5 out of 5 because he was a nice guy and a perfectly competent driver. I assume he did the same for me.
The app told me the "suggested donation" for the ride, tip included, was $17. Donations are billed to the credit card number you provide when you set up an account. Promotional materials for Lyft say that it's cheaper than taking a taxi. In my experience, this is true. L.A. Checker Cab Company's website calculates a fare of $19.50 for the same trip, tip not included.
The Bad News: Confusing Payments and Other Drawbacks
For regulatory reasons, Lyft works with donations, and technically speaking, payment is optional. Because I don't want to take advantage of Franco, and because I need to receive a good rating if I intend to use Lyft again, I basically have no other course of action but to pay the suggested price.
One frustrating problem with Lyft is that it's impossible to predict how much a ride will cost. Not even the driver knows until the end of the trip.
On another Lyft ride, my driver was Abe, an insurance agent who moonlights as a Lyft driver. He told me that this is the most irritating flaw in Lyft. His passengers frequently ask how much their ride will end up costing, but he can only guess. The app calculates fares using an unknown formula based on mileage and time.
Except for late at night, Lyft's availability is pretty reliable. Abe says that Friday and Saturday nights are the busiest times, when the 20-somethings who form the majority of Lyft's clientele go out for the evening.
Lyft serves a swath of the city that stretches from Downtown to Santa Monica, including LAX. Drivers tend to cluster in Downtown, Hollywood, and Santa Monica, so in these places a Lyft driver can arrive in less than five minutes. But in other areas of the Westside, it's likely that it will take longer for a driver to come. Finding an available driver at LAX is totally hit-or-miss.
There is no way to request a Lyft driver with a specific type of car. For instance, if I am with a group of more than three people, the app doesn't have a way of letting me alert a driver who has, say, a minivan. It's also impossible to reserve a Lyft ride with anything more than a few minutes of advance notice.
Lyft has been operating for less than a year, and I am confident the company will work out the kinks as it matures.
Lyft Is Catching On
Despite its imperfections, Abe says that his passengers (the overwhelming majority of whom are under 30) are very happy with Lyft. "Some of them won't take normal taxis anymore," he said. "They will only use Lyft."
Once they experience the welcoming social dynamic that Lyft offers, they refuse to go back.
He also described how Lyft is changing people's lifestyles: "Some people even sell their cars. They take Lyft to work and get around by walking, biking, and using public transportation."
Although it has minor issues, Lyft provides a service that is just as good, if not better, than that of taxi companies, with an incomparable casual social dynamic. And besides, it's less pricey, which certainly won me over. Like some of Abe's passengers who have switched entirely to Lyft, I might never take a taxi in Los Angeles again.
Read more Neon Tommy stories on technology here.
Read more Neon Tommy Los Angeles News here.
Feel Free to contact Axel Hellman here.