Los Angeles
Eric Garcetti Has Edge Over Wendy Greuel In Council Endorsements

In the race to be the next mayor of L.A., Eric Garcetti has received far more endorsements than Wendy Greuel from current and incoming members of the city council. While the endorsements are unlikely to make a huge difference in whom voters end up backing, political experts said the broad support for Garcetti should help him if he is elected in the May 21 run-off election.
"People want to be part of the winning team and have more capacity to advance their agendas," said Parke Skelton, the campaign strategist who ran Mayor Antonio Villaraigosa's last two campaigns.
Skelton said people seen as close to Villaraigosa have seemed to have done very well the last eight years.
Seven members of the council that convened at the same time as Villaraigosa first entered office had endorsed him in the 2005 run-off. Six members endorsed former Mayor Jim Hahn. Councilmembers Wendy Greuel and Bill Rosendahl don't appear to have endorsed either of them.
This year, 10 members of the current council back Garcetti. Just two -- Rosendahl and Jose Huizar -- support Greuel. Dennis Zine, who's in a run-off for controller against Ron Galperin, hasn't endorsed anyone. Neither has Mitchell Englander. Politicians running their own races typically don't get involved in separate races unless there's something clearly to be gained.
Among the group of people who will sit on the council come July 1, Garcetti has a 7-2 edge. Four seats are up for election, and newly elected Bob Blumenfield and, of course, Englander haven't endorsed.
Tom Hogen-Esch, a political science professor at Cal State Northridge, said it seemed like the councilmembers have shown a strong preference for one candidate over the other.
"It sounds to me like they prefer Garcetti's leadership style," he said. "It's one of Garcetti's best arguments -- that he can win by consensus because the best mayor is one who plays best with others."
During the election season, Skelton said the endorsements are unlikely to change how people vote. But he said they could serve in helping earn the support of interest groups with which the councilmembers have relationships.
As Hogan-Esch said, "You can barely slip a credit card between these two candidates in their policy positions." With two similar Democrats in a close race, the possible friction between Greuel and a council that almost always votes unanimously could be a differentiator.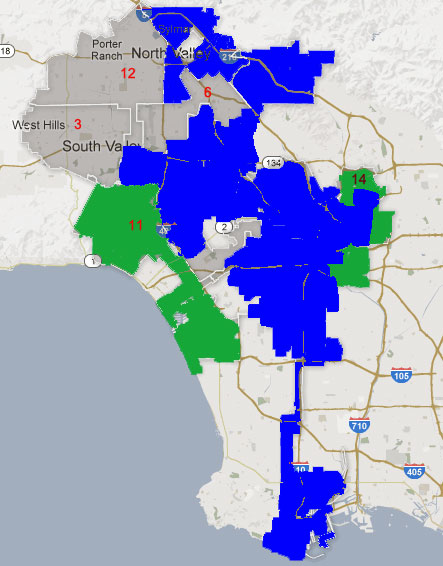 Current L.A. City Council
Endorse Garcetti
1 Ed Reyes
2 Paul Krekorian
4 Tom LaBonge
5 Paul Koretz
8 Bernard Parks
9 Jan Perry
10 Herb Wesson
13 Eric Garcetti
15 Joe Buscaino
7 Richard Alarcon
Endorse Greuel
11 Bill Rosendahl
14 Jose Huizar
No Endorsement
3 Dennis Zine
6 Vacant
12 Mitchell Englander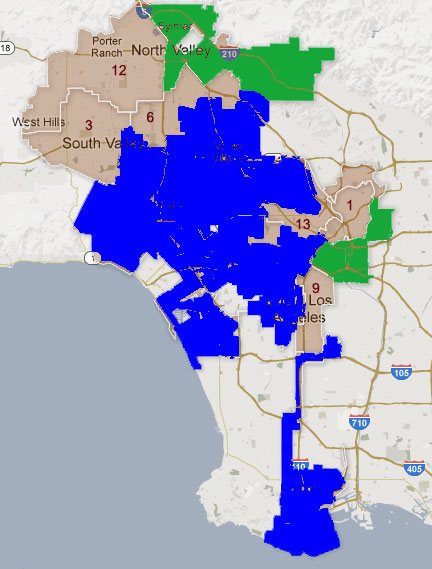 L.A. City Council as of July 1
Endorse Garcetti
2 Paul Kerkorian
4 Tom LaBonge
5 Paul Koretz
8 Bernard Parks
10 Herb Wesson
11 Mike Bonin
15 Joe Buscaino
Endorse Greuel
6 Nury Martinez (candidate)
7 Felipe Fuentes
14 Jose Huizar
No Endorsement
1 Gil Cedillo / Jose Gardea
3 Bob Blumenfield
6 Cindy Montanez / Jose Garcia / Richard Valdez / Derek Waleko
9 Curren Price / Ana Cubas
12 Mitchell Englander
13 Mitch O'Farrell / John Choi
Councilmembers who endorsed Antonio Villaraigosa in 2005
Dennis Zine
Jack Weiss
Tony Cardenas
Alex Padilla
Bernard Parks
Herb Wesson
Jose Huizar
Councilmembers who endorsed Jim Hahn in 2005
Ed Reyes
Jan Perry
Greig Smith
Tom LaBonge
Eric Garcetti
Janice Hahn
No endorsement located
Wendy Greuel
Bill Rosendahl
Like reporter Paresh Dave on Facebook, follow him on Twitter, circle him on Google+ or send him an e-mail.