MLB
Digging Deeper Into The Struggles Of The San Francisco Giants Rotation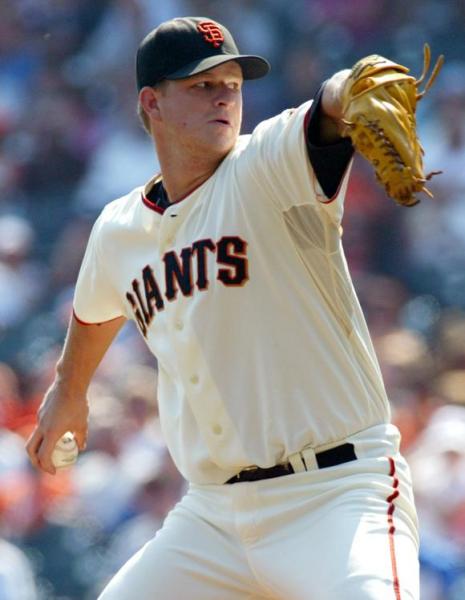 The defending World Series champion San Francisco Giants are tied for first place in the National League West. However, unlike previous seasons, their pitching is not the reason why. The Milwaukee Brewers are the only National League team that have allowed more runs this season than the Giants.
Four out of their five starting pitchers already have at least one start in which they've allowed at least seven earned runs. Their 19 quality starts rank 21st in MLB, and one of their pitchers has almost a third of them. Let's analyze their five starting pitchers to see if there is light at the end of the tunnel.
Matt Cain: 3-2 5.43 ERA 1.21 WHIP
Cain's bloated ERA and disappointing performance so far this season is one of baseball's biggest head-scratchers. This is a guy who's had a sub-3.00 ERA in three of the past four seasons. So why have his numbers been so off from his career norms?
He has changed his throwing motion this season, throwing from a lower release point than at any point in his career. But is that the reason why he's given up an outrageous amount of home runs in his first nine starts of the season?
Cain has given up the most home runs in Major League Baseball, allowing 13 in 56.1 innings. He's allowing over two home runs per nine innings, before this season he's given up 0.76 home runs in the same span, or 129 of them in 1,536.2 innings. To put his abnormal home run rates in perspective, in 2011 he gave up nine home runs in 221.2 innings.
His home run rate is an astronomic 18.3 percent, compared to his career rate of 8.4. When that rate regresses more towards his career average, his ERA will climb back down. 22 out of the 34 (65 percent) earned runs Cain has given up this season have come on home runs. With his WHIP at 1.21, Cain has not been surrendering a lot of damage outside of the home runs.
It doesn't help that eight of the 13 home runs have come with runners on base. In fact, batters have been hitting Cain extremely well when he's been pitching from the stretch. With runners on base, hitters have a triple-slash line of .324/.378/.622 against Cain. Expect those numbers to fall as well, as batters have struggled in the against Cain before this season for a line of .228/.304/.311 over his previous eight seasons.
Besides the expectation that the home run rate Cain has allowed thus far will return to normal levels, there are more reasons to believe that we've seen the worst of Cain. Historically, April has been his worst month, posting a career 3.70 ERA in the month. His strikeout to walk ratio (49 strikeouts, 17 walks) is at 2.88, which is even higher than his career average. Cain has also had bad months before. He's had four months, albeit the last one was in 2009, in which he's had in ERA over 5.00.
Additionally, don't worry about the fact that Cain has the seventh-worst ground ball/fly ball ratio in baseball. Five of the six pitchers below him have ERA's below 3.75. Expect Cain to turn it around soon, or has he started already? His May ERA is at a respectable 3.74, compared to his April one of 6.49.
Tim Lincecum: 3-2 4.07 ERA 1.38 WHIP
Lincecum is the only Giants pitcher who has not allowed at least seven earned runs in a start, but that doesn't mean he's not inconsistent. In Lincecum's last 13 starts coming off a game in which he pitched at least six innings and gave up zero earned runs, he's gone 2-9 with a 6.09 ERA and 1.59 WHIP. Can Timmy revert back to his old self in which he was dominant for entire seasons instead of the current one that is rarely dominant for two straight starts?
The problem with Lincecum has not only been his control, but the fact that he starts off very slowly. Sure, his rate of 4.25 walks per nine innings this season is dangerously high. But the fact that Lincecum struggles very early in the game has to be more concerning.
All five of the multi-run innings that he has allowed this season have come in the third inning or earlier. To figure out why, let's look at batters' on-base percentage against Lincecum when he reaches certain pitch counts.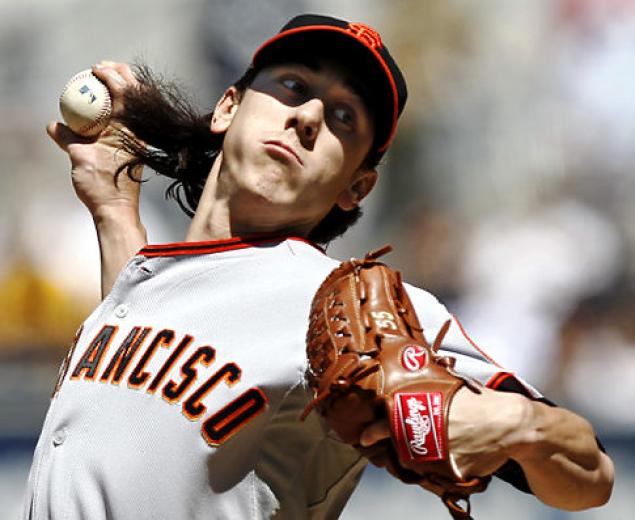 Pitch 1-15: .444 OBP
Pitch 16-30: .433 OBP
Pitch 31-45: .333 OBP
Pitch 46-60: .250 OBP
Pitch 61-75: .333 OBP
Pitch 76-90: .214 OBP
Pitch 91-105: .182 OBP
Lincecum has pitched 8.2 innings this season in the sixth inning or later. In those innings, he's given up four hits and walked only three men (one of them was intentional). Compare that with the 10 strikeouts he has in those innings, and it's easy to see that Lincecum pitches better after the early-game jitters.
The reason for his early-inning struggles could be his loss of velocity on his fastball. During his Cy Young years in 2008 and 2009, Lincecum's fastball averaged 95 mph. Now, his fastball sits between 92 and 93 mph. Early in the game, he relies more heavily on the fastball, and batters have been making better contact against it.
Yet, Lincecum has the fourth-best swinging strike rate in baseball at 10.7 percent. That number is actually very close to his career average. But, he's getting batters to miss on his changeup and slider instead. Batters have whiffed on his changeup 22.8 percent of the time, and they have had trouble with the slider as well, swinging and missing at a 16.2 percent clip. Lincecum is learning to rely on other pitches, and he's averaging over a strikeout an inning because of it.
Besides improving early in the game, Lincecum needs to improve early in the count. After throwing a first-pitch strike, Lincecum has struck out 35 batters and walked just three, along with allowing just a .188 batting average. When Lincecum throws a ball first, he walks more batters than he has strikeouts (20 to 17), and hitters have a .284 average against him.
Lincecum has a 4.07 ERA, but that number should go down a bit. His FIP (Fielder Independent Pitching) is at 3.64, which shows that Lincecum has been a little unlucky so far this season. However, as long as his WHIP remains in the 1.35-1.40 range, don't expect his ERA to fall below 3.50 this season.
Madison Bumgarner: 4-2 3.09 ERA 1.03 WHIP
Bumgarner was having an incredible season until he picked the wrong time to have his worst start of the season. After he gave up nine runs (seven earned) against the Colorado Rockies on Friday night, the Giants rotation ERA rose to 4.69. Also, Giants fans had to be worried if their two aces (Cain and Bumgarner) allowed 13 earned runs in back to back games against the Rockies.
Don't fret though, as Bumgarner has had exactly one start in each of the past three seasons in which he's given up at least seven earned runs. I hate to speculate, but it's highly possible that Friday night could be his one and only abominable start of the season.
Bumgarner is a very consistent pitcher, and has been by far the best pitcher for the Giants this season. In his nine starts this season, six of them have been quality starts. He's walked two batters or fewer in eight starts, struck out at least six in seven of them and allowed two runs or less in seven of them.
He has 58 strikeouts versus only 15 walks, almost a strikeout to walk ratio of four! His 1.03 WHIP is very solid. Giants fans should not be worried about their young ace, as he looks like a sure bet to be the best starter for the team this season. Also expect this year to be his first sub-3.00 ERA season.
Barry Zito: 3-2 3.40 ERA 1.44 WHIP
Zito, arguably the worst free-agent signing in Giants history, is trying to have his first season with an ERA under 4.00 for San Francisco. Yet, it probably will not happen this season, as his current 3.40 ERA is nothing more than fool's gold.
His underlying numbers, such as his 1.44 WHIP and .290 opponent batting average, suggest that his ERA has nowhere to go but up. Zito has had some miserable seasons with the Giants, but his currently WHIP would be the second-highest out of any season on the Giants, while hitters' batting average against him would be the highest by far.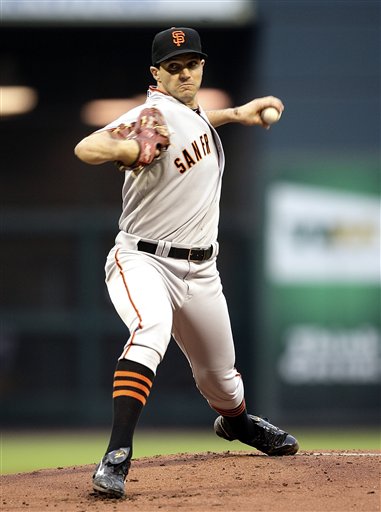 Let's dig deeper to see how lucky Zito has been. 46 batters have faced Zito with runners in scoring position, and 17 of them have gotten hits against him. There is no way he can sustain an ERA below 4.00, possibly 5.00, if hitters are batting .395 against him with runners in scoring position.
Also, unlike Lincecum, Zito has been pitching worse when his pitch count starts to creep up. After pitch 45, batters are hitting well over .300 against him. This shows that hitters are starting to figure him out and make better contact against him after their first at-bat or two, and this will hurt Zito because of his diminishing velocity.
While batters have not been hitting very many home runs against Zito, their line-drive percentage of 27.7 percent would be the highest Zito has allowed in his career. Batters are making great contact against him and hitting the ball hard. With a strikeout rate of 5.4 per nine innings, the second lowest of his career, batters will continue to often put balls in play. More hard-hit balls will turn into home runs as well.
It's also interesting to see that Zito has been pitching significantly better in certain situations (at home and during the day) compared to other ones (on the road and at night). While I expect the day and night ERA's to become closer to each other, Zito pitches a lot better at home than on the road. AT&T Park is a pitcher's park and he does have a great defense behind him. Additionally, in his seventh season with the Giants, Zito seems comfortable pitching on his home mound.
Amazingly, the Giants have won 19 of Zito's past 22 starts, and all three of those losses in that span have come on the road. Zito is becoming a guy in fantasy baseball who you would start when he pitches at home, but bench immediately when he's on the road.
Out of all of the starting pitchers in baseball with a 1.40 WHIP or higher, Zito has the second lowest ERA for those that qualify. He's lucky that his ERA is where it is, because it can easily be at least a full point higher.
Ryan Vogelsong: 1-4 8.06 ERA 1.84 WHIP
Not only has Vogelsong been the worst pitcher in the Giants rotation, he may be the worst starting pitching in baseball so far this season. He has the highest ERA out of all starting pitchers in baseball (the next highest is 6.57) and his WHIP is the fourth-worst. In fact, his 2011 ERA multiplied by his 2012 ERA is comparable to his ERA this season!
Vogelsong has just one quality start this season out of the eight games he's pitched in. Vogelsong's 11 home runs allowed are the second most allowed in baseball, behind Cain. Did Vogelsong foreshadow this start to the season with a stretch last year however?
From mid-August to mid-September last season, Vogelsong allowed 34 runs in 29.2 innings. When whispers were circulating that Vogelsong was finished, he went out and allowed one run or fewer in his final seven starts, including four postseason starts.
Yet, there's more reason to be concerned this year.
His fastball velocity, his key pitch during his resurrection with the Giants, dropped from 90.8 mph last season to 89.7 this year. Batters have been making contact at a higher rate because of it. In his first two seasons with the Giants (2011 and 2012), when his fastball was over 90 mph, he accumulated a swinging strike percentage of 7.2 and 7.3 respectively. This season, it's dropped down to 6.4 percent.
The reason for his decrease in velocity may be fatigue. He pitched well over 200 innings last season (this includes minor league and postseason appearances) after never pitching more than 179.2 innings in a season before that. He also pitched in the World Baseball Classic this offseason when he potentially should have rested his arm.
His BABIP (batting average on balls in play) is an absurdly high .369, so ERA will come down a bit. However, while Vogelsong had a remarkable two seasons with the Giants, it's very reasonable to believe that he will not be a reliable starter anymore for the Giants. While the Giants are saying that they are not skipping Vogelsong's next start, the team must be wishing that they still had Zack Wheeler waiting in the minor leagues.
Reach Associate Sports Editor Max Meyer by email.