International
Cuba Remains Listed As State Sponsor Of Terrorism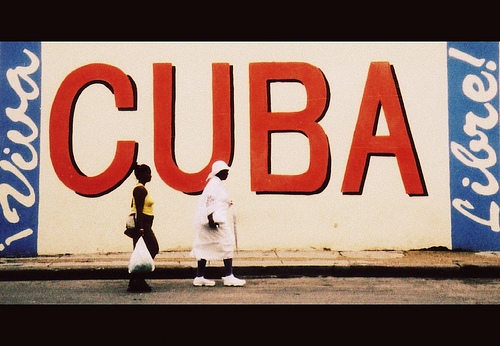 U.S. government officials confirmed Wednesday that Cuba will remain on the State Department's list of state sponsors of terrorism, joining only Syria, Iran and Sudan.
As the Miami Herald reports, "there are no current efforts or plans to remove Cuba from the list of state sponsors," despite a strong lobbying effort from opponents of the U.S.'s current sanctions against the Caribbean island and reports that American diplomats had decided Cuba should be pulled from the list.
Cuba is ruled by an authoritarian government that gives its people relatively little personal freedom, but by any measure, it has not been behind any significant acts of terrorism in recent years.
The other three countries on the list have governments who have been accused of committing atrocities themselves or in the case of Iran, ties with Hezbollah, a group that has claimed responsibility for numerous attacks on civilians. The State Department list also excludes North Korea, which has threatened to attack the U.S. just this year.
According to the Miami Herald, the State Department's rationale for keeping Cuba on the list is that it provides sanctuary to foreign groups the U.S. government brands as terrorist organizations.
"Cuba has been on the state sponsors list since 1982. Havana also is on a separate U.S. government list, with Venezuela and others, of countries that are not "cooperating fully with United States antiterrorism efforts."

The Country Report in 2012 alleged Havana provides safe haven to U.S. fugitives and members of the Basque Homeland and Liberty (ETA) in Spain and the Revolutionary Armed Forces of Colombia (FARC). Washington considers both as terrorist groups.

Cuba claims the ETA members are on the island with the Spanish government's approval, but some are wanted in Madrid. Havana is currently playing host to peace talks between FARC guerrilla leaders and the Colombian government."
While most Americans support normalizing ties with Cuba, a strong and politically powerful exile community in South Florida has been extremely influential in maintaining the status quo. Florida is a critical swing state in presidential elections, and national politicians have extra incentive to pay close attention to its political landscape.
Cuba was most recently in the news when entertainment power couple and prominent Obama supporters Jay-Z and Beyoncé vacationed in Havana, despite the presence of heavy travel restrictions that make such a trip nearly impossible for most Americans.
Read more of Neon Tommy's coverage of Cuba here.
Reach Executive Producer Matt Pressberg here.