Books
Book Review: 'Z: A Novel Of Zelda Fitzgerald'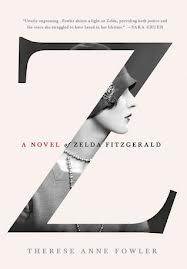 While reading "
Z: A Novel of Zelda Fitzgerald
," I found myself exclaiming, "Oh, I
wish
I was Zelda Fitzgerald! Her life just sounds so glamorous and exciting." Not much later, I changed my tune entirely, lamenting, "Poor Zelda, I would
hate
to be her."
This is the beauty of Therese Anne Fowler's captivating prose. Zelda and F. Scott Fitzgerald have achieved a level of mystical fame that few couples in the literary world have achieved since or ever will. They were the sparkling darlings of the Jazz Age, but they weren't without their faults.
In this historical fiction gem, Fowler explores the highs and the lows of being married to such a charming, famous, booze-loving husband, giving readers an amazing glimpse into what it must have been like to be Zelda Fitzgerald. While many accounts of the Fitzgeralds' marriage sympathize with the author — the more famous of the two — this book is completely Zelda's.
It is fascinating to see F. Scott Fitzgerald's wife and muse come to life. Readers can see how the real Zelda influenced many of Fitzgerald's characters, most famously Daisy in "The Great Gatsby."
This book shows Zelda not just as the dazzling socialite, but also as a mother, a wife, a painter, a writer and a dancer. Although she lived almost a century before, Zelda Fitzgerald isn't much different from the women of today who continue to struggle with finding balance in their lives.
As Zelda's biographer, Sally Cline, noted, "She was a woman who adored and hated her husband, who adored and oppressed and victimized her. Her melodramatic life was in real terms the stuff of fiction."
Fans of Paula McLain's bestselling novel, "The Paris Wife," and Woody Allen's "Midnight In Paris" should run out and get their hands on a copy of this book. Fowler gives you a tantalizing glimpse into the Fitzgerald's' friendships with other brilliant artists and writers of the day including Pablo Picasso, Gertrude Stein, Cole Porter and of course Ernest Hemmingway.
I give this book a full five stars!
Contact staff reporter Sara Newman here and follow her on Twitter.