USC Sports
Why Andy Enfield Makes Sense At USC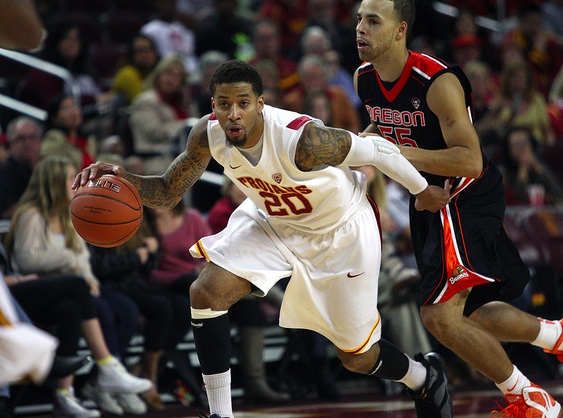 Los Angeles just got two new basketball coaches, and USC landed an impressive victory in its interminable quest to outshine UCLA.
UCLA struck first, hiring former New Mexico coach Steve Alford, but only after Brad Stevens, Billy Donovan and Shaka Smart turned down the once-prestigious position. Alford led New Mexico to four Mountain West titles (which is impressive, I guess?), but also has struggled in the NCAA tournament, twice losing to No. 14 seeds in the first round of the tournament (Alford's Iowa lost to Northwestern State in 2006 and New Mexico lost to Harvard this year).
USC broke its coaching search silence with the most exciting hire possible; former Florida Gulf Coast coach Andy Enfield will bring his loose brand of basketball to Southern California. People who don't know what they're talking about will say USC and Pat Haden overreacted to one weekend of basketball, but this is the best hire USC could have made.
Enfield led a school in its first two seasons of Division I basketball to a 41-27 record, a conference championship and Sweet 16 berth. Now his situation isn't so different as he takes over a team with a 20-44 record over the past two seasons, including losses to Cal Poly and UC Irvine.
As for the ignorant notion that Enfield is inexperienced and was hired solely because of two NCAA tournament wins: sure, without Florida Gulf Coast's unlikely run, there's no chance USC would have even heard of Enfield. But that doesn't make it a bad hire. Enfield has four years of NBA coaching experience with the Milwaukee Bucks and Boston Celtics and served as an assistant coach at Florida State before landing the Florida Gulf Coast job. The fact that no one had heard of Enfield before the NCAA tournament doesn't mean he's unqualified or a bad coach – it just means no one had heard of him. Now people have so he gets hired. Simple as that.
Just as the media compare quarterbacks in the same draft class, Andy Enfield and Steve Alford's careers at USC and UCLA will now be inexorably linked. Alford's the safer bet to have success; he's more established, has more career wins and takes over a much better program. But Alford also has the pressure of taking over for a coach who led the Bruins to three straight Final Fours, while Enfield takes over for a coach whose smorgasbord of transfers couldn't save his job. Alford has the pressure of playing in Pauley Pavilion under 11 national championship banners. Enfield gets the pressure-free job of coaching a team that hasn't made the Final Four since R.C.A. invented the color television (1954) and in an arena with a lower average attendance than Weber State's Dee Events Center.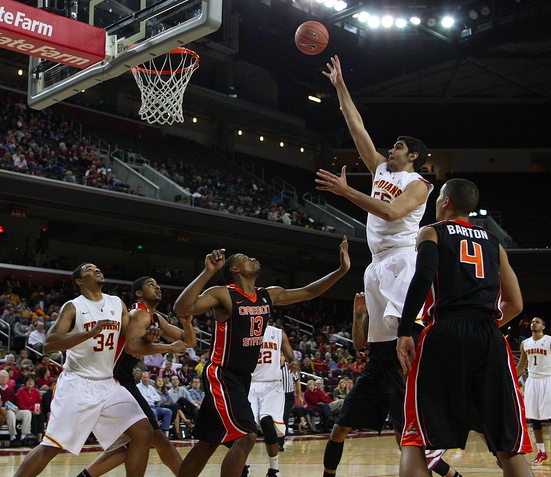 But it's this laid-back environment where Enfield can thrive. Based on average attendance, the USC Trojans are the fifth-most-popular team in Los Angeles behind the Lakers, Clippers, Bruins and Sparks. So while critics say hiring a coach like Syracuse assistant Mike Hopkins would be the "safer" pick, they do not understand the position of USC basketball in the Los Angeles sports landscape.
USC basketball is an afterthought, and hiring a coach that preaches ball control and sound defensive principles ain't changing that. Hire the most exciting coach in the country whose loose playing style, superb recruiting and ridiculous backstory and you have the potential to turn USC basketball from Pac-12 laughingstock to at least a compelling story.
Hiring Mike Hopkins would be similar to UCLA hiring Steve Alford. Hopkins would recruit decently well, the Trojans would improve and might even make a Sweet 16 or two. But what does that change? What is Hopkins other than another Kevin O'Neil? USC doesn't need a defensive-minded, hard-nosed coach. It needs someone to invigorate the program and make it cool to be a Trojan.
When Enfield and Alford enter 17- and 18-year-old recruits' homes do you think the players will want to play for the methodical Alford (who led 239th-slowest offense in the NCAA last year), or Enfield, who engineered the greatest NCAA tournament run ever by a 15-seed and runs an offense predicated on dunks and three-pointers? So sure, Enfield doesn't have ties to recruiting in Southern California, but you know how you get those? You walk up to a group of players and say, "Hi, I'm Andy Enfield and I coach USC. My teams have the most exciting playing style in the country. Want to come play for me in the second largest media market in the country? You can sign here." Recruiting done.
Could this hire backfire? I guess. What is backfire? USC can hardly get worse than it has been, and there is no denying that at the very least Enfield brings attention and excitement to a program that's been dead for two years. Enfield has the potential to be the greatest USC basketball coach since Sam Barry and essentially a basketball version of Pete Carroll. Since the USC football and basketball programs received their NCAA sanctions, neither has displayed the excitement that once made USC attractive to recruits.
With Mr. Boring running the football program, Enfield will have a chance to bring unique excitement back to USC. He may even make USC basketball matter for the first time in, really, ever. Consider this: Enfield's hiring already caused more Twitter excitement around the USC basketball program than at any point in the past two years. All he did was sign a paper. Imagine what he can do when the coaching actually starts.
Reach Staff Writer David Tobia here or follow him on Twitter.