International
Sichuan Earthquake: Social Media Criticism Prompts Suspension Of Highway Tolls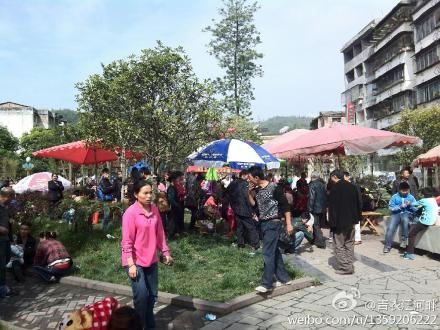 A 7.0-magnitude earthquake jolted Yaan city of China's Sichuan province shortly after 8 a.m. Saturday in China. Government said rescue teams have been sent to the quake-hit areas. The death toll has continued to rise in the four hours since the quake, reaching at least 40. Hundreds more suffered injuries. Multiple collapsed roads leading to Yaan are now under urgent repair.
One Sichuan resident wrote on Weibo, China's twitter-like platform: "I thought I am going to die. My house has collapsed. I can not get touch with my relatives living here too. I am so scared."
Many asking-for-help messages have been sent out on China's social media. One of them said tens of hundreds of art college students who were sketching in Yaan are now trapped there while the only outbound bridges were broken. "It is going to rain tomorrow, we are afraid we might be engulfed by the possible landslide triggered by the earthquake, " the message said.
Some microbloggers are calling for drivers to avoid using Chengya Freeway, the fastest road from Chengdu, the capital of Sichuan, to Yaan so that rescue teams can arrive at the earthquake-hit areas quicker. "Avoid using that 'Lifeblood Way'!," one micro blogger appealed.
A lot of Weibo users scolded the Chengya Freeway tolling station's act of slowing the rescue efforts by still charging fees even under such an emergent situation. "What? when we asked them to stop charging so the traffic move faster, they said sorry, we haven't got the authority's order to do that. Cold-blooded and bureaucratic!" The authority the cancelled the toll after being bombarded by the intense social media criticism.
The earthquake's depth is shallow, less than 13 kilometers or eight miles, which would magnify the destruction. The epicenter lies along the same Longmenshan fault where the devastating 7.9-magnitude Weichuan quake struck Sichuan in May 2008, killing more than 90,000 people.
The Xinhua News Agency said that the quake rattled buildings in the provincial capital of Chengdu 115 kilometers, or 70 miles, to the east. Many microbloggers living areas near to Sichuan province said they also felt the strong jolt. "It rattled me so intensely that I was suddenly awakened. Then I realized it is an earthquake. I ran out as fast as I can," said one microblogger living in Enshi, a city neighboring Sichuan province.
Reach the Staff Reporter Zhao Chen here.