California
Garcetti and Greuel Face Off At Los Angeles Mayoral Debate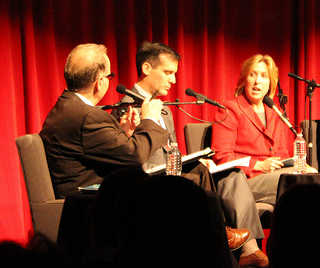 On Thursday night at 7 pm PST, the runoff election candidates faced off for the first time in a face-to-face debate at American Jewish University in Bel-Air, CA. KABC-7 broadcast the debate live which was moderated by ABC7 anchor Marc Brown. The questions were posed by a three-member panel: Adrienne Alpert of ABC7s Eyewitness News, Rob Eshman, Editor-In-Chief of the Jewish Journal of Greater Los Angeles, and Gabriel Teissier, Univision news anchor.
The debate focused heavily on issues of traffic, neighborhood revitalization and the integration of the Hispanic community. They even voiced their opinions on bringing an NFL team to Los Angeles.
Both candidates agreed that the city's transportation problems needed to be addressed by extending the metro system and repaving the streets of L.A. However, they were both equivocal when it came to their budgets in order to achieve said end. At one point, Greuel again brought up the 160 million in wasteful expenditure that she allegedly uncovered as controller and which she has been mentioning for months. In his rebuttal, Garcetti restated his campaign's position and said the figures were inaccurate (Garcetti's campaign argued that Greuel audit uncovered only $239,000)
In response to a Facebook user generated question about bringing a football team to Los Angeles, both candidates agreed, Greuel emphasized that bringing an team and a stadium would would bring jobs to L.A. Garcetti agreed and added that having a team would bring tourism which would also generate more economic activity. neither candidate was specific about exactly what team they thought should come to L.A, but Garcetti had a memorable and well-received observation: "just not the Raiders because we've gone down in crime every year since they left."
Perhaps the most interesting question of the debate and one which could help voters decide on the candidates was raised by Eshman, one of the moderators, who said that choosing between the two candidates was a tough choice due to their similar political philosophies and recommendations. "What do you see as the biggest vote defining difference between you?"
Greuel replied that it was their different work experiences: she worked in the private sector as an executive in Dreamworks and also ran her family's building supply store. In the public sector she served as the city controller. Overall, Greuel made sure to emphasize her ability to make the tough calls in regards to fiscal matters: "I've come out and said that the emperor has no clothes."
Garcetti cited his independence to lead as the main deciding factor: "I am not the chosen candidate of the downtown brokers or the water and power department." the candidate's remark was a backhanded critique of Greuel's backing by the labor unions. Garcetti went on to urge voters to review the results from his work revitalizing his neighborhood, Atwater Village as well as that in Hollywood: "I am not running on rhetoric. I am running on results."
UPDATE: A new poll on KABC7 shows that candidate, Eric Garcetti has a 9-point-lead on City Controller, Wendy Greuel.
Reach Executive Producer Francesca Martens here.