Theater and Dance
Theater Review: 'The Beaux' Stratagem' At A Noise Within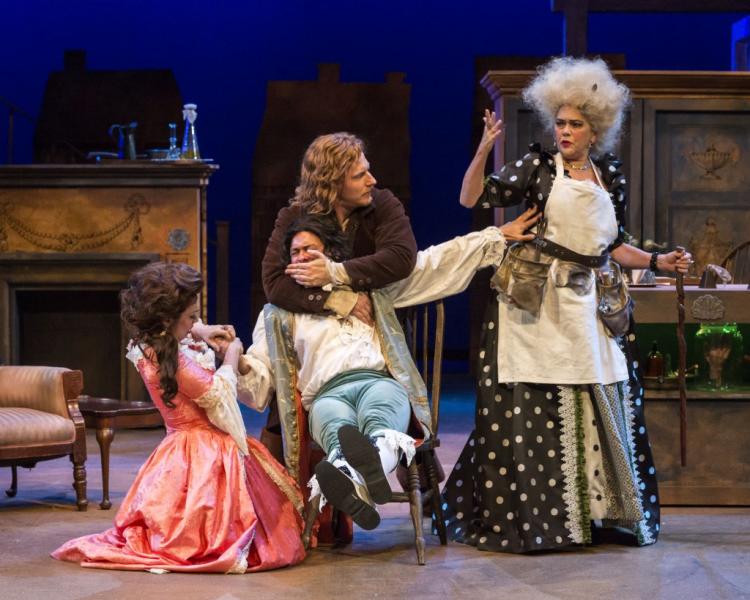 Restoration comedies are often-forgotten and rarely performed. These plays, which were mostly written between 1660 and 1710, were very important in their time, but nowadays are rarely seen outside of a university setting. Luckily, A Noise Within, a Pasadena company committed to staging classic plays, has brought "The Beaux' Stratagem" to life professionally.
The play, which is credited to three authors (George Farquhar, who originally wrote it in 1707, and Thornton Wilder and Ken Ludwig, who adapted it into its current incarnation), follows two young men, Jack Archer (Blake Ellis) and Tom Aimwell (Freddy Douglas), who pose as a master and servant in order to woo two rich young women, Kate (Abby Craden) and Dorinda (Malia Wright) for the sake of love and fortune. Of course, their circumstances are complicated by the presence of a priest/highwayman, Gloss (Time Winters), who tries to enlist the men's help in robbing the ladies' house, and Kate's husband, the perpetual drunkard Sullen (Robertson Dean).
As with most older plays, it takes about a scene for the audience to fall into the groove of the unfamiliar dialogue, but the play quickly earns its keep. As the central couple of Jack and Kate, Ellis and Craden are beguiling, and it's easy to root for their ultimate happiness. They are supported by a strong ensemble cast that brings the world of the play to life delightfully, including Deborah Strang's kooky Lady Bountiful and Winters' exasperated Foigard, who add to the already-numerous laughs provided by the comedy.
For educational value alone, it's wonderful to see the play produced professionally, but under Julia Rodriguez-Elliot's direction, A Noise Within's production makes it clear why the play was so popular back in its day. "The Beaux' Stratagem" is immensely funny, and it's quite entertaining to watch such a well-crafted play.
Reach Theater Editor Katie here; follow her on Twitter here.
"The Beaux' Stratagem" is playing through May 26 at A Noise Within (3352 East Foothill Blvd, Pasadena, CA). Tickets are $40-$60. More information can be found at ANoiseWithin.org.