NBA
Russell Westbrook Has Knee Surgery, Out For Rest Of Postseason
The last time the Oklahoma City Thunder played without Russell Westbrook, Kevin Durant was a rookie, they were still the Seattle Super Sonics and Westbrook was playing at UCLA.
But after the Rockets' Patrick Beverley collided with the three-time All-Star near half-court in Game 2 of the Thunder's opening-round series Wednesday, Westbrook and the team had a major problem. Saturday, he had surgery to repair a torn meniscus in his right knee, sidelining him for the remainder of the playoffs.
Here's a look at the controversial play that may have drastically altered the landscape of the Western Conference this postseason.
Notice, a timeout is about to be called when Beverley barreled into Westbrook. Two days later, the rookie told Yahoo Sports, "I didn't try to hurt him, but that play was something I've tried in the past, a play that worked against the Suns earlier in the season. And it's a play that I'm going to continue to try again." Meanwhile, Westbrook is "irate" with Beverley, according to league sources.
Remarkably, Westbrook played through the pain and helped his team secure a three-point win after the Rockets came from 15 points behind to temporarily take the lead.
With the advice of doctors, the team and Westbrook collectively decided to go the safer route. Although a surgery to repair the miniscus will require much more recovery time, Westbrook's longterm health may have been compromised by the alternative procedure, a removal of the lateral miniscus.
Since 2008, when the guard was selected with the fourth overall pick, he had not missed a single game in five full seasons. That included an NBA-best 394 straight regular-season games, as well as all 45 of the Thunder's playoff games.
There are more than a few parallels between this injury and Derrick Rose's season-ending ACL tear last postseason. While Rose tore his left ACL in Game 1 of the first round and Westbrook tore his right meniscus in Game 2, both devastating knee injuries happened (1) at home (2) to point guards on (3) No. 1-seeded teams (4) just days after the start of the playoffs. Rose went down on April 28, 2012. Westbrook's occurred on April 24, 2013.
At the time of the injury, Rose was the reigning MVP and point guard for the best team in the East (at least, record-wise). Although Westbrook plays alongside Kevin Durant, the league's second-leading scorer and likely the MVP runner-up to LeBron James, he was surely a key element on the Thunder's roster and easily the team's second-best player.
With the exception of Durant and Westbrook, who combined for more than 51 points per game this season, not a single Thunder player scored more than 14 points per game. Westbrook (7.4 apg) accounted for 34.6 percent of his team's assists, grabbed 5.2 rebounds per game (great for a guard) and led OKC in steals with 1.8 robberies per night.
Since Westbrook joined the organization in '08, the Thunder's record has improved each and every season, and so have their postseason results. Observe:
2008-09 (Rookie Year): 23-59 (.280 winning pct, up from .244 a season prior; I swear), no playoffs.
2009-10: 50-32 (.610 winning pct.), first-round playoff loss to Lakers.
2010-11: 55-27 (.671 winning pct.), Western Conference finals loss to Mavericks.
2011-12: 47-19 (.712 winning pct.), NBA finals loss to Heat.
2012-13: 60-22 (.732 winning pct.), playoff fate yet to be determined.
After reaching the NBA finals last year, the Thunder elected to trade away 2012 Sixth Man of the Year James Harden for salary purposes right before the 2012-13 campaign began. Although Serge Ibaka has stepped up his scoring and efficiency from 9.1 points and 53.5 percent-shooting to 13.2 and 57.3, respectively, the team will need to step up, offensively, to support Durant.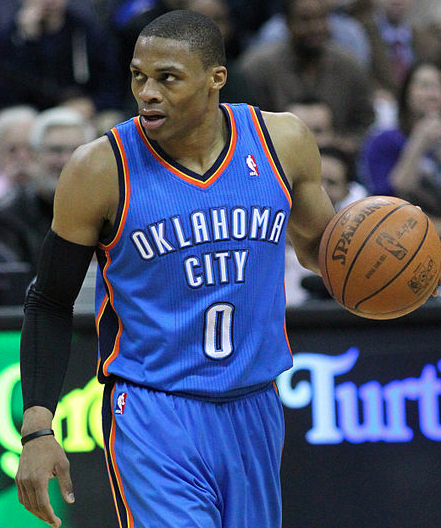 We all know Durant can score with anyone. He won the league's scoring title three consecutive seasons and would've gotten away with a fourth if it wasn't for that meddling kid, Carmelo Anthony (sorry for the "Scooby Doo" reference). In fact, he erupted for 41 points Saturday, tying a career playoff-high, in his first game without Westbrook in more than five years.
If the Game 3 effort was any indication (and I'm sure it was), it'll be a great deal of fun to watch how the superstar responds to Westbrook's extended absence.
Despite trailing by as many as 26 points early in the second quarter, the Rockets came back to nearly win the game. Ultimately, Oklahoma City won it, 104-101, thanks in part to a Durant three-pointer that touched virtually every part of the rim before falling through the net. That's called a shooter's touch.
With the win, the Thunder take a commanding, 3-0 lead in the series. Pending a 2004 ALCS Yankee-like collapse, the Thunder should easily get by the Rockets to earn a spot in the Western Conference semifinals. That said, the winner of the Grizzlies-Clippers series, which is currently tied at two games apiece, will certainly be tough to beat.
The loss of Westbrook badly damages the Thunder's transition game, a significant reason why they've been so tough to beat in recent years. Regardless of Durant's immense talent, going forward, supporting players, such as Kevin Martin, Thabo Sefolosha and Reggie Jackson will need to increase their scoring output; Ibaka, too, of course.
Reach Senior Sports Editor Aaron Fischman by email, or follow him on Twitter.