National
Republican Senator Sent Ricin Laced Envelope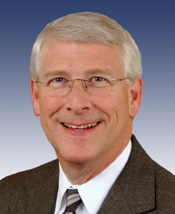 A letter addressed to Mississippi Republican Senator, Roger Wicker, is believed to have been laced with a potential poison.
Federal officials announced that the letter was originally tested positive for traces of ricin, a poison that can cause permanent organ damage and death, with no indication of why or from who the letter was sent.
An FBI spokesman, Paul Bresson said that "initial field tests produced mixed results, so the substance is in the process of undergoing further analysis at an accredited laboratory. Only after that test result can a determination be made about whether the substance is ricin."
From the Washington Post:
Senate Sergeant at Arms Terrance Gainer, who oversees Senate security, said that the suspicious letter was discovered Tuesday and that authorities conducted multiple field tests, followed by laboratory confirmation tests…Gainer had briefed senators on the letter and outlined steps they should take to reassure staffers how to handle suspicious mail. "While we have no indication that there are other suspect mailings, it is imperative to follow all mail handling protocols," Gainer wrote in a letter sent to all Senate staff Tuesday evening.
An ambulance came on site to assist all those who handled the package. The off-site facility that normally screens mail will be closed in the following days for testing and examination with federal investigators searching for any leads.
From USA Today:
Sen. Claire McCaskill, D-Mo., said authorities have a suspect, but she did not say if an arrest had been made. Terrance Gainer, the Senate sergeant-at-arms, said in an e-mailed message to Senate offices that the envelope had no obvious suspicious outside markings, bore a Memphis postmark and had no return address.
A department spokesman, Mark Brady, said that similar incidents are typical, sometimes happening once or twice a day. The area will have to be searched through and sterilized after an irradiation session, which is fairly common for the services. The postal service spends around $12 million annually on irradiation.
Reach Executive Producer Eric Parra here.