NFL
2013 NFL Draft: Matt Barkley, Khaled Holmes Selected In 4th Round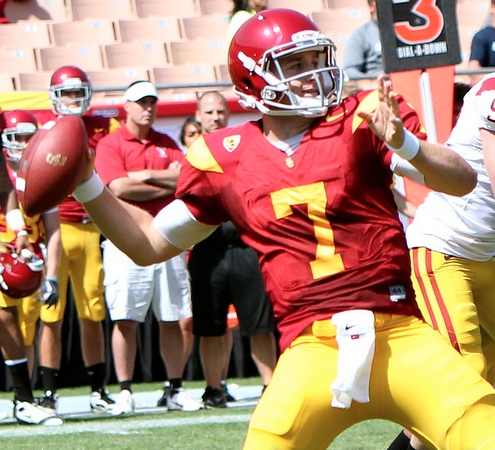 USC quarterback Matt Barkley had to wait until the third day of the NFL draft to hear his name called, but he didn't have to sweat it out too long on Saturday.
With the very first selection of the fourth round, the Philadelphia Eagles grabbed Barkley with the 98th overall pick after dealing away their other fourth-round pick (No. 101) and seventh-round pick (No. 210) to the Jacksonville Jaguars. Barkley was widely considered a first-round choice in 2012 until deciding to stay with the Trojans an extra year.
Also selected in the fourth round was center Khaled Holmes, who went to the Indianapolis Colts with the 121st overall pick. A total of four Trojans were picked through the first four rounds as wide receiver Robert Woods went to the Buffalo Bills in the second round and safety T.J. McDonald was nabbed by the St. Louis Rams in the third.
Barkley will be part of a quarterback depth chart in Philadelphia that already features Michael Vick, Nick Foles and Dennis Dixon. Based on the NFL rookie wage scale, the 6-foot-2 Newport Beach native's contract will pay him in the range of $2.5 million for four years with a $500,000 signing bonus. Barkley would have made at least $10 million in guaranteed salary had he been a top-10 pick as projected last season.
Three other quarterbacks joined Barkley when Saturday's fourth-round picks were announced. The New York Giants selected Syracuse's Ryan Nassib at No. 110, the Oakland Raiders added Arkansas' Tyler Wilson with pick No. 112 and the Pittsburgh Steelers chose Oklahoma's Landry Jones at No. 115.
Read the full story at ESPN. Find more Neon Tommy stories on the NFL draft here.