NFL
2013 NFL Draft: Grades And Analysis For Every Team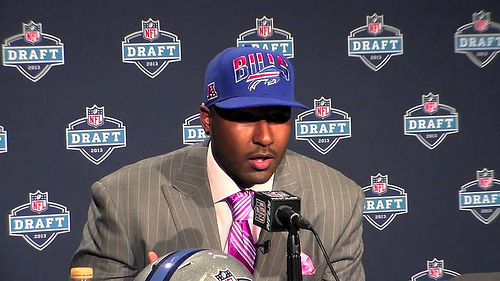 I don't like grades. They make people strive to platforms of achievement rather than doing as much work as they want. They tell one student he is worse than his classmate, because he circled the wrong letter too many times.
Grades have no real value and do much more harm than good. But most people accept grades as part of their lives, and I'm a man of the people, so I fell into the trap of grading the 2013 NFL Draft classes for each team.
Honestly, I feel dirty. But then I remembered people devote their lives to rating these players, giving each a number (or many numbers, each for different attributes) and then ranking the classes. And these people are astonishingly inaccurate. So I figure i can't be much worse than terrible. Makes me feel less dirty. I am Norbert to Mel Kiper's Pig-Pen. Here we go:
Arizona Cardinals:
This is the kind of draft the Cardinals can be proud of when they aren't terrible in four or five years. Jonathan Cooper and Earl Watford will solidify the inside of the worst offensive line in football, but the Cardinals will still struggle in pass protection without upgrades at tackle.
The Cardinals excelled on days two and three, grabbing three first-round talents in Kevin Minter (45), Tyrann Mathieu (69) and Alex Okafor (103). These talented defenders will improve Arizona's already strong defense and help keep divisional games against Seattle, San Francisco and St. Louis close.
It's unfortunate the Cardinals couldn't upgrade their most pressing need (quarterback), but it's better to patiently wait for the right fit rather than reach and set the franchise back. They'll almost certainly be near the top of the draft again next year for a much better quarterback class.
Best Pick: Alex Okafor
Worst Pick: Stepfan Taylor
Grade: B+
Atlanta Falcons:
Just as the Falcons are often overlooked and underrated, so too may this draft class. The Falcons traded up for cornerback Desmond Trufant, who will start immediately for the Super Bowl contenders. The Falcons had only a mediocre pass rush last year, but perhaps Stansly Maponga can change that. The TCU defensive end is certainly a risk, but had nine sacks and five forced fumbles in his sophomore year.
Best Pick: Stansly Maponga
Worst Pick: Zeke Motta
Grade: B
Baltimore Ravens:
Ray Lewis and Ed Reed go out; Arthur Brown and Matt Elam come in. It's an oversimplification to suggest Brown and Elam will replace Hall of Fame players, but the Ravens had a pretty clear strategy in the draft: fill holes vacated by players via free agency/retirement. They executed that strategy well.
Best Pick: John Simon
Worst Pick: Kapron Lewis-Moore
Grade: B
Buffalo Bills:
Everyone wants to criticize the Bills for taking E.J. Manuel. I have no problem with it. Doug Marrone clearly decided Manuel will be his guy and went and got him. Evaluators may say Manuel is not as "NFL-ready" as Matt Barkley or even Geno Smith, but who cares? Marrone is clearly confident in his ability as a coach to make the adjustments needed to make Manuel a success, so he went with the QB he thinks has the most physical talent.
And then he surrounded Manuel with weapons. Robert Woods can be an impact player immediately, opposite Stevie Johnson, and Marquise Goodwin will give the Bills a deep threat. Manuel will likely begin backing up Kevin Kolb and then will get his chance within the next few years.
Best Pick: E.J. Manuel
Worst Pick: Kiko Alonso
Grade: C+
Carolina Panthers:
The Panthers only had five picks, but they got decent quality on both offense and defense. If you could combine Star Lotulelei and Kawann Short into one player, you'd have a dominating defensive tackle. The Panthers will be able to use Lotuleilei's dominating run stuffing and Short's decent pass rushing to improve their struggling front seven.
Many have criticized the selection of Kenjon Barner in the sixth round, but he's a talented runner familiar with zone-read schemes and he only cost a sixth-round pick. What's the problem exactly?
Best Pick: Kenjon Barner
Worst Pick: Edmund Kugbila
Grade: B-
Chicago Bears:
The Bears received criticism for taking Kyle Long in the first round, but I don't like to criticize teams that reach for upside. "Safe" picks often turn into mediocre ones. NFL teams shouldn't strive for mediocrity.
The Bears could use a bit more help at skill positions, especially tight end or receiver, but didn't address offensive skill positions until taking Marquess Wilson in the seventh round.
Best Pick: Khaseem Greene
Worst Pick: Jon Bostic
Grade: C+
Cincinnati Bengals:
The Bengals don't have many holes as a team, but found creative ways to use their 10 selections. They addressed offense early, picking Notre Dame tight end Tyler Eifert and North Carolina running back Giovani Bernard. Comparing Eifert to Rob Gronkowski is absolutely ridiculous, but he will help Andy Dalton, whose strength is throwing intermediate passing routes. Also, it will be nearly impossible to defend A.J. Green, Eifert, Jermaine Gresham and Mohammad Sanu when the Bengals reach the red zone.
Bernard gives the Bengals a new dimension to their running game and should complement BenJarvus Jeremy Green-Ellis well.
Best Pick: Giovani Bernard
Worst Pick: Margus Hunt
Grade: A-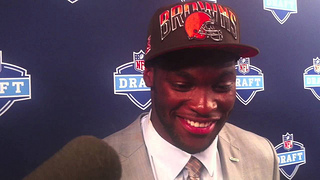 Cleveland Browns:
Well, at least the Browns will make a real strong push for the No. 1 pick in next year's draft. They reached early for Barkevious Mingo and didn't draft a single offensive player until Garrey Gilkey, a tackle from Charon St., in the seventh round.
They also traded for Davone Bess because when you have the opportunity to add a bad receiver, you have to pull the trigger. It's the Cleveland way. Why roll the dice on a young talented receiver when you can get a known, consistently underwhelming performer in Bess?
Best Pick: Leon McFadden
Worst Pick: Barkevious Mingo
Grade: F-
Dallas Cowboys
It was trendy to pick guards and tackles in the first round this year, but only Dallas was crazy enough to use a first-round pick on a center. Just absolute lunacy. I understand Wisconsin always has a mauling offensive line, where every player is like 350 pounds and athletic. I understand. But taking a center in the first round is just about as dumb as it gets. It's almost as if Jerry Jones wanted to seem smart so he took a lineman since people think that's a smart thing to do? I don't know. As coaches always say, "Centers win championships!"
Best Pick: Terrance Williams
Worst Pick: Travis Frederick
Grade: F+
Denver Broncos:
Is Montee Ball really an upgrade over Willis McGahee? Or Knowshon Moreno? Or whomever the Broncos could have scraped up in free agency? Maybe, but I just see a not-that-great running back, who ran behind a really good offensive line against not-so-good competition. That's Montee Ball in one badly constructed, run-on sentence. You're welcome.
Best Pick: Zac Dysert
Worst Pick: Montee Ball
Grade: C
Detroit Lions:
Taking a player with only two years of experience is inherently risky, but Ezekiel Ansah has special potential as a pass rusher, and, again, we ain't here to knock upside. Taking a punter in the fifth round when you have so many other holes to fill is a bit strange, but then again, it's the fifth round.
Best Pick: Larry Warford
Worst Pick: Sam Martin
Grade: C+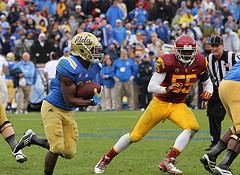 Green Bay Packers:
Most will see Eddie Lacy in the second round as a steal, but I see it as a retroactive waste after the Packers also snagged Johnathan Franklin in the fourth. Lacy benefited from Alabama's offensive line, and while he is a talented runner, he doesn't have the same speed and versatility Franklin does. The Packers aren't going to become a grind it out, downhill-running football team, so where does Lacy fit in? He doesn't. Franklin does.
Best Pick: Johnathan Franklin
Worst Pick: Eddie Lacy
Grade: B-
Houston Texans:
In typical Texans fashion, nothing too exciting here. DeAndre Hopkins will give Andre Johnson a true No. 2 receiver for the first time in his career. Trevardo Williams is a fourth-round steal whose pass-rushing abilities will benefit from double teams against J.J. Watt.
Best Pick: Trevardo Williams
Worst Pick: D.J. Swearinger
Grade: B-
Indianapolis Colts
The Colts need Bjoern Werner to help replace Dwight Freeney in a pass-rushing sense, but Werner probably wishes the Colts still employed a 4-3 defense. Werner will have to learn how to rush as a 3-4 outside linebacker - an unfamiliar position for the former Seminole.
Best Pick: Khaled Holmes
Worst Pick: John Boyett
Grade: C-
Jacksonville Jaguars:
The Jaguars had a similar draft to the Cardinals in that both teams will continue to be terrible, but helped collect valuable pieces for if they can ever figure out their quarterback situation. No one will argue with Luke Joeckel at the top of the draft, and second-round pick Johnathan Cyprien will make an immediate impact at strong safety. The Jaguars used five of their eight picks on secondary players, and Dwayne Gratz is an underrated corner who could become a star.
Adding Denard Robinson in the fifth round is a risk worth taking, and my listing of him as the Jaguars' worst pick is more a reflection of how strong their draft was than anything.
Best Pick: Dwayne Gratz
Worst Pick: Denard Robinson
Grade: A
Kansas City Chiefs:
Critics say using a No. 1 pick on a right tackle is a stretch. Well guess what: he's a left tackle and a very good one. Sure, he may start at right tackle (depends on what happens with Brandon Albert), but if a team spends a No. 1 pick on a quarterback, people don't say, "Oh, you used a first-round pick on a backup QB," because teams draft for more than one year. Fisher will eventually, if not immediately, shift to left tackle and protect whomever the Chiefs end up with as their future QB (probably not Alex Smith). As for his immediate impact, Fisher will be great getting out in front of Jamaal Charles on screens, which Andy Reid loves to run.
The rest of the draft was a bit strange for Kansas City, as it went after tight end (Travis Kelce) and running back (Knile Davis) with its next two picks. Neither of these are needs for Kansas City.
Best Pick: Eric Fisher
Worst Pick: Travis Kelce
Grade: C
Miami Dolphins:
Dion Jordan is much better at working out than he is at playing football. The Dolphins should have cared more about the football and less about the working out. He will benefit from the presence of Cameron Wake, but moving up from No. 12 to 3 to pick Jordan was a reach.
Best Pick: Jamar Taylor
Worst Pick: Dion Jordan
Grade: C+
Minnesota Vikings:
Minnesota's first three picks, Sharrif Floyd, Xavier Rhodes and Cordarrelle Patterson will all start immediately. That's impressive. Floyd and Patterson both stumbled down some draft boards, so perhaps other teams noticed flaws the Vikings did not.
Best Pick: Sharrif Floyd
Worst Pick: Cordarrelle Patterson
Grade: B+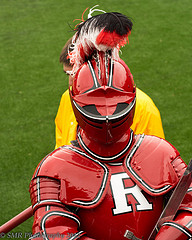 New England Patriots:
Bill Belichick loves Rutgers defenders apparently. Logan Ryan, Duron Harmon and Steve Beauharnais will join Devin McCourty as Rutgers defensive products for the Patriots.
Aaron Dobson gives the Patriots a vertical element to their offense that they've lacked since the departure of a different Marshall product. He also made one of the most ridiculous catches in college football last year, so there's that.
Best Pick: Aaron Dobson
Worst Pick: Michael Buchanan
Grade: C+
New Orleans Saints:
The Saints lost their second-round pick because of the bounty scandal, but still added some nice defensive pieces. Kenny Vaccaro will help one of the worst secondaries in football and John Jenkins will help force double teams from the nose tackle position.
Best Pick: Kenny Vaccaro
Worst Pick: Rufus Johnson
Grade: C
New York Giants:
The Giants may have turned in the most boring draft of all teams. They bolstered their offensive and defensive lines, and second-round defensive tackle Johnathan Hankins gives them good depth at the position.
Best Pick: Johnathan Hankins
Worst Pick: Justin Pugh
Grade: C+
New York Jets:
Some criticized the Jets for taking Sheldon Richardson at 13 overall, but had they taken Geno Smith there, no one would have said a thing. Now assume they get Richardson at 39 overall (where they ultimately took Smith). All of a sudden that pick is a steal. So I'm no mathematician but my rudimentary understanding of the commutative property suggests it doesn't matter where you take the players, just that you take them. And the Jets picked some talented players while also addressing needs.
Will Geno Smith succeed in the NFL? Well, he's on the Jets so probably not, but let's let father time sort that one out.
Best Pick: Dee Milliner
Worst Pick: William Campbell
Grade: B+
Oakland Raiders:
D.J. Hayden went three picks after fellow cornerback Dee Milliner, but may prove to be the better player. He's immensely talented and the Raiders are lucky he's alive.
Sio Moore is a great value pick in the third round.
Best Pick: Sio Moore
Worst Pick: Tyler Wilson
Grade: B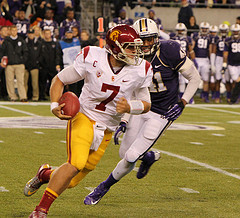 Philadelphia Eagles:
Here's the deal with Matt Barkley. Stop saying he would have been a top-10 pick if he came out last year. It's simply not true. The reason Matt Barkley didn't go top-10 or first round or first three rounds isn't because USC lost more games this year and he didn't play as well. It's because once scouts started really studying him and watching his tape, they realized he's not that good and he doesn't have the skills NFL teams want. Earlier, I talked about EJ Manuel and how coaches want to mold his raw physical talent. Barkley is basically the opposite. He's always had good coaching and has always been successful, so in that sense some see him as having maxed out. There isn't much upward mobility for him.
The reason the media had him pegged as a top pick last year is because the media isn't filled with scouts. He seemed like a very good player and was projected as such. But had he come out last year, he would have also slipped down draft boards after teams examined him.
Now that that's all out: Zach Ertz is a great pick and Lane Johnson is a physical freak.
Best Pick: Zach Ertz
Worst Pick: Matt Barkley
Grade: B-
Pittsburgh Steelers:
If Jarvis Jones went to the wrong team, he might have been a bust. The Steelers are not the wrong team. Jones will make an immediate impact and a substantial one, at that. He may have been the best player available at the time and fills a need for the Steelers.
Drafting Landry Jones seems like a waste, even in the fourth round. Ben Roethlisberger isn't going anywhere, which is a good thing because Landy Jones is terrible.
Best Pick: Jarvis Jones
Worst Pick: Landry Jones
Grade: B
St. Louis Rams:
The Rams had an awesome draft. That doesn't mean it was without its missteps (like drafting T.J. McDonald), but Tavon Austin, Alec Ogletree and Stedman Bailey will help the Rams compete in the ridiculously competitive NFC West. Reuniting Austin and Bailey on turf with an accurate, west coast passer in Sam Bradford is incredibly smart and exciting.
Best Pick: Stedman Bailey
Worst Pick: T.J. McDonald
Grade: A
San Diego Chargers:
The Chargers are going to be terrible next year. Phillip Rivers continues to get worse, and while they got him a talented receiver in Keenan Allen, it's hard to rely on a rookie wide receiver to produce as a primary target.
Getting Manti Te'o in the second round isn't the worst thing in the world, but he's no more than a two-down, mediocre linebacker.
Best Pick: Keenan Allen
Worst Pick: Manti Te'o
Grade: C+
San Francisco 49ers:
The rich get richer. They addressed their only need by getting Eric Reid in the first round, and then used their remaining 10 picks to invest in the future. Marcus Lattimore is an especially interesting pick. He can essentially take the season off to recover and improve after his gruesome injury. He will eventually replace aging Frank Gore.
Best Pick: Tank Carradine
Worst Pick: Nick Moody
Grade: A-
Seattle Seahawks:
The best part about the Seahawks' draft happened in March when they traded their first-round pick for Percy Harvin. They also added some nice defensive depth in Jordan Hill and Jessie Williams.
It was a bit strange that they used their first pick on running back Christine Michael. Not only was running back a position with a lot of depth in this year's draft, but the Seahawks already have talented runners in Marshawn Lynch and Robert Turbin.
Best Pick: Jordan Hill
Worst Pick: Spencer Ware
Grade: B
Tampa Bay Buccaneers:
If you could draft the best cornerback in the NFL you would do it, right? Well that's basically what the Bucs spent their first-round pick on in acquiring Darrelle Revis. Yes, the Bucs are paying him $16 million dollars, but he immediately fills their largest need.
Mike Glennon may not ever start for the Bucs, but he provides competition for Josh Freeman. But is it really worth a third-round pick just for competition?
Best Pick: Darrelle Revis (it counts)
Worst Pick: Mike Glennon
Grade: B+
Tennessee Titans:
The Titans need to find out if Jake Locker is their quarterback or not. Their rushing game gets a huge boost with the addition of Chance Warmack (something Chris Johnson is pleased about) and Justin Hunter gives the Titans one of the most dangerous receiving corps in the NFL. Hunter will join Kenny Britt, Nate Washington and Kendall Wright, giving Locker more than enough weapons to work with as he tries to increase his accuracy and reach his potential as a starter.
The Titans' defense will likely continue to be terrible, but Blidi Wreh-Wilson will help temper the damage.
Best Pick: Blidi Wreh-Wilson
Worst Pick: Khalid Wooten
Grade: A-
Washington Redskins:
The Redskins improved by drafting a lot of speed on defense, and Shanahan drafted some running backs to complete his annual stable.
Best Pick: Brandon Jenkins
Worst Pick: Chris Thompson
Grade: C
Reach Staff Writer David Tobia here or follow him on Twitter.