Media
Neon Tommy Wins SPJ Awards In Las Vegas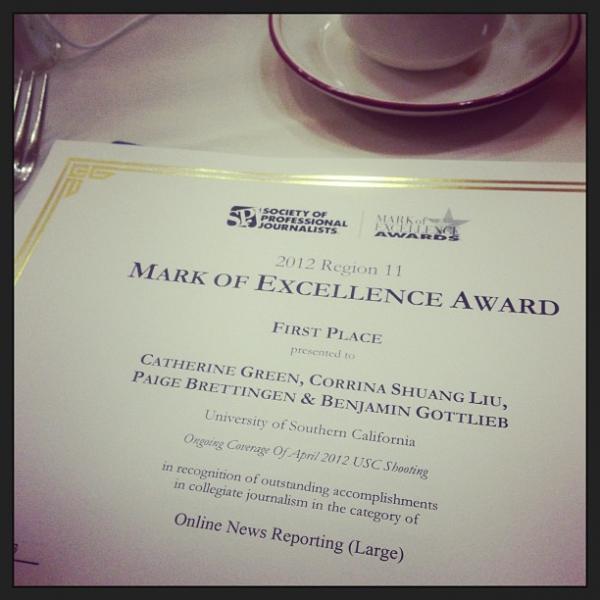 Neon Tommy won a couple of awards for our news section at the Society of Professional Journalists Region 11 Mark of Excellence Awards in Las Vegas over the weekend.
We took first place in Online News Reporting for our ongoing coverage of the April 2012 shooting that killed two USC students near the university's campus. Current co-editor-in-chief Catherine Green shared the award with Managing Editor Paige Brettingen, Corrina Shuang Liu and former senior editor Benjamin Gottlieb. Current staffer Shako Liu contributed pictures to the package as well.
Sports reporter Jonathan Kendrick also won first place for Online Sports Reporting for his story "How High School Eligibility Rules Spiked Todd Hunt's Football Dreams."
Former Neon Tommy writer Tom Dotan took second place in the Online Opinion & Commentary section and the whole staff came in third for Best Independent Online Student Publication.
Vicki Chen, our friend at Annenberg TV News, came in second for Television General News Reporting for her story "Urban Barn Teaches Teamwork Through Horseback Riding" and our Annenberg Radio News pal Aaron Schrank won first place in Radio Feature for his piece "A deaf man hears music."

First place winners will advance to compete in the SPJ's national student conference in Anaheim in August. We were all happy to go to Vegas three weeks before the end of the semester.
Reach the Neon Tommy News team here.

Reach Senior News Editor Michael Juliani here.