National
Neil Diamond Donates To Boston Victims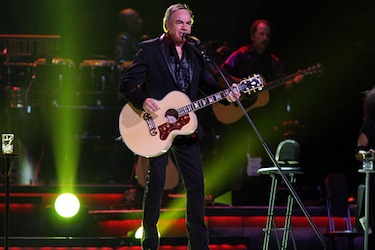 Neil Diamond
pledged a large donation to Boston Wednesday night.
Nielsen sent out a tweet saying "'Sweet Caroline' sales were up by 597 percent since the April 15th bombings, selling 19,000 copies. Diamond retweeted this message and added "Donating these royalties to #OneFund!"
ALSO SEE: Boston Bombing Suspect Motivated By U.S. Wars
ABC News reported that One Fund Boston will aid victims of the Boston Marathon bombings and their families. The organization raised $20 million in it's first week.
Diamond's 1969 hit "Sweet Caroline" is regularly played at Boston Red Sox games, and according to the New York Times the song has become the unofficial anthem for the city in the wake of the tragedy. Many professional sports teams played the song during games as a show of solidarity.
ALSO SEE: Boston Bombing Suspect Says He And Brother Acted Alone
The singer told Rolling Stone the bombings are inspiring him to write new music. "I'm writing now and obviously affected by this situation in Boston, so I'm writing about it just to express myself. It's like an infestation, and I'm writing about the general situation, not just about the bombing in Boston, but about what we're going through with all of these tragedies- shootings and so on and so forth."
The 72 year old surprised the crowd at Boston's Fenway Park Saturday, the first home game since the deadly blast, and performed the tune, which fans have adopted as a regular part of the eighth inning.
Read more of Neon Tommy's coverge of the Boston Marathon bombing here.
Reach Executive Producer Briana Goodall here.