Books
Maria Semple And Molly Ringwald Talk Characters And Process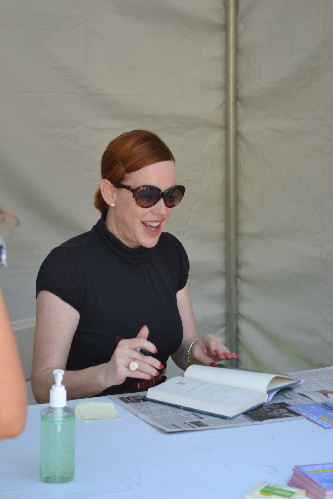 Maria Semple
, Seattle transplant, screenwriter and author of "
Where'd You Go Bernadette
," and
Molly Ringwald
, actress, musician and author of "
When It Happens To You
," had a lively conversation with
Carolyn Kellogg
of the
LA Times
, Sunday afternoon in the Davidson Conference Center.
Conversation topics ranged from mother characters, to the writing process, to literary influences and their mutual love for the work of James Salter.
Though the two authors come from two different literary traditions, Semple from screenwriting to writing a novel in letters and Ringwald from acting to writing a novel in stories, they had much in common when it came to themes in literature, favorite authors and flawed characters. Kellogg's moderating allowed the two to feed off of each other in a talk that was both honest and humorous. There was no shortage of quips among the three.
Semple's latest novel, "Bernadette," is told through emails, notes and different characters' points of view. It centers on the title character, an eccentric mother and her relationship with her daughter. When asked how the structure of her book evolved during the Q&A part of the event, Semple admitted "the epistolary structure was creative problem solving."
Ringwald's first foray into fiction centers on different stories of relationships intertwined together that involve betrayal. Her main plot line follows a married couple, Greta and Philip, who open the book. "I've always written fiction, always been intrigued by short stories. I was afraid to write a novel. Writing a novel is like deciding to get married and have kids on the first date!" Ringwald said.
Both writers' books involve problematic mothers and overarching themes that they clearly had in mind when they started writing.
"I was really interested in writing about different types of mothers. Every mother has a different relationship with her child," Ringwald said. "I do use my writing to understand subjects that intrigue me. For me, betrayal was a big one. You've either been betrayed, you've betrayed someone or you've betrayed yourself."
For Semple, the character of Bernadette had an autobiographical source. "I had just moved to Seattle from LA and I didn't like the city or the people. I was in a dark place. People thought I was actually crazy," Semple said. "My daughter was six at the time and we just drove around in the car and we'd laugh. It was so easy to be around her. I've referred to [the book] as a mother daughter love story."
The two did disagree when Kellogg asked if writing was catharsis for them and what it's like to sit down with a blank computer screen.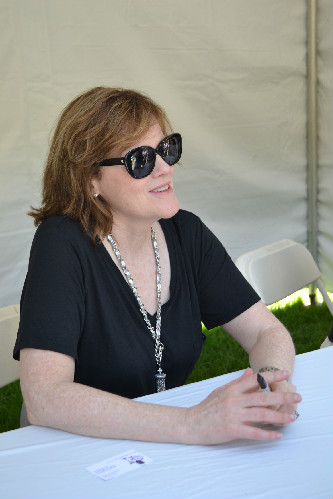 Semple describes sitting down to write as "total joy! Even on a bad writing day, it still feels great to have written something. Once you get started, it's really fun!" but quipped that although she was writing about difficult personal things, she did not solve any emotional problems while writing.
Ringwald had a different writing experience. "I am tortured when I'm writing. Just sitting down to write gives me anxiety. I have to do all kinds of mind games to get myself in the chair," she said. She does not see writing as cathartic but knows she wants to explore another theme in her next book, forgiveness maybe. "I've had it up to here with betrayal!" Ringwald declared.
As for literary influences, both drew from a common love of James Salter, but Ringwald counts Raymond Carver, J.D. Salinger and Toni Morrison as her biggest sources of inspiration. Semple confidently selected Jonathan Franzen, particularly his book "The Corrections."
"That was the book I had on my desk while I wrote 'Bernadette.' I thought 'wow someone essentially my age has written a classic!'"Semple said.
So what is next for these dynamic women?
Semple feels no rush in writing another book in the coming years, but she did reveal that "Bernadette" is "on the path" to becoming a movie. The producers of The Hunger Games have been recruited for the project and the writers of (500) Days of Summer are working on the script.
For Ringwald, she will continue working on her latest music album but no next book is on the horizon. But her husband, writer Panio Gianopoulos, has just finished a collection of short stories. "For my next book, I have the characters, the locale, just no time to write a book!" Ringwald said.
Reach Senior Arts Editor Kristin here.
For more coverage of the Festival of Books, click here!