Food
Mapping South L.A.'s Food Resources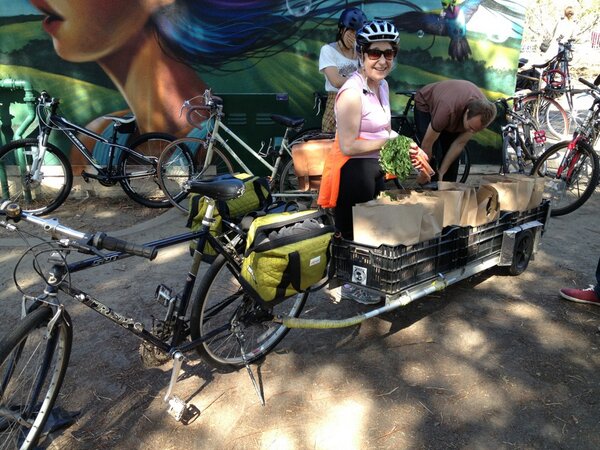 For the creators of the South L.A.
food map
, their project isn't about a collection of data; it's about stories. Members of several local organizations worked to outline biking and walking routes, community gardens, markets and healthy food resources in the historically underserved area.
What they did in the process, however, was start a conversation. Benjamin Stokes, a researcher at the University of Southern California's Annenberg School for Communication and Journalism, explained the map's unusual origins.
"What's exciting to me is that it comes from the community. It's from the bottom up," explained Stokes, who worked on the project for the last several months alongside T.R.U.S.T. South L.A. and Community Services Unlimited.
"It's not just experts telling you what you should do and where you should go," Stokes continued. "It's people coming together and walking the path of the map, trying to figure out where we should go, having meetings."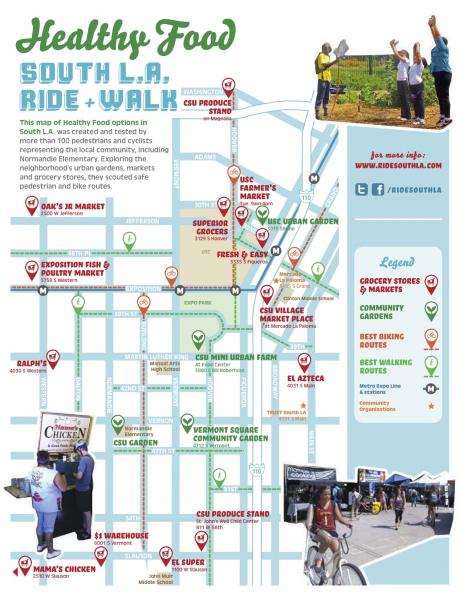 The map was created with help from ParTour, a technology developed at Annenberg that allows community members to take pictures with their basic phones. The photos are sent through standard messaging along with information about where they were taken.
Organizers walked through the South L.A. area with local residents, taking photos of healthy food sources along the way. These images provided the raw data for the food map, and some were featured on the final product.
A bike ride and walk in March served as an introduction of the map into the community, and another will be held this Saturday in honor of Earth Day. During the first ride, residents and members of local bike clubs traveled along the route, visiting featured businesses like Mama's Chicken and CSU's mini-urban farm and handing out the map.
CSU has been working for several decades to change the way low-income neighborhoods around L.A. interact with food. In 2003, they conducted a community food inspection to see how and where residents were getting their meals.
"In a nutshell it showed us that people in these neighborhoods are not idiots," said Neelam Sharma, CSU's executive director. "They understand that there's a problem, but they're caught in a situation where there aren't options. The food environment is completely saturated with calorie-high, nutrient-empty food. People don't have the knowledge or the time or the means by which to eat healthy."
Though the South L.A. community faces challenges in accessing nutritious food, Sharma said it isn't a "food desert," or an area where access to clean, healthy food is scarce.
"There has been access, but it is under-resourced, and the type of access is definitely different than in the Valley, for example, where there's a Whole Foods on every corner. In our neighborhoods it's a liquor store on every corner," explained Sharma.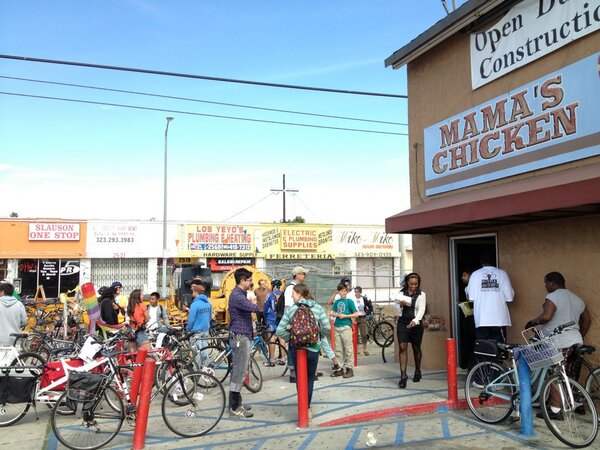 The map aims to expand awareness of available healthy food sources while also encouraging community interaction. Food-themed music blared and children smiled and waved at passersby during the introductory ride, which Stokes said wasn't just a tour of the map, but a parade.
"We like it to be participatory," said Stokes. "A lot of the time, fun is what's missing from these campaigns. It's like, 'Obesity: It's a problem. We gotta deal with obesity!' But it can be fun and healthy."
Projects like the food map can also serve as a means for uniting different members of the community.
"There's a lot of talk in South L.A. about black and brown relations," Stokes said. "There is a [bike club] called Los Riders which is mostly younger Latinos. East Side Riders is another South L.A. bike club made up of African Americans. They've partnered together and they've made these shirts that say "The United Riders" across the top and they both turn out for events like this."
Francois Bar is an associate professor at Annenberg who developed the ParTour technology and has worked on many projects within the community surrounding USC. He said that outreach like the food maps is particularly essential after the university's recent closing of the campus at night to non-USC visitors.
"It gives this impression in the community that the university thinks of them as dangerous," Bar said. "It tends to really hurt those relationships that we've spent a lot of time building. So we have to spend more effort just to repair those relationships."
Annenberg's involvement in the project is part of the new Laboratory on the Social Frontier initiative, which aims to combine the work of communications and journalism researchers and apply it to action within the community.
Bar and Stokes' next project is in Leimart Park, a hub for the African American arts community. They've purchased 14 recycled payphones and will "hack" and transform them over the next month into interactive objects that will provide insight into the historic neighborhood.
One payphone will be turned into a kind of jukebox, where users can pay to purchase tracks from local musicians by inserting a USB drive. Others will serve as storytelling devices where community members can listen to stories about the neighborhood and leave their own.
From food maps to hacked payphones, organizations like CSU and Annenberg are working in a variety of ways to engage local neighborhoods. But Sharma said that the primary goal remains the same.
"The community does not have the same voice as other neighborhoods do," she said. "What we're trying to highlight are the many awesome things that are happening in our neighborhood. It's really about celebrating our communities."
Find out more about Sunday's Earth Day event here. Watch footage from the last ride below.