Los Angeles
Living And Writing Los Angeles: Unraveling The Complexities Of The City of Angels
Los Angeles, the media would have us believe, is a city of beautiful-looking celebrities who do juice cleanses and yoga in between movie premieres and trips to the beach. But, as panelists at the L.A. Times Festival of Books discussed, there is so much more to the city beyond the narrow lens of glamour. Los Angeles is home to a rich, multiracial, geographically diverse history.
Brighde Mullins, the director of the USC Master of Professional Writing program, moderated the discussion among four USC professors from various fields of study, each of whom brought a unique perspective about their own interaction with the city through novels, poems, academic essays, and plays.
Mullins started off the discussion by quoting Carson McCullers, "If you're going to write, you better have some place to be from."
Panelists William Deverall (Professor of History), Dana Johnson (Associate Professor of English), Laura Pulido (Professor of American Studies and Ethnicity), and Richard Rayner (Lecturer for Masters of Professional Writing program) went on to describe how they came to be Los Angelenos—either by birth or by choice—and the crucial role that this geography has played in their literary careers.
William Deverell, author of "Whitewashed Adobe" discussed how he tries to apply his academic historical training to more fictional writing to make his insights about California's fascinating history more accessible to the public. Deverell attributed his decision to move to Los Angeles to the "historical velocity with which it developed."
As a historian, he pinpoints the latter half of the 19th century as the beginning of Los Angeles's rich history of growth, discrediting complaints about Los Angeles not having a history of its own. In contrast to the more stagnant histories of the East, Deverell romantically described how Los Angeles has the privilege of a continually evolving history, as "every single day more things come out and then weave the human tapestry of the place." He acknowledges that there is somewhat of a geographic racial "quarantine" but that "the kids at USC are more blind to racial profiles, and that's really encouraging."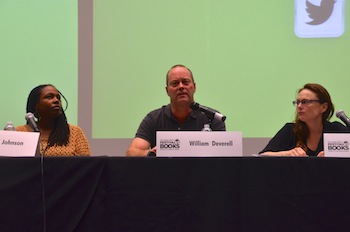 Laura Pulido shared insight with the audience about her own experience growing up in Los Angeles as part of the Chicano community and the impact that it played in her passion for political activism and geography. She pointed out that this "human tapestry" is vastly influenced by choices about whose history takes the spotlight and consequently whose is marginalized and nearly erased from the discussion of Los Angeles's history.
In books such as "Black, Brown, Yellow and Left: Radical Activism in Los Angeles" and "A People's Guide to Los Angeles," Pulido explores not just her own racial struggles, but those that various minorities living in Los Angeles continue to face. A central part of her mission is "realizing there's so, so much history and geography that people dismiss, they don't know, they don't understand, and I was very committed to bringing that to a larger audience."
As a professor, author, and activist, Pulido is determined to make USC students become more engaged in the discussion about the entire history of Los Angeles by breaking down the illusion drafted by the elite and drawing people's attention to "black, brown, and yellow places that are left off the map." She hopes to inspire people to ask the difficult question: "why does the Eastside look like this and the Westside look like that?"
Dana Johnson expressed her personal dissatisfaction about the lack of discussion regarding the post-Civil-Rights life of African Americans in California. Rather than lament the racially filtered narrative of the West, Johnson takes matters into her own hands by relaying her personal experience of questioning the racial inequalities throughout the different regions of California in "Elsewhere, California," a novel told through the soulful, inquisitive voice of a child. Johnson explained that rather than telling a story purely to entertain readers, she wanted "to talk about Los Angeles, California and the suburbs in ways that I didn't see represented in literature."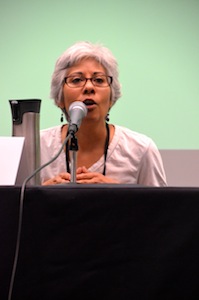 She explained that it wasn't until she left Los Angeles to attend grad school in the Midwest that she was fully able to realize the complexities of Los Angeles's relationship with race. Rather than spend copious amounts of time doing research in libraries, Johnson enjoys long walks through the city during which she tries "to look at the world as a writer" and each time find something new.
Despite his British accent clearly announcing that he is a Los Angeleno by choice rather than by birth, Richard Rayner seemed as enamored by the city, if not more so, than the rest of the panelists. The author and journalist continually tries to reveal different perspectives of the multi-faceted city, most recently in his book "A Bright and Guilty Place." Through his research for this and other novels, Rayner has come to realize that the "grid of L.A. is not just what we see, but how we wish to perceive it."
In contrast to the politicized attitude that many of the other panelists adopted, Rayner took a far more personal approach to his adopted home, admitting "the story of my relationship with L.A. is the story of my writing life, which I'm still trying to understand." As a journalist, Rayner has to constantly reevaluate his view of the city. Rather than fight the inconsistency, he embraces it, exclaiming, "I realize that the moment when I actually understand L.A. in all its multiplicity will indeed be the day I die, but I will go on trying so to do until that day."
Reach Staff Reporter Sara here and follow her on Twitter.
For complete coverage of the Festival of Books, click here!