Film and TV
'Grey's Anatomy' Recap: Sleeping Monster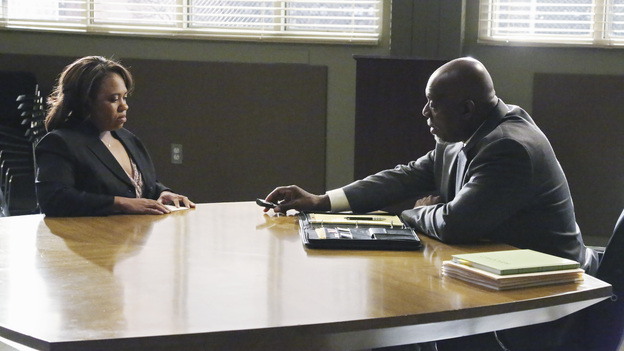 Is Baiiley responsible for killing her patients? "Grey's" is finally back with more problems for some of the best surgeons. Let's recap now.
Picking and Choosing: Meredith is starting to think about her due date and who she wants in the delivery room. She decides she wants her person, Cristina, to be in the room with her to serve as a tough love cheerleader and perform normal bossy Cristina duties, while Derek holds Meredith's hand and essentially does nothing. Cristina had reservations, as she wasn't keen on the idea of watching her best friend deliver a baby, (imagine Cristina's colorful description of what that would look like). In the end, however, Cristina agrees to be her coach, and Meredith is thrilled.
Aha! Moment: We've all watched Jo and Alex's chemistry this season, and both have ignored the obvious - they're totally in love! There's a small problem. Jo has been dating a super hot doctor, a guy that Alex isn't too shy about hating. He decides to try and play nice, so that he doesn't lose Jo as a friend. After the two buff guys work together in saving a newborn's life, Alex raises the white flag and says he just wants the best for Jo. Jo later chastizes Alex for talking to her boy and telling him her life story. At the end of a long day, Alex returns home and confides in Cristina. He finally says it. He's an idiot. HE LOVES HER!! We'll have to see where this goes.
CDC Investigation: The CDC has showed up to Grey Sloan Memorial, and are swabbing and clearing all of the doctors of infections. Bailey is questioned in an intimidating room with an intimidating man. Bailey recites all of her procedures with the infected patients, step by step, and begins to get very upset and frustrated. She takes a break from the interrogation and overhears Webber telling one of her patients' family that only one doctor was infected, and has been removed, assuring them they shouldn't worry abuot anymore harm coming to their son. Devastated, Bailey returns to the interrogation room and realizes that she tested positive for the staff infection, causing her to be at fault for 2 patients' deaths.
At the end of the episode, the board members engage in a meeting with the CDC official. Bailey enters, wanting to hear the verdict. The CDC found that the gloves that were worn during surgery were at fault, as they were known to break easily, exposing Bailey's skin to the open wound on the patient.
Is Bailey off the hook? Will Jo and Alex finally become a couple? And when is Meredith going to have that cute McBoy?! Stay tuned to find out!
"Grey's Anatomy" airs Thursdays at 9pm on ABC. Check out the promo for next week's episode below!
Reach reporter Briana Dixon here. Follow her on Twitter here.