Nation and World
FEMEN Activists Wage 'Topless Jihad'
Topless activists from the Ukrainian feminist power group FEMEN staged protests near mosques and outside Tunisian embassies across Europe Thursday, in solidarity with the plight of FEMEN member Amina Tyler.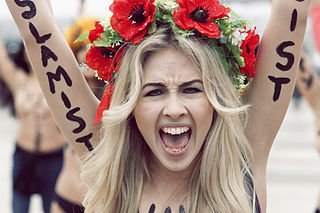 The Huffington Post reports:
Tunisian student Amina Tyler sparked a massive controversy in mid-March by posting topless photos of herself on Facebook, with the slogans "Fuck Your Morals" and "My Body Belongs To Me, And Is Not The Source Of Anyone's Honor," painted on her body.

Islamist hackers responded with an attack on FEMEN's Tunisian Facebook Fan Page, replacing topless photos with quotes from the Quran. An Islamic preacher even stated that Tyler could be stoned for her act of defiance.
In support of Tyler, FEMEN groups declared April 4 "International Topless Jihad Day," organizing demonstrations in Berlin, Kiev, Paris and other European cities in protest of what they considered an Islamist crackdown on the rights and freedoms of Arab women.
Calling themselves "sextremists," FEMEN activists claim to "defend with their breast" social and sexual equality against patriarchal and oppressive regimes worldwide.
Read the full story at the Huffington Post.
Reach Executive Producer Francesca Bessey here; follow her here.