Los Angeles and Region
Culver City Struggles To Meet High Demand For Affordable Housing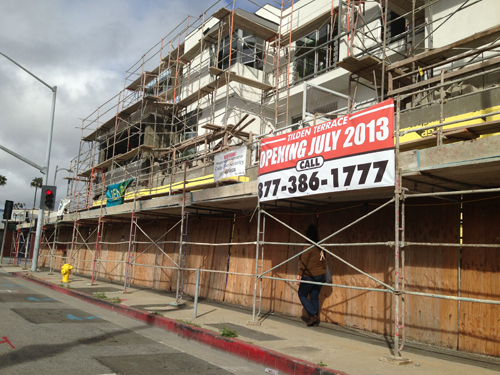 The Culver City Housing Division held a lottery on March 28 to fill 32 available units in the city's most recent mixed-use, affordable housing project - Tilden Terrace - after the development received more than 1,200 applications for rent.
According to the Los Angeles Housing Partnership (LAHP), the developer on the project, Tilden Terrace is Culver City's first affordable family housing project. The development is located at the intersection of Washington Boulevard and Washington Place and will feature commercial retail spaces on the ground level. It will contain 33 units total, with one unit reserved for management.
Tevis Barnes, the Culver City housing administrator, said the demand for affordable housing in Culver City has not been met because of reluctance among community members to welcome lower-income residents into the community.
"Neighborhoods have not been comfortable with affordable housing," Barnes said in a phone interview. "People do not want affordable housing near them, even though there is a great need for it and many of the people who probably are opposed to it would actually be eligible to live there. There's just a lot of really bad communication about people who need affordable housing and how it impacts community."
According to Barnes, it has been 15 years since a similar housing project targeting residents with low to moderate incomes has opened in Culver City.
Gary Painter, associate professor of policy, planning and development at the University of Southern California and USC Lusk Center for Real Estate affiliate, said that this phenomenon is not uncommon in residential communities.
"Anybody who has existing housing prefers not to have new housing near them because it increases congestion and would essentially compete with the housing they own," Painter said in a phone interview. "They just prefer fewer people to more people."
However, Painter said the volume of applicants to Tilden Terrace is indicative of a growing trend toward affordable housing projects.
Steven Rose, president of the Culver City Chamber of Commerce, said the need for affordable housing in Culver City is apparent among those who work in the area.
"Affordable housing or workplace housing should provide an opportunity for employees to live closer to their employment," Rose said in a phone interview. "Culver City, as well as many Westside cities, have a lack of housing for many of their employees, which cause them longer than necessary travel."
According to Todd Tipton, the redevelopment administrator of the Culver City Community Development Department, the general demographics of Culver City make the city a desirable place for families with low to moderate incomes to live.
"You can walk anywhere in the community and you can do so many things without getting in the car," Tipton said in a phone interview. "There are good schools, shopping and restaurants, which people are finding attractive, and Culver City is still relatively affordable and in a good location."
According to Barnes, the Culver City Housing Division is attempting to alleviate the problem of affordable housing availability with two affordable housing projects already in the works. The first is a 12-unit affordable housing development at 4043 Irving Pl. set to begin accepting resident applications in July. The second is a collaboration between the Culver City Housing Division and Habitat for Humanity of Greater Los Angeles to create an affordable ownership project.
Tipton said that other than projects already under construction, there are no plans to continue creating more affordable housing in Culver City to meet the high demand because of a lack of funding.
"These types of projects don't make a profit like a regular market rate project would," Tipton said. "Individual developers could pursue tax credits in private equity but there will be no more involvement by the city because of the loss of redevelopment agencies."
All California redevelopment agencies were legally dissolved on Feb. 1 by a law passed last summer. The Culver City City Council has since taken on the role as successor to Culver City's former redevelopment agency, in order to see out the completion of ongoing projects.
According to Tipton, incentives for developers to build affordable housing, such as the opportunity to increase their density, are often ineffective. The LAHP's development of Tilden Terrace was funded by Culver City prior to the dissolution of redevelopment agencies. They could not be reached for comment.
Painter said that the challenges faced by many cities to create affordable housing for residents could be resolved by focusing on creating more housing in general.
"You just have to think about how you can bring in more housing to your community," Painter said. "California has fallen far behind national trend in terms of building multi-family housing. Because of that, housing that does exist by these measures is considered affordable, simply because we haven't the quantity of housing that we really need to. Increasing the quantity of housing will reduce the rate of growth of house prices and rent."
Reach Contributor Chelsea Stone here.