National
Boston University Remembers Chinese Bombing Victim Lu Lingzi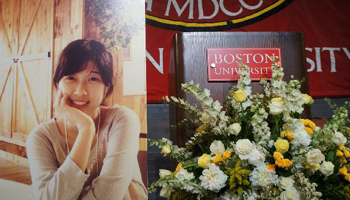 Hundreds of people gathered at Boston University on Monday night for the memorial service of Lu Lingzi, the third victim in the Boston marathon explosion one week earlier.
Lu, 23, was killed in the marathon explosion when one of the bombs blew up near the finish line where she stood. She was a graduate student studying math and statistic at Boston University. Students, faculty and family delivered their deep condolences.
"Today the university's arms are long enough to embrace the whole globe, but close enough to feel the heartfelt pain of the loss of one of our own," said Robert Allan Hill, dean of Boston University's Marsh Chapel.
Lu's friends and family remembered her as a young woman who always worked hard in school, someone who loved baking and playing piano, and a girl who dreamed of romance and a happy family life.
"She yearned for life, loved beauty, and pursued happiness. Lingzi had a great passion and a tremendous taste for music, possessing a large collection of music CDs by Chinese and international masters. Before she left for America, she asked us to take good care of them, her invaluable treasures over the years, and told us that she would come back to enjoy them later on", said Lu Jun, the heartbroken father who mourned his daughter at the service.
He recalled her as "the family's Shirley Temple" and a girl who had high expectation for her future. Her goal was to become a financial analyst and she just finished her qualifying exam two days before the explosion.
"Even though we brought up Lingzi, and yet today while reflecting on her short 24-year life, we as parents admire and appreciate her kindness, courage, and her yearning for a beautiful life," said Lu, with tears in his eyes.
Lu Lingzi's roommate Jing Li regretted her short yet exuberant life. "I had no idea our friendship would last only one year," Li said. "We will keep running for you and cherish every moment and person in our life."
Earlier last week Boston University established a scholarship in memorial of the graduate student. Trustees have launched fund of more than $716,000 within a week from contributors of more than 600 donors from 14 countries. Lu's parents hope the scholarship will help the hardworking international students like their daughter.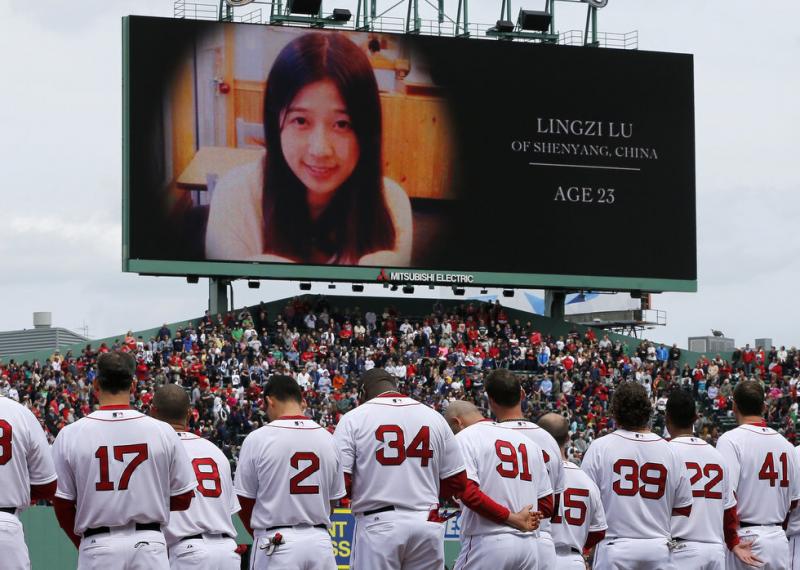 "Our astronomers tell us that when a star dies, its light continues to travel across time and continues to reach out,"
said BU President Robert Brown at the service.
"This scholarship, because it is endowed, will provide opportunities for future students like Lingzi."
"While her dream has not been realized, we want to encourage others who have Lingzi's ambition and dreams, and want to make the world a better place, to continue moving forward," wrote the Lu family in an open letter to the university.
"Our prayers are with the Lu family of China, who sent their daughter, Lingzi, to BU so that she could experience all this city has to offer. She was a 23-year-old student, far from home. And in the heartache of her family and friends on both sides of a great ocean, we're reminded of the humanity that we all share," said President Barack Obama when he addressed a service at Boston's Cathedral of the Holy Cross last Wednesday.
The Boston Red Sox also held a pregame ceremony to honor the victims and survivors of the marathon bombing last Saturday.