National
Boston Suspect's Former Friends Think He Murdered Best Friend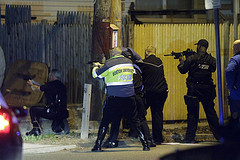 Boston Marathon bombing suspect Tamarlan Tsarnaev's former friends told Buzzfeed that they believe Tsarnaev may have committed a 2011 triple murder, where Tsarnaev's best friend at the time was killed along with two other men.
A group of Tsarnaev's former friends came to the conclusion independently of each other following last week's attacks. Tsarnaev was killed Thursday in a shootout with police.
One of Tsarnaev's former friends said he thought it was strange when Tsarnaev didn't show up at his best friend's funeral.
The three men had their throats cuts and marijuana was dumped all over their bodies, according to Buzzfeed. Five thousand dollars were left at the scene.
Authorities believed that the murders were done by someone the victims knew, because there was no evidence of forced entry.
Read more of Neon Tommy's coverage of the Boston Marathon bombers here.
Reach Executive Producer Michael Juliani here.