National
Boston Marathon Bombers May Have Planned More Attacks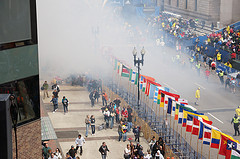 The two brothers who allegedly set off explosives at the Boston Marathon and killed a police officer in a shootout reportedly planned more attacks beyond the Marathon bombings, according to The New York Times.
The FBI has intensified its search for new information about the Tsarnaev brothers' inspiration for the attacks, which remains unclear. Authorities said that they believe the brothers acted alone.
The Times said that when the brothers carjacked someone in the days following the Marathon attack, they told him that they planned to go to New York.
Authorities found an M-4 carbine rifle in the boat where the younger Tsarnaev was captured Friday night, and two handguns and a BB gun were also found following their shootout with police. The suspects reportedly fired about 80 rounds during the shootout, which killed the older brother and an MIT police officer.
Dzhokhar Tsarnaev, the 19-year-old arrested in the boat in Watertown Friday night, apparently tried to kill himself. The gunshot wound to his neck "had the appearance of a close-range, self-inflicted style," a senior United States official told The Times.
The federal government continues to search for evidence of how the brothers got their weapons and knowledge that led to their attacks on the Boston Marathon.
Read more of Neon Tommy's coverage of the Boston Marathon bombers here.
Reach Executive Producer Michael Juliani here.