National
Boston Bombing Suspect Could Face Death Penalty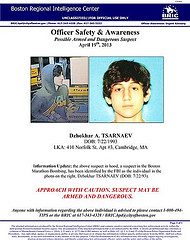 UPDATE:
Dzhokhar Tsarnaev was charged with using a weapon of mass destruction and the White House said he will be tried in a civilian court, according to NBC News.
White House Press Secretary Jay Carney said he will not be treated as an enemy combatant but as a terrorist in the civilian system of justice.
The charges he faces could lead to the death penalty.
Federal authorities are also trying to speak with Tamerlan Tsarnaev's wife, Katherine Russell Tsarnaev. She converted to Islam after meeting her Tamerlan in a nightclub.
NBC News also reported that the man that the two brothers carjacked last week said they told him they wouldn't kill him because he "wasn't American."
Federal prosecutors charged Boston Marathon bombing suspect Dzhokhar Tsarnaev in his hospital bed Monday, according to the Huffington Post.
Tsarnaev remains in serious condition after receiving a wound in his neck that federal authorities speculate was an attempt at suicide.
He has been unable to speak but authorities said he has been communicating with them through other means.
Reach Executive Producer Michael Juliani here.