MLB
Which 10 Pitchers Are Most Likely To Win 300 Games?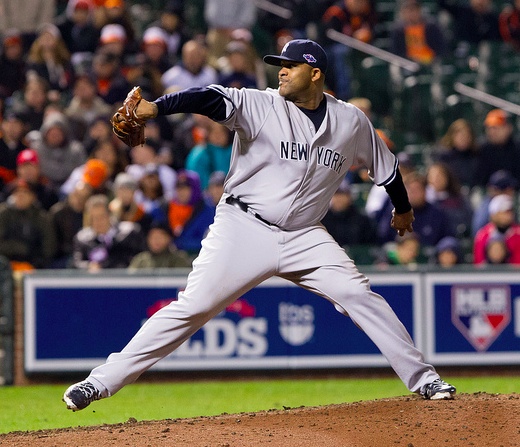 This article should actually be titled "Which 10 Pitchers Are Least Unlikely To Win 300 Games?" because it is really, really, really hard to win 300 games. But that title would be too confusing, so I'm left with this.
But it's true. It's really, really hard to win 300 games, especially these days. Only 24 pitchers in MLB history have done it, though our collective perception of its difficulty is probably tilted by the four pitchers who retired between 2007 and 2009 with 300+ wins (Greg Maddux, Roger Clemens, Tom Glavine, Randy Johnson). Each of those legends pitched 22 or more seasons in the Major Leagues, proving you need incredible talent and otherworldly longevity to make it to the landmark.
All that said, it is still possible to achieve 300 victories. Even though the pitcher wins stat has rightfully fallen out of favor as an indicator of a pitcher's ability, the 300-win mark still signifies a long, successful career that guarantees a spot in Cooperstown. So who is out on the mound now with a chance to join the club?
Potential Shot
1. CC Sabathia, New York Yankees
Career Wins: 194
Wins from 2010-12: 55
Age: 32 years, 274 days
Sabathia is pushing 200 victories because he debuted at the age of 20 and has racked up double-digit wins in each of his 12 big league seasons. He has the best combination of factors that could make him a 300-game winner: already owning plenty of wins, a history of being an innings-eater, relative youth and being on a winning franchise. Joining the Yankees has helped his win total, including leading the AL in victories in 2009 and 2010.
Despite two trips to the DL last year with a groin strain and an elbow injury, Sabathia still started 28 games and won 15. In each of the five seasons prior to that, he started 33+ games and won 17+ games. The left-hander is signed through 2016 in New York, with a vesting option that is likely to activate in 2017. If Sabathia can average 16 wins in his last five seasons with the Yankees, he will have 271 wins at the age of 37.
A few attributes of Sabathia's situation could keep him from 300: the injuries from last season could flare up, the Yankees could enter a semi-rebuilding mode with their aging roster, or he could be unable to maintain his 233 inning-per-season pace he has kept up the last six years and sees his arm begins to fail him. Any of these are possible, but Sabathia is still the most likely active candidate to cross the threshold.
2. Justin Verlander, Detroit Tigers
Career Wins: 126
Wins from 2010-12: 59
Age: 30 years, 60 days
Four straight All-Star seasons starting for the championship-contending Tigers have vaulted Verlander to the No. 2 spot. Now he's considered the AL's best pitcher, and certainly its best workhorse, leading the league in innings and strikeouts three of the last four seasons. Plus, the Tigers look to continue as one of the elite teams in baseball, helping Verlander to 17+ wins in six of his seven seasons.
The fact that he will have to win more games in his 30's than he did in his 20's is not a death sentence to his "300" hopes. He won as many games as a twenty-something as Tom Glavine did. But Verlander may have to re-make himself a little bit, as a drop in velocity means he may not be able to lean on his fastball to strike out hitters. Same goes for Sabathia.
But Verlander has started 30 or more games in each of his seven seasons, which bodes well for his longevity. He's also signed to the winning Tigers through at least age 36.
3. Mark Buehrle, Toronto Blue Jays
Career Wins: 175
Wins from 2010-12: 39
Age: 34 years, 29 days
Though he is far from baseball's best pitcher, Buehrle consumes innings like he is on an innings-only diet and can only eat innings. In every one of his 12 seasons as a starter, the lefty has thrown 200+ innings, collected double-digit wins and made 30+ starts.
That's crucial. Since 1976, the only other pitchers to have 12 or more 200-inning seasons are the Maddux-Clemens-Glavine-Johnson group that reached 300 games. Buehrle has a skill set that would seem to age well, a command artist who paints the edge and keeps baserunners at bay. He has won exactly 13 games each of the last four seasons, but will have to ramp up that pace unless he wants to pitch through age 43. If the Blue Jays continue to spend money on a team that would give Buehrle run support, he can slowly build to 300.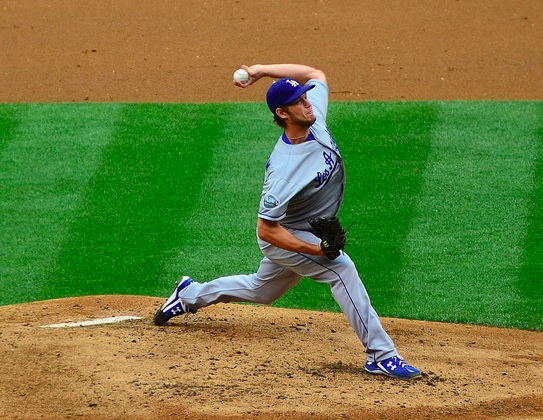 4. Clayton Kershaw, Los Angeles Dodgers
Career Wins: 63
Wins from 2010-12: 48
Age: 25 years, 33 days
Getting to 300 wins will take a lot of "what-ifs" for a pitcher who is 237 victories away, but Kershaw can make a strong case. He has the most wins of any active pitcher under the age of 27.
Kershaw also had the best ERA in the National League each of the last two seasons and plays for an ownership that is willing to spend of the budget of the Death Star to win baseball games (if they use some of that bankroll to keep Kershaw around). The young lefty is already showing durability, with 30+ starts in every full season with the Dodgers.
5. Roy Halladay, Philadelphia Phillies
Career Wins: 201
Wins from 2010-12: 51
Age: 35 years, 342 days
A year ago, "Doc" Halladay would have been higher on this list. Look at what he posted in each of his six seasons from 2006 to 2011: 16+ wins, 31+ starts, the most complete games in the NL, 220+ innings and top-five finishes in Cy Young voting. If you had looked up "consistency" in the dictionary, you would have been inspired to build a statue of Halladay to honor his consistency.
Then things took a turn for the suck. Last year, Halladay missed almost two months with a shoulder strain and finished with a 4.49 ERA. The results have not been much better this year, with 15 runs allowed in 22.1 innings. He is allowing a lot more walks, his velocity is way down, and his once-filthy combination of splitters and curves is becoming more and more hittable. Getting 100 wins from age 36 on is still possible, but it will require another team besides the Phillies trusting that Halladay can remake himself as a pitcher.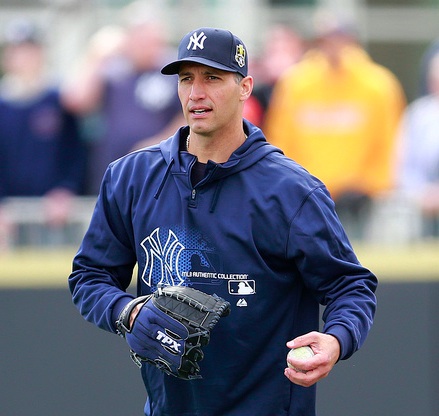 6. Andy Pettitte, New York Yankees
Career Wins: 248
Wins from 2010-12: 26
Age: 40 years, 310 days
After returning from retirement a year ago to don the pinstripes again, Pettitte was surprisingly effective (2.87 ERA and 69 strikeouts in 75 innings). He looks even better after signing a one-year, $12 million contract, lowering his WHIP to 1.08 and his ERA to 2.01.
But the potential Hall of Famer turns 41 in June, and he will need three more 18-win seasons to eclipse the 300 mark. Clemens and Johnson both got more than 60 wins after turning 40. Can Pettitte, decidedly less of a power pitcher, repeat the feat?
7. Matt Cain, San Francisco Giants
Career Wins: 85
Wins from 2010-12: 41
Age: 28 years, 202 days
Cain and spacious AT&T Park have become good pals, as he has posted an ERA below 3.20 each of the last four seasons. A 16-5 mark last year meant Cain was no longer the successful pitcher with a losing career record. He will never lead the league in strikeouts, but he continues to show superior command and the ability to induce weak contact.
And boy is he a workhorse, with 30+ starts each of the last seven seasons. The Giants control his rights through 2018, and need I remind you they have won two of the last three World Championships. Of this last group of four, Cain is the most likely to reach 200 wins, even though it will take a significant amount of luck to approach 300.
8. Felix Hernandez, Seattle Mariners
Career Wins: 99
Wins from 2010-12: 40
Age: 27 years, 13 days
There's nothing wrong with taking $175 million to stay where you are having success. But staying with the Mariners through 2019 would seem to doom King Felix to a career of being on the losing or no-decision end of a lot of 3-2 and 2-1 contests. Sure, the quality of the offense in Seattle can and will change. But making 226 starts in the last seven seasons should have resulted in more than 94 wins.
Plus, Hernandez will not be a power pitcher anymore given his decline in velocity. He will reach 100 wins shortly, but the next 100 may be very difficult if the Mariners do not improve.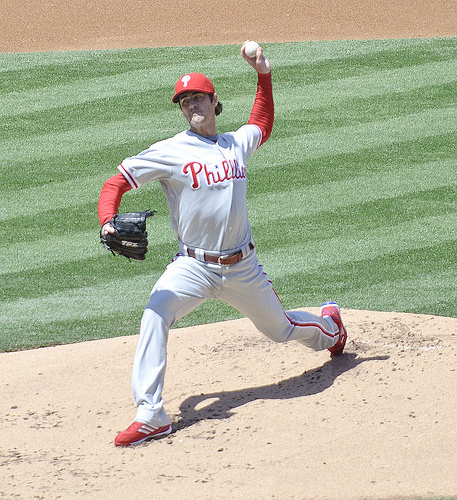 9. Cole Hamels, Philadelphia Phillies
Career Wins: 91
Wins from 2010-12: 43
Age: 29 years, 115 days
Here's another top-level pitcher that committed long-term to a currently below-average team. Well, scratch that. The Phillies are about average right now, but have an aging roster that foretells mediocrity in the coming years. But Hamels took $153 million to be a part of this sinking ship (hey, I'm from Pittsburgh), keeping baseball's best changeup in Philadelphia.
There is a path to 300 wins that was forged by Glavine, another changeup-leaning lefty who had "only" 124 victories in his 20's. Hamels has the durability (five straight seasons of 30+ starts) better control than Glavine did at the time, but he is not on a team that is set to win 11 straight division titles like the Braves did.
10. Zack Greinke, Los Angeles Dodgers
Career Wins: 92
Wins from 2010-12: 41
Age: 29 years, 182 days
The right-hander sneaks on to the edge of the list despite Carlos Quentin fracturing his collarbone. If Greinke can avoid similar injuries in the future, there is an outside (way outside) possibility of getting towards 300 wins. The Dodgers are prepared financially to construct some winning teams, and Greinke will likely be around to reap the benefits through 2018.
Before the Quentin brawl, Greinke had only gone on the disabled list once in seven seasons, a remarkable track record for a power pitcher. But spending so many seasons in Kansas City limited the victories early in his career, and making up for lost time will be a challenge even if the Dodgers can build a dynasty.
Young Bucks
Chad Billingsley, Los Angeles Dodgers (Age 28, 81 wins)
Yovani Gallardo (Age 27, 70 wins)
Trevor Cahill (Age 25, 53 wins)
Madison Bumgarner, San Francisco Giants (Age 23, 39 wins)