Music
Significance, Greatness And Want: Yes At The Orpheum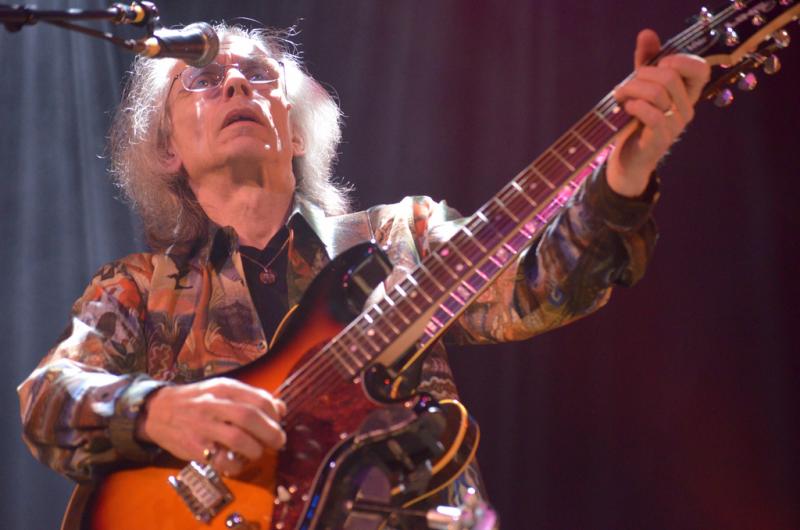 A man I met in Tampa, Florida, who'd done so much cocaine that he had to have his nasal septum replaced with a small piece of his own butt cheek, once told me that the best show he'd seen in his life was put on by Yes.
"Best show," he said. "Yes."
Though some may consider the prog rockers to be something of a quirky footnote in the grand scope of popular music, this band made substantial audiologic contributions for decades. Even now that whooshing east-berlin-rave swirly whirls and deep analog bloops populate every other radio-ready release, only one or two sine-slingers have ever rivaled Rick Wakeman's abilities on a synthesizer. Yes is great, and undoubtedly still relevant in a delightfully peculiar, sometimes timeless, sometimes hokey, way. Unfortunately, the band that played at the Orpheum was not Yes.
Perhaps to make this claim is to be a stick in the mud, as most of the group was there. But Jon Anderson, the group's lilting, flowery vocalist, no longer preforms with the band he co-founded. The reasons for his absence are multifarious, including health issues and personal grudges held between him and other members of the band. Though he's spoken at some length about his justifications for parting ways with the group, (Rolling Stone) it's still not totally clear why this had to happen.
From an audience member's point of view, it does a real disservice to all players in the equation. Jon's solo performance bears only the most remote resemble to the awe-inspiring spectacle that Yes has the ability to throw. And despite all the poignant virtuosity on display at the Orpheum, the fact that only one band member's presence stood between the musical event that actually occurred and a 'true' Yes show caused some small amount of heart-sore. Seeing these legendary cultural figures stave off antiquity lick-by-lick was a phenomenal experience, but one that got short-sold by nature of being just barely incomplete.
Last time the audacious claim that even iconic rock groups are tethered to the same limitations as every other proactive endeavor appeared in a review of mine, vehement commenters beat a path to my door with immediacy. So while I continue to believe that foibles are a part of any collective enterprise in reality, I'll strive to make this concluding component of my argument clear: it would be inappropriate to suggest the performance was anything less than fantastic.
Yes rocked our asses. There was an cannonical blast of confetti that hit the crowd while Chris Squire played a triple-necked bass. On lead guitar, Steve Howe peeled and ripped out wild guitar lines the spun and lurched off with the exact intriguing drine-laced nuances and stutter-stops that sounded comically great on studio recordings decades ago.
And, this is important because of all the kvetching I did in the above paragraphs: Jon Davison, their new vocalist, can sing all the songs. Lifelong rock and roll journalist Lonn Friend (Twitter) happened to sit next to me at the show, and he could hardly get out the words to vouch strongly enough for Davison's abilities.
"The guy they had before," Friend said of the vocalist who joined group onstage between Anderson's departure and Davison's entrance, "He sounded great, but he looked all ... Like a lounge singer."
Davison, he said, fits the bill "much better."
The band's show was hilariously enjoyable, and being available for viewing by touring widely will help cement this band's status for unforeseeable eons. Friend was one of three attendees in our bloc of seating to arrive at the show with children in tow, which goes to show how long this band will likely remain a staple of the popular music lexicon.
But was the night's entertainment as great as possible? Yes and no.
Set list:
1) Close to the Edge
- The Solid Time of Change
- Total Mass Retain
- I Get Up, I Get Down
- Seasons of Man
2) And You and I
-Cord of Life
-Eclipse
-The Preacher the Teacher
-Apocalypse
3) Siberian Khatru
4) Going for the One
5) Turn of the Century
6) Parallels
7) Wondrous Stories
8) Awaken
9) Yours Is No Disgrace
10) Clap
11) Starship Trooper
-Life Seeker
-Disillusion
-Würm
12) I've Seen All Good People
-Your Move
-All Good People
13) A Venture
14) Perpetual Change
15) Roundabout (encore)
Read more of NT's show coverage here.
Reach Staff Cartoonist Graham Clark here. Follow him on Twitter here.
Click the play button below to hear Yes' performance of "All Good People/Your Move," from "The Yes Album," recorded live on March 7.
You may need: Adobe Flash Player.