USC Sports
Cassie Harberts Emerges Stronger Than Ever Despite USC's Miserable Season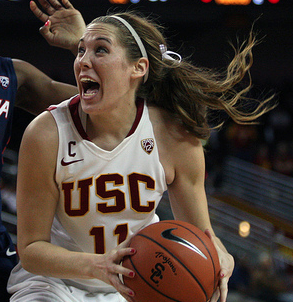 Two seasons ago, Southern California's women's basketball team came within one win from claiming a WNIT championship.
Only two players remain from that team: Cassie Harberts and Christina Marinacci.
Fast forward more than three years later, and the Women of Troy are struggling mightily. Harberts is far and away the team's best player, but USC cannot buy a win.
Despite the massive frustrations of a 9-19 season, the long, difficult journey has enabled Harberts to take immense strides in her development as a player and person. The team has relied upon the 6-foot-2 junior much more heavily than anticipated, and the experience has made her stronger than ever.
When Michael Cooper was named USC's head basketball coach on May 1, 2009, he quickly set his sights on securing Harberts' presence on his new team. As a high school junior, Harberts had originally committed to USC earlier that spring, but decided to re-open her commitment after Mark Trakh, USC's former coach, resigned.
"She wanted to meet me before she had made a decision," said Cooper. "Once we got an opportunity to sit down with her and her parents, I told her the layout of what we were going to try to get accomplished here and how I was going to coach her."
Harberts was not sold immediately and temporarily committed to Arizona State before de-committing and ultimately giving a verbal commitment to sign a National Letter of Intent with the Women of Troy in November 2009.
"Things just seemed to roll right in place, and boy, am I glad she stayed," said Cooper.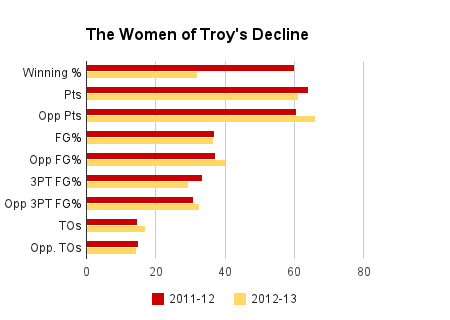 This season, the Women of Troy started Pac-12 play with a perfect 4-0 record, but have since lost 11 of their last 13 games, dropping them to a record of 9-19 overall and 6-11 in conference.
Particularly, injuries and inexperience have plagued the Women of Troy. Senior forward Marinacci, McDonald's High School All-American Jordan Adams and Marist transfer Kate Oliver have all missed extended time due to various ailments.
As for the inexperience? Key veterans, such as Briana Gilbreath and Ashley Corral, left after last season. The departing players accounted for 48.6 percent of the team's points and 59.8 percent of its assists.
Last year, USC allowed 60.7 points, well under this season's 66.2 average.
"Our starting lineup's pretty young, especially at the guard spot," said Harberts, "so with them handling the majority of the ball, we're going to have mistakes."
Ample mistakes have resulted in 16.9 turnovers per contest, compared to 14.7 a season ago.
Other than Harberts and Marinacci, the rest of the team had only started a combined 12 games before the season began (Vaioletama, eight, and Crook, four). Naturally, the two veterans were looked to as the de-facto leaders from the very start.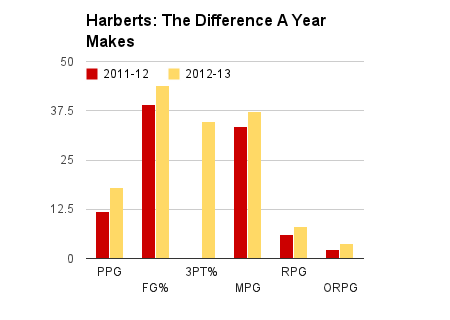 "We both try to lead by example, just be the hardest-working player out there," said Harberts. "We're both pretty vocal (and) pretty energizing, so we're pretty similar in our leadership ways."
Harberts' best friend, not just on the team, but also in the world, is Desiree Bradley. Bradley is a junior, who had never averaged more than 10 minutes in her first two seasons at USC. Meanwhile, Harberts has started every one of USC's games during her collegiate career.
According to Harberts and Bradley, they do everything together. The two were part of the same recruiting class and have been joined at the hip ever since.
Harberts "thinks she's like this country girl," according to Bradley, who actually is a country girl from Oklahoma City. In reality, Harberts is from Orange County. The San Clemente, Calif. native grew up listening to country music and recently took up line dancing.
Although she's one of four upperclassmen on the roster, Bradley said she looks to Harberts and Marinacci for leadership, as does the rest of the team. "They do everything that they're supposed to do in practice and on the court," said Bradley.
"She always holds us accountable for things we mess up," said Bradley of her best friend. "And she takes criticism from us very well, which makes (for) a great leader, because she knows she's not perfect."
After sitting out a year due to NCAA rules, 6-foot-4 Marist transfer Kate Oliver was finally ready to begin her SC playing days with the 2012-13 campaign. Battle-tested upperclassmen Harberts and Marinacci would return, as a trio of promising freshman guards (the aforementioned Adams, Destinie Gibbs and Brianna Barrett) would join the mix. In addition, incoming sophomores Alexyz Vaioletama and Ariya Crook were expected to improve upon their solid freshman seasons, in which each played about 20 minutes per game.
The preseason coaches' poll picked USC to finish fourth in the Pac-12. Instead, USC is in seventh place and has not won a single game against a Top-25 opponent (0-10), while losing nine of 10 televised games.
How did a season that began with so much promise derail in such ugly fashion?
On Dec. 15 against Texas A&M, Jordan Adams, who was ranked No. 7 in ESPN's national High School player rankings, went down with a season-ending knee injury. The other two freshman guards have failed to meet expectations.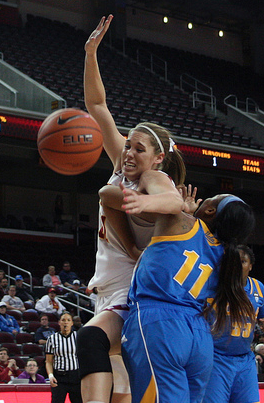 In Barrett's first collegiate start, she recorded nine assists against the No. 4 Duke Blue Devils, but has been unreliable ever since. She's shooting just 29.8 percent from the field. Gibbs, who began the season as the starting point guard, was benched nine games in after she averaged a paltry 3.4 points and 1.6 assists.
"Obviously when you lose some upperclassmen and the offense that we had in Jacki Gemelos, Briana Gilbreath and Ashley Corral," said Cooper, "now teams are just packing it in (on Harberts)." Such "packing it in" has manifested in Harberts attempting a nation-high 9.4 free throws per game (no one else in the Pac-12 attempts more than 6.4.)
During Harberts' first two seasons, the Women of Troy won 42 of 67 games, a winning percentage of 62.7. Heading into the 2013 calendar year and Pac-12 play, they had won just three of their first 11 games.
Despite Adams' season-ending injury and many of the players' inexperience, USC managed to win its first four conference games, including two road wins in Oregon (not as impressive in retrospect, given the Oregon schools' combined 6-28 Pac-12 record). USC then swept the Washington schools at Galen Center despite playing without its only senior, Christina Marinacci, who injured her knee against Oregon.
Marinacci ultimately missed a total of eight games. The injury bug bit again when Kate Oliver got hurt against Colorado, just one game before Marinacci's return.
"That's definitely contributed (to the losing) because we lose two key post players, so that put a lot of minutes on whoever's remaining," said Harberts. As a result, Harberts' playing time has risen from 33.5 minutes per game last season to 37.3, ranking her second in the Pac-12, only behind Washington's Kristi Kingma.
The injuries combined with Cooper's constant experimentation with viable lineups resulted in 12 different starting units between games seven and 28. Through six games, the Women of Troy had won half of their games. Since, as the starting lineups shuffled furiously, they have lost 16 of their last 22 games.
"It's kind of frustrating sometimes, not really knowing who you're going to play with (or) who's going to start," said Harberts. "You don't have chemistry with those five players out there. There's always one or two different."
Even after Marinacci returned, she has struggled to find her shooting stroke. The forward's 33.3 field-goal percentage is tied for the lowest of her four-year collegiate career.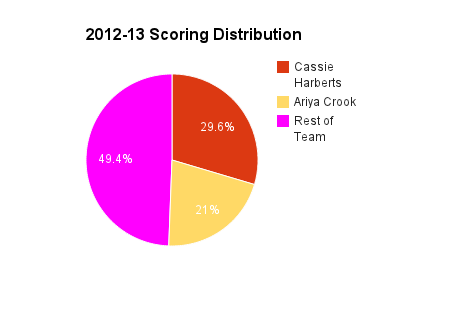 As a result of the troubles afflicting the team, Harberts has taken on an increased load. Despite facing routine double-teams and having to take 2.6 more shots per game, the self-proclaimed country girl has improved upon last season's shooting and scoring by 4.9 percent and 6.2 points, respectively. Her 18.1 points per game ranks third in the Pac-12.
"She knows that she has to take a little bit more shots and that's something that she has had to grow into," said Cooper. "We don't have those shooters surrounding her now, so she has to try and force up some shots, but most of her shots are taken within the rhythm of the offense."
Last season, Harberts was one of USC's four double-digit scorers. This season, only she and Crook average more than 6.4 points per game, but Crook shoots just 34.4 percent. Because of the paucity of offensive support, Harberts has scored 29.6 percent of her team's points, up from 18.6 percent a year ago.
As Harberts' game has matured, so has her demeanor off the court, according to both her coach and best friend.
When Cooper and Harberts first met in 2009, she was "painfully shy," according to Cooper. "I think what broke the ice with us is that we conversed a lot about basketball, and she loves talking about basketball," said Cooper.
Bradley said, "Now she's blossomed into this beautiful girl that has a great personality. She's so lovable. She's kind to everybody."
Ironically, without prompting, Cooper used the same word to describe Harberts' maturation off the court: "To see her come out of her shell and to blossom like a beautiful rose is something special."
"When I first got here," said Cooper, "she wouldn't say much on the team other than when she asked a question about what we were doing." Cooper and Bradley both asserted that Harberts' increasing responsibilities and leadership on the court have enabled her to grow outside basketball.
Despite Harberts' newfound confidence, her young team has often found itself unable to win close games. In a four-game stretch between Feb. 1 and Feb. 10, the Women of Troy went 0-4 with three losses by three points apiece.
In one of those games, a three-point home loss to Utah, Harberts had an opportunity to tie the game, but missed the first of two free throws with four seconds left. Despite making the second, the Women of Troy were forced to foul. The Utes made both free throws, Crook missed a desperation three and Harberts blamed herself for the loss.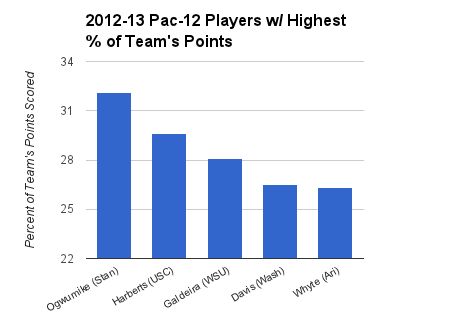 "She takes it so hard, so much harder than what we want her to," said Bradley, "because with her scoring like 20 points a game, it shouldn't come down to her making the free throw. We tell her that every time: 'It shouldn't have to come down to you making a free throw. You do a lot for us on the floor already.'"
Harberts said, "I have definitely been put in multiple situations to win a game, and I have let my team down, so it's pretty frustrating."
Never mind the fact that Harberts and Crook scored 39 of the team's 60 points that night. Never mind that outside of those two, the rest of the team shot 24.2 percent from the field (8-33).
Virtually all season, the team has been unable to win close games, often experiencing second-half collapses or protracted scoring droughts late in games.
Against Arizona State, USC led 36-20 at the half, but were outscored 18-3 in the final 7:05. In the first meeting between California and USC, the Women of Troy led 62-56 with 1:42 left, but allowed the Golden Bears to force overtime when Crook missed two free throws with 31 seconds remaining. In overtime, USC was outscored 9-1.
In Pullman, Wash., USC led by five at halftime, only to lose to Washington State by three. Late in the game, USC guard Kiki Alofaituli missed the first of two free throws when trailing by two.
Two nights earlier, against Washington, a Harberts layup gave USC a 58-57 advantage, but the Women of Troy could not score a single point in the final three minutes.
There's no denying that the entire team, Harberts and Cooper included, is extremely frustrated with the way this season has transpired. If there is a silver lining, however, Cooper contended that there is no substitute for playing time when trying to develop young talent.
"That's the best teacher in the game: learning experience," said Cooper. "So I think with the year under their belt, we come back next year (strong)."
As for Harberts, she'll be a senior next season, leading what she and Cooper expect to be a more disciplined team.
Beyond next year, the former WNBA coach predicts big things for his junior forward: "You're looking at a for-sure WNBA player when it's her turn, because she gives you all the things that those pro teams are looking for. And for us at the college level, she definitely gives that for us."
Reach Senior Sports Editor Aaron Fischman by email, or follow him on Twitter.