USC Sports
USC Spring Practice: Max Wittek, Marqise Lee Still Out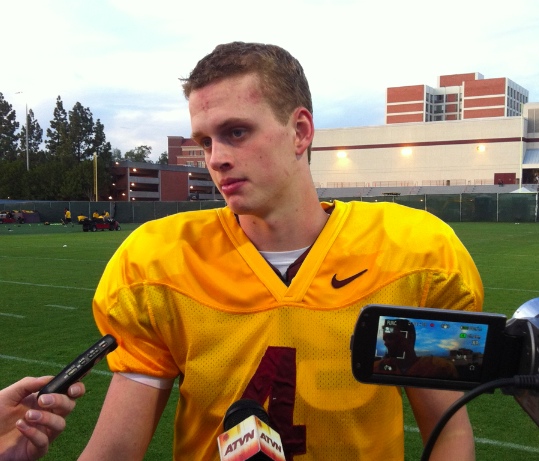 Max Browne and Cody Kessler took the snaps at quarterback Thursday in a practice USC head coach Lane Kiffin called a "much better day" than Tuesday, emphasizing the offensive line's improvement on snaps and reducing false starts.
On The QBs: Kiffin had kind words for both his young quarterbacks, with neither throwing an interception Thursday. He said Kessler "really comes alive in those team settings" of a full practice, and praised the freshman Browne's ability to avoid trouble with his legs.
"Max is moving around probably better than maybe we would have thought," Kiffin said. "We probably didn't know he would do this well this early, because the level of competition to jump from [high school]."
Browne called Thursday's practice his best since he arrived at USC. The injury to Max Wittek has given more snaps to the spring enrollee.
"It's giving me the ability to get more comfortable with everything," Browne said, adding that Wittek has been "nothing but great" in answering questions and helping him out.
Kessler said he and freshman offensive lineman Max Tuerk have been working on snaps after practice all week since Tuerk's move to center. The extra time has improved the exchanges between him and Tuerk after several botched snaps in Saturday's scrimmage. Kiffin is encouraged by Tuerk's improvement, "especially with some of the defensive tackles that we put in front of him."
Injury Report: QB Max Wittek and WR Marqise Lee are both out with knee injuries, but are expected back for the next Tuesday practice on March 26. Wittek said the swelling in his right knee has gone down since spraining his MCL last Saturday, and he is pushing to be able to get some work in Saturday.
CB Kevon Seymour (ankle) is day-to-day, while RB Silas Redd and OT Chad Wheeler were out with knee injuries. WR George Farmer hurt his shoulder today, but Kiffin praised him for the improvement he has made this offseason.
Tight End Competition: TE Xavier Grimble was named the Offensive MVP for the practice.
"Xavier Grimble is really making that next step from a really good player to potentially a great player," Kiffin said. "He had an unbelievable practice today."
As for the battle to start between Grimble and Randall Telfer... "They're really close. They push each other and other, and the results have been great," Kiffin said. "It's very competitive in a good way."
Love for Darreus: Kiffin said WR Darreus Rogers was next in line after Grimble for Offensive MVP, saying the freshman receiver had "an unbelievable day" with "a number of great catches."
Kessler mentioned Rogers as an improving receiver, with Browne adding that he has the "best hands on the team."